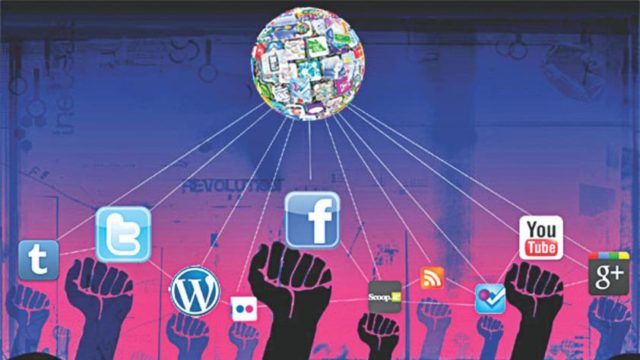 Cyberactivists, those who organize, document or participate in political protests and social movements through online communications, played a large role in the Arab Spring uprisings of 2011. The widespread use of social media websites, including Twitter and Facebook, allowed citizens abroad to shed light on the practices of oppressive governments in the Middle East and North Africa. Cyberactivism remained relevant after the Arab Spring particularly in Bahrain, where the government greatly influences mainstream news outlets and suppresses citizens' right to free speech.
The top five Twitter-using countries in the Arab world all come from the Gulf Coast Cooperative (GCC). In Bahrain, more than five percent of the population has a Twitter account. A study conducted in November 2012 found that Bahraini Twitter users had more connections than those from any other Arab country except for Egypt.
Twitter's popularity in Bahrain is largely due to the lack of independent mainstream media. The government has consistently censored press that criticizes the Kingdom, framing any form of civil unrest as sectarian in nature. To provide counterpoints to this narrative, citizen journalists disseminate information about human rights abuses happening on the ground through social media.
Women have been among the earliest users of Twitter and other social media platforms in the Gulf Coast Cooperative (GCC). This may be due to their marginalization on the streets. Women who protest in the public sphere are often met with threats of rape, torture, and murder from the police. Additionally, the 2011 uprisings were mainly comprised of Bahrain's Shia population, many of whom hold conservative views about women in political roles. In the face of these dangers, online social media platforms emerged as safe spaces for dissidents to proclaim their opinions without confronting the police's violent crowd-control tactics. This phenomenon, in conjunction with the political momentum generated from the Arab Spring, served as a launching point for Bahraini women to be able to broadcast their views on a global scale.
Bahraini journalist Lamees Dhaif is a leading voice in the cyber realm. She currently has more than 160,000 followers on Twitter, reaching a much wider audience than the largest circulation newspapers in Bahrain. She uses her Twitter account and her blog to report on the arbitrary arrests of both men and women who openly criticize the government.
Bahraini citizens are routinely silenced and harassed for criticizing authorities, and online dissent is not exempt from punishment. Zainab al-Khawaja rose to prominence for her online advocacy under the Twitter handle @angryarabiya. She tweeted extensively about the detention of her father, a human rights advocate, and the 2011 Arab Spring protests in Bahrain. Between February 2013 and February 2014, she was jailed for various charges related to her freedoms of expression and assembly. In 2016, authorities re-arrested and detained her, along with her infant son, for tearing up a picture of the King in public. Al-Khawaja and her son were released after three months upon international outcry.
Many women remain in prison for their cyberactivism. The Second High Criminal Court in Bahrain recently sentenced Ghada Jamsheer, president of the Women's Petition Committee, to one year in jail for tweeting about corruption at King Hamad University Hospital. Police detained Nada Al-Wadi in April 2011 after her journalism appeared in USA Today and other online publications during the 2011 Bahrain protests. She was released only after signing a statement saying she would not write on or engage in any political activities.
To further quell the increasing influence of cyberactivists, the government has utilized bots to automate hundreds of tweets to propagate a pro-government narrative. These messages make derogatory remarks about the Shia population and accuse the dissidents of terrorism. The computer-generated tweets include hashtags commonly used by cyberactivists in order to dilute Twitter content coming from the political opposition
Women activists on Twitter experience violent threats from government-employed bots and other Internet trolls. For example, when activist Maryam al-Khawaja spoke at the 2011 Oslo Freedom Forum, hundreds of tweets from different Twitter users were created using the hashtag #OsloFreedomForum. They accused her of terrorism, lying, and engaging in culturally taboo acts, including prostitution. However, based on the bare profiles of these users, it is believed that the government created Twitter accounts for the sole purpose of invoking fear and spamming activists with hateful remarks. This mechanism of intimidation has been frequently geared towards women as a way to discredit them, attempting to equate their advocacy with immorality.
Despite systematic cyber assaults, Bahraini women maintain a strong online presence. At a time when the political climate is unwelcoming to women who wish to participate in the revolution, protesting on the ground is not viable for many. Those who evade barriers to join demonstrations are placed at great risk of imprisonment, torture, and sexual assault. For these reasons, the Internet is a vital refuge for women who wish for anonymity and freedom of expression. Social media platforms must be protected from government surveillance and censorship so that citizen journalists, especially those who advocate for women's rights, can continue spreading awareness about human rights violations in Bahrain.
Farah Kader is an Advocacy Fellow at ADHRB.