17 March 2017 – Mohammad Sahwan, a victim of excessive use of force by police in 2012, died of sudden cardiac arrest yesterday in Bahrain's Jau Prison. Mohammad Sahwan is the first political detainee to die in Jau Prison since 2011. Today, his funeral in Sanabis was attended by thousands and met by excessive use of force from the police. We, the undersigned organizations, condemn the government's treatment of Sahwan and its attacks upon his funeral procession today.
Sahwan was previously injured in April 2011, after the king declared a state of National Safety and enabled the security forces to violently suppress the Arab Spring protests. Sahwan was shot in the back, legs, and head by police with birdshot pellets from a shotgun. Sahwan was never treated for the 80 birdshot pellets which entered his head. His family told local press in 2012 that his life was at risk as a result of the denial of care. He was unable to receive full treatment for these injuries and prevented from receiving medical care, despite multiple requests, according to the Bahrain Center for Human Rights (BCHR). On 16 March 2017, Sahwan reportedly collapsed and died of sudden cardiac arrest.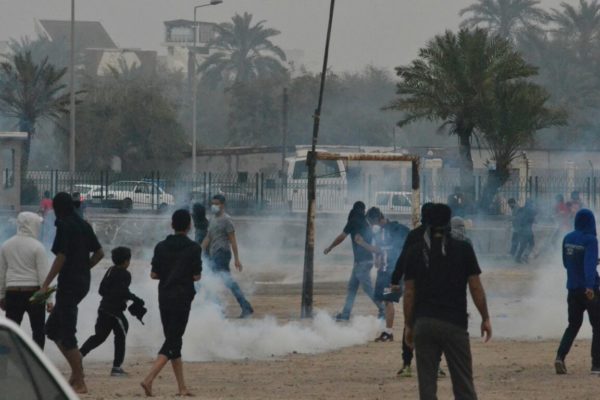 A Bahraini court sentenced Sahwan in May 2012 to 15 years in prison under the anti-terrorism law. BCHR reported in 2012 that Sahwan was detained and tortured to confess to various crimes. Sahwan told his lawyer that a police officer said to him: "We have examined you at the hospital and saw more than fifty bullets of shotgun in your head, and they are all on the right side of your head. I shall hit you with all tools I have on your left side until you see the shotgun coming out of your head from the right side and blood is scattering out of your head unless you sign this statement."
Sahwan's funeral was held today, Friday 17 March, in his hometown of Sanabis. A crowd numbering in the thousands marched in his funeral procession. Funeral-goers also demonstrated against the political and human rights situation in the country. Security forces responded to the funeral march with excessive use of tear gas and birdshot against demonstrators. At least one protester suffered a birdshot pellet injury in his eye.
Sayed Ahmed Alwadaei, Director of Advocacy, Bahrain Institute for Rights and Democracy (BIRD): "We are saddened by the passing of Mohammad Sahwan, who never received justice in life for the police violence he suffered, and it is outrageous that his funeral procession was hit by excessive force again today. No independent investigation was ever carried out into his abuse. The UN Special Rapporteur on torture must be allowed to enter Bahrain and conduct an impartial investigation into the treatment of detainees."
"Bahrain has long used coerced confessions and broad anti-terror legislation to arbitrarily detain its citizens, and it is deeply troubling to see that another prisoner has now died inside Jau," said Husain Abdulla, Executive Director of Americans for Democracy & Human Rights in Bahrain (ADHRB). "Now, however, Bahraini authorities feel even more emboldened by their relations with Washington and London – especially after the election of President Trump and Brexit – to attack funerals and protestors with impunity. There must be consequences for the government's actions from the international community."
Although Mohammad Sahwan is the first political detainee to die in Jau Prison, in 2014, Hassan Al-Sheikh, an inmate serving time on drug-related offences, died after being tortured by security forces and left in solitary confinement overnight. In 2016, an inmate in the Dry Dock Detention Centre, Hassan Al-Hayki, died amid credible allegations of torture. BIRD, ADHRB, and BCHR called for an independent investigation at the time of his passing. The government's Special Investigative Unit launched an investigation, but after just nine days declared there to be no suspicion of wrongdoing. Four days later, the authorities charged al-Hayki's lawyer with "publicly spreading false information with the intention of influencing the judicial authority in charge of the case" after he allegedly disagreed with the SIU's findings, telling "a local newspaper that there were injuries and bruises on the body of the deceased that proved beyond any doubt a criminal suspicion."
The Government of Bahrain violated Mohammad Sahwan's right to liberty (article 3, Universal Declaration of Human Rights and article 9, International Covenant on Civil and Political Rights), right to not be tortured (article 5, UDHR and article 7, ICCPR) and right to a fair trial (article 11, UDHR and article 14, ICCPR).
We condemn the Government of Bahrain's arbitrary detention and torture of Mohammad Sahwan, as well as his consistent denial of access to medical care. We additionally condemn the excessive use of force employed against Mohammad Sahwan's funeral today. Finally, we call for the release of all arbitrarily detained and unfairly convicted persons in Bahrain, and for the uninhibited access to healthcare for all prisoners.
Signed,
Americans for Democracy & Human Rights in Bahrain (ADHRB)
Bahrain Center for Human Rights (BCHR)
Bahrain Institute for Rights and Democracy (BIRD)
European Centre for Democracy and Human Rights (ECDHR)