"We're going to get the animal – your husband – and he is going to pay. We're going to start with your family and with his family. We're going to get you one by one…" – Bahrain security officer to Ms. al-Wadaei
On 2 March 2017, authorities from the Government of Bahrain continued targeting the family of human rights activist Sayed Ahmed al-Wadaei. Masked government forces first detained al-Wadaei's brother-in-law, Nazar Sayed Namaa al-Wadaei, during the middle of the night at his house. They transported him to the Criminal Investigations Directorate (CID), where al-Wadaei reported that security forces subjected him to torture.
Further, al-Wadaei's brother-in-law informed his family that the CID officers used torture to coerce a false confession from him, implicating other members of al-Wadaei's family. Three days after the arrest of al-Wadaei's brother-in-law and following the coerced confession, plain clothes security officers went to the home of Hajar Mansoor Hasan, al-Wadaei's mother-in-law. The government forces summoned her to CID without giving her any explanation and then subsequently detained her.
This is not the first the time that the Bahraini government has targeted al-Wadaei's family. In October 2016, security forces at the Manama airport detained al-Wadaei's wife and infant child as they attempted to return to their home in London. Officers subjected the mother and child to interrogation for more than seven hours during the night. Officers forcibly dragged Ms. al-Wadaei by her wrists to an interrogation room, asked her invasive and personal questions about her husband and his work, and threatened her family.
According to Ms. al-Wadaei the officers said this to her: "We're going to get the animal – your husband – and he is going to pay. We're going to start with your family and with his family. We're going to get you one by one… Deliver this message to your husband – I will get him."
Al-Wadaei's infant son is a United State citizen. "It's fortunate," al-Wadaei says, "that my son is a US citizen. And to have the US Embassy to put forth its full weight at the diplomatic level [to work to free my family.]" With the help of US Embassy officials, Ms. al-Wadaei and her son were able to leave Bahrain on 1 November 2016 following the October interrogation. They returned to their home in London.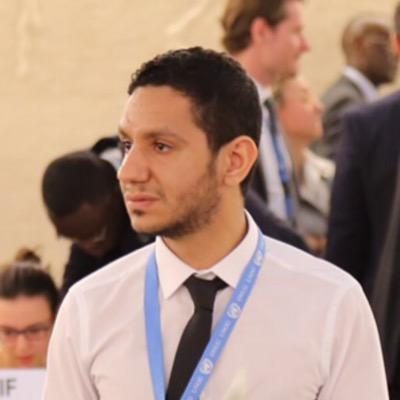 Al-Wadaei believes that the increased targeting of his family over the past months is the result of retaliation tactics used by the Bahraini government for his human rights work. Al-Wadaei has worked tirelessly for the promotion and protection of human rights in Bahrain. Bahraini government forces arrested, tortured, and sentenced al-Wadaei in a military court during the 2011 pro-democracy movement in Bahrain. Once al-Wadaei was out of prison, he left Bahrain out of fear for his safety and sought asylum in the United Kingdom. Al-Wadaei is now the Director of Advocacy at the Bahrain Institute for Rights and Democracy (BIRD), a London-based non-governmental human rights organization and a close partner of ADHRB.
With the increasingly deteriorating human rights situation in Bahrain, al-Wadaei has continued his work raising awareness of the crisis. Al-Wadaei most recently spoke at a United Nations Human Rights Council (HRC) side event on 7 March 2017, commenting on the international community's engagement at HRC on Bahrain. Recent news broke that the United Kingdom has refused to back a joint statement on Bahrain at the HRC, despite the worsening situation in the country. Al-Wadaei asked, "If the international human rights community fails us during the most repressive time in Bahrain, then why are we even here?"
Indeed, to whom can the Bahraini community turn as their government increases oppression if not the international human rights community at the Human Rights Council? After participating at the HRC side event, Al-Wadaei received word on 8 March 2017 that his brother-in-law and mother-in-law currently held at CID will remain in detention for the next 30 days pending investigation. There is still no word on the exact charges, if any, the Bahraini government has brought against al-Wadaei's family members.
_______
UPDATE: Since the publication of this article, the Bahraini authorities have charged al-Wadaei's mother-in-law and brother-in-law with alleged involvement in bomb-making. The Bahrain Embassy in the UK has additionally libeled al-Wadaei, accusing him of being a criminal and a terrorist.