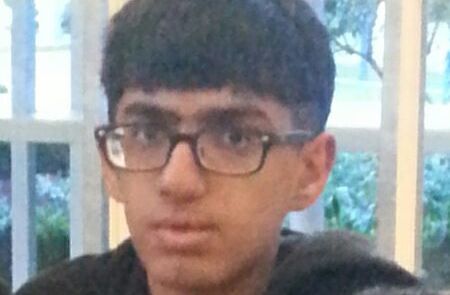 Ahmed Mansoor Ansaif is a 16-year-old Bahraini citizen who was detained by officials on 22 July 2017. At 2:30 pm on that day, over a dozen masked men surrounded and violently entered the home where Ahmed lives with his parents and siblings. More men broke into the rooms on the second floor, including the room in which Ahmed was sleeping. Unmasked men entered the home as well. Many were armed but some simply carried cameras. All wore civilian clothing with no visible badges or insignia identifying themselves as law officers or indicating what government agency they represented. Given the structure of the Bahraini state, they were most likely agents of the Ministry of Interior, the only alternative being the still less transparent National Security Agency.
The security forces took Ahmed and searched every corner of the house. Some of the officers threatened to detain the rest of the family because they asked what crime Ahmed had committed several times. The invading men presented no warrant for the search and arrest, nor did they inform Ahmed's family where he was being taken. He was 15 years old at the time. (He turned 16 in jail, where he is still being held pending trial.)
Ahmed was isolated from his family for over a week. During this time he was taken from Budaiya Police Station to North Hamad Town Police Station, adjacent to roundabout no. 17. His parents frequently traveled to both stations, where they were told a variety of contradictory stories. During the first visit, an officer said that because it was a holiday, no one could look into where their son was located. On a subsequent visit, they were told that Ahmed was at the North Hamad Police Station, but that Ahmed was not permitted to make phone calls or to see his parents because he was detained on the orders of Budaiya Police Station. On a visit the following day, officers told Ahmed's parents that they could not tell them the accusations against Ahmed, nor could the family hire a lawyer, until after the investigation and transfer of the detained minor to the Office of Public Prosecution (OPP), where his case would be finalized. Several days later, when Ahmed was finally transferred to the OPP, his family was not told and no lawyer was present to represent his interests.
By design, police actions served to deprive Ahmed of legal protection during the crucial initial period of detention. While Ahmed's family was searching for him, he was severely tortured by Ministry of Interior officers. He was forbidden to sit or lie down and forced to remain standing on his feet in a jail corridor for nine days; if he was to sleep, he had to do it standing up. During this time he was beaten every three hours and any security officer that passed by was invited to abuse him physically and verbally. He was subjected to electrocution, with the electrodes most frequently placed on his genitals. Ahmed repeatedly collapsed and lost consciousness during these assaults. Officers told Ahmed that if he denied the charges, they would torture him until he died. When Ahmed's parents finally saw their son on 2 August, well over a week after he was detained, they were shocked at how different he looked and behaved. He was pale, bruised all over, speaking in a low voice, and constantly looking left and right as if watching fearfully for the next person who would strike him.
Ahmed has now been charged with "unlawful assembly" stemming from his exercise of the rights to free expression and at a peaceful demonstration, as well as rioting, throwing a Molotov cocktail at a patrol car, and lighting a gas cylinder on fire. Ahmed's family stated that there were no protests or riots on the days that Bahraini authorities say he committed the crimes. Bahraini authorities, from the Ministry of Interior to the Office of Public Prosecution to the courts, typically indict and convict suspected critics of the government on fabricated charges.
Bahrain's actions violate both domestic and international law. Bahrain is a signatory state to the International Covenant on Civil and Political Rights, Article 9, paragraph 1 of which states that no one shall be detained or arrested arbitrarily. By detaining Ahmed without cause, refusing to disclose any charges or even allegations against him, and actively colluding to prevent his access to legal defense, Bahraini authorities violated this binding duty. Further, Ahmed was clearly tortured in violation of the Covenant's Article 7. Americans for Democracy & Human Rights in Bahrain (ADHRB) is raising Ahmed's case before the UN special procedures offices, in the hope of securing his human and legal rights against the abuses of the Bahraini government. ADHRB calls upon the broader international community, and especially Bahrain's chief military partners in the US and UK, to cease business as usual with a government that unlawfully detains, tortures, and imprisons children as young as 15.