On 13 February 2018, Americans for Democracy & Human Rights in Bahrain (ADHRB) hosted a panel discussion at the American University's School of International Service entitled "Stand Up for Human Rights in Bahrain," featuring Husain Abdulla, Executive Director of ADHRB, Michael Payne, Director of Advocacy at ADHRB, and Maryam al-Khawaja, Special Advisor on Advocacy with the Gulf Center for Human Rights (GCHR). The discussion was moderated by Professor Jeff Bachman, Director of American University's Ethics, Peace, and Global Affairs Program and a lecturer on human rights.
Maryam launched the discussion, explaining Bahrain's long history of civil society activism. The country has one of the oldest rights movements in the region, dating back to the 1920s, with uprisings occurring roughly every decade calling for reforms. At the turn of the century, Bahrain's ruler, Hamad bin Isa al-Khalifa, crowned himself king and promised a constitutional monarchy, indicating room for positive change. However the king quickly proceeded to unilaterally draw up the constitution in 2002, consolidating power and effectively establishing an absolute monarchy. The government has instituted all forms of repressive measures to retain power, from arbitrary detention and torture to political naturalization and censorship.
Maryam recounted that when she first started engaging in activism more than seven years ago, the "barrier of fear" built by the government was strong and seemed to stand in the way of greater mobilization. But when riot police began shooting unarmed protesters in the back – and they kept returning to demonstrate, she could tell things were changing. In February 2011 – on the anniversary of the king's national reform project promising a constitutional monarchy – tens of thousands of Bahrainis took to the streets and braved the violence of the security forces. At this point, she knew the barrier was broken. Every aspect of society participated in the protest movement at the Pearl Roundabout in Manama, across classes, occupations, ethnicities, and religious sects. On the night of 17/18 February, the security forces finally attacked to disperse the encampment, killing demonstrators. But even then thousands of Bahrainis continued to protest and returned to the Pearl Roundabout.
At this point, the government was at a crossroads where it could either reform and enter real dialogue or intensify its crackdown on non-violent protesters. It chose the second option, and with the support of the Gulf Cooperation Council – and specifically security forces from Saudi Arabia and the United Arab Emirates – the authorities permanently destroyed the Pearl Roundabout. In the years since, the government has increased legal restrictions on basic human rights and effectively institutionalized the most repressive measures of the crackdown. With minimal attention compared to the outright violence of 2011, the monarchy has specifically used the judiciary as one of its main tools to suppress the movement. Torture, forced confessions, and other due process violations are rampant in political, unfair trials that are increasingly yielding arbitrary citizenship revocations and even the death penalty.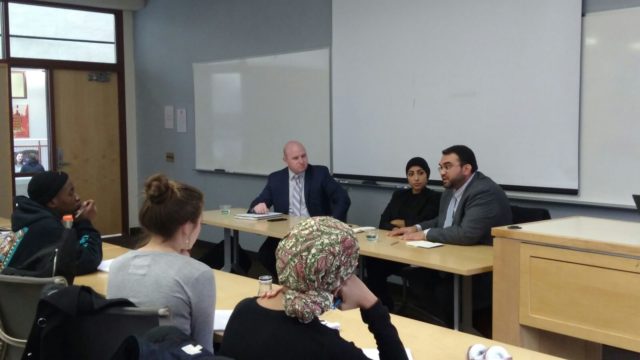 Husain then began his remarks with the idea of a "vibrant" or "successful" civil society – one where professors can teach, clerics can preach, students can debate freely, and activists can mobilize. In Bahrain, the opposite is true, as the government has actively dismantled much of the civil society and put it in prison. Authorities arbitrarily detain professors for teaching to think critically; clerics for preaching about human dignity and human rights; students for voicing their opinions; and activists for pursuing their cause.
Meanwhile, major allies like the United States (US) have largely allowed this to happen because of a myopic understanding of its interest in the kingdom. Bahrain is seen as a key military ally as the host of the Fifth Fleet, and Saudi Arabia – Bahrain's benefactor – is a major buyer of US-manufactured weapons. Consequently, many in the US turn a blind eye to the two countries' human rights violations. However, American citizens can have a real impact on the situation by writing to their congressional representatives, asking them to object and to halt things like arms sales until human rights are respected. Students at AU specifically can also have an impact by leading a campaign to remove the name of Bahrain's crown prince from the School of International Service atrium (who received it after donating a large sum of money) and to prevent future connections between academic institutions and individuals implicated in human rights abuses.
Michael followed by stating that the Arab Gulf governments are very sensitive to their image and to how they are perceived internationally. What the media says about them carries real influence, and organizations like ADHRB and GCHR therefore work to expose these governments' human rights violations in the international fora, especially the United Nations. Michael noted how nongovernmental organizations (NGOs) like ADHRB document and internationally publicize abuses to give voice to victims and their families, because these individuals often have no domestic remedy. At the UN, this can translate into communications to the governments from Special Procedures, for example, as one means of attempting to hold the authorities in question accountable for their actions and international obligations.
Regarding arms sales to the Bahraini military, the US has repeatedly argued that the military is now removed from domestic policing and therefore should not be restricted from security support, eliminating possible leverage for reform. Michael made it very clear that this is no longer the case. A recent constitutional amendment in Bahrain now allows military courts to try civilians, and there is increasing evidence that military personnel are engaging in due process violations and may again be torturing suspects in their custody. It is vital that the US enforce a policy that addresses these human rights violations – and prevents US complicity in them – by halting the arms sales and cooperation with such institutions until they make real changes.
Maryam also emphasized that countries across the region are interrelated, and at times share worst practices of abuse. If one country institutes a certain repressive measure, and it is met with little international resistance or criticism, then other countries will follow suit. Saudi Arabia, for example, has – despite positive promises on women's rights – led a trend in consolidating authoritarian power under the crown prince, Mohammed bin Salman. He is largely hailed as a reformer in international press despite a continued crackdown on dissent and rash, violent policies in Yemen.
She added that climate change may also become a major source of unrest in the Middle East if left improperly addressed. Poverty and unemployment will rise, putting greater stress on broken political systems and likely resulting in harsher repression. If allies like the US truly want to see sustainable stability in countries like Bahrain, they need to encourage reform now before this other factor reaches a crisis point, possibly generating more violence.