Americans for Democracy & Human Rights in Bahrain (ADHRB) held a side event during the 37th Session of the Human Rights Council today, Wednesday 7 March 2018. This event was co-sponsored by CIVICUS, ECHDHR, the European Saudi Organiztion for Human Rights (ESOHR), PEN International, English PEN, Gulf Center for Human Rights, International Service for Human Rights (ISHR), Reporters Without Borders, ALQST, the International Federation for Human Rights (FIDH), and Index on Censorship. The event was moderated by Tyler Pry of ADHRB and speakers included Yasmine Laveille of FIDH, Duaa Dhainy of ESOHR, Nael Georges of PEN International, and Sara Brandt of CIVICUS. CIVICUS also provided a livestream of the event to their Facebook page.
Mr. Pry opened the event by thanking the co-sponsors and panelists of the event. He noted the upcoming anniversary on 9 March of the arrest of two of the co-founders of Saudi Arabian Civil and Political Rights Association. He noted that the panel would focus on themes of freedom of assembly, expression, and association, and the targeting of Human Rights Defenders for exercising these rights in Saudi Arabia. He also noted the upcoming 3rd Cycle of Saudi Arabia's Universal Periodic Review which will take place in November.
Ms. Dhainy spoke about the targeting of human rights defenders in Saudi Arabia and the government's recent propaganda and campaign to improve their public image in the international community. Crown Prince Mohamed bin Salman Al Saud since consolidating power has attempted to create an image of a "new age" of the Kingdom by opening civil society. However, she noted that a number of these changes, like the Law of Associations and the announcement to lift the ban on women driving merely provide a public image of positive movement towards conformity with international human rights standards. Ms. Dhainy specifically noted that the associations law is actually a tool for the government to control civil society, and to ensure that any associations or organizations operate within restrictive bounds, excluding civil society
 and human rights organizations from operating in the country. She also noted that all of these changes have been made unilaterally and without any input from Saudi citizens or society. Ms. Dhainy also discussed the 2014 anti-terrorism law, which violated international standards and was especially restrictive on civil society. After pressure from the international community, Saudi Arabia reformed this law in November 2017. Ms. Dhainy noted however, that the new legislation further violates these standards, and allows for the continued targeting of human rights defenders, journalists, and civil society members.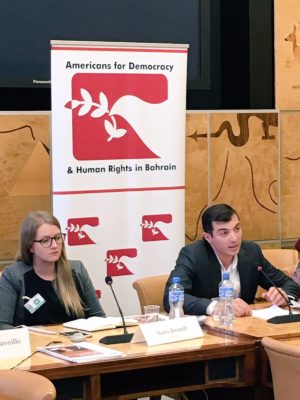 Mr. Georges focused his comments on violations of the right to freedom of expression. He noted the case of bloggers and writers subjected to torture, arbitrary detention, and other forms of ill treatment by the Saudi government. Mr. Georges noted the Saudi legal system's lack of protection for freedom of expression, as there is no constitution in Saudi Arabia, and the domestic law fails to protect free speech, as it allows for restrictions and punishments in the name of "national security" or "public security." Mr. Georges also discussed the lack of international options to address these violations, as Saudi Arabia is not a party to the International Convention on Civil and Political Rights. While Saudi Arabia has signed the Convention Against Torture and other forms of cruel, inhuman, and degrading treatment, it did so with reservations allowing for the use of corporal punishment domestically, including floggings and amputations. Mr. Georges also discussed Saudi restrictions on freedom of religion connected to freedom of association – any association that wishes to be registered must also abide by and support Sharia law. He discussed the cases of Raif Badawi, Nadhir al-Majed, and Zuhair Kutbi, writers who were imprisoned for criticizing the government or royal family. Mr. Georges called on Saudi Arabia to ratify all human rights conventions without reservations, reform anti-terror laws and restrictive laws on freedom of association, and provide a legal protection for freedom of expression.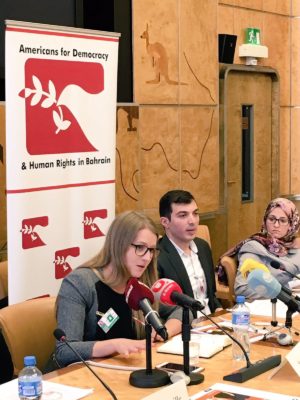 Ms. Brandt stated that Saudi Arabia has completely closed space for civil society, and is likely the number one offender worldwide for using counterterrorism and cyberspace laws to crack down on dissenters, civil society organizations, and human rights defenders. Like Mr. Georges and his comments on freedom of expression, she noted that there are also no national protections for freedom of association and assembly, and Saudi Arabia's failure to accede to the ICCPR prevents international redress. Like Ms. Dhainy and Mr. Georges, Ms. Brandt highlighted that the law of associations is actually used to ensure that no independent civil society organizations or human rights organizations are able to operate in the country. She noted the barriers to registration, which include a long wait time (while the legislation states 60 days, in practice this can take years), and financial barriers (organizations must have $1.3 million in their account at the time of application). The result is that all registered organizations are either governmental, semi-governmental, or related to the royal family.  Ms. Brandt also highlighted the use of cybercrime law to target civil society organizations, and noted that 15 high-ranking members of ACPRA have been imprisoned. She also discussed the violations of the right to freedom of assembly, including that protests and marches within the country have been effectively banned since the Arab Spring in 2011. Ms. Brandt also noted an emerging and troubling trend that anti-corruption charges may also be used to target and limit the freedoms of expression, assembly, and association in Saudi Arabia.
Ms. Laveille focused her remarks on women human rights defenders, noting that there has been an unprecedented mobilization of women since 2016. She stated that women human rights defenders in Saudi Arabia face double discrimination, based on their gender and their political expression. Women activists typically operate on social media or in their homes, as there is no space for expression in Saudi Arabia, and women are confined to these methods by the restrictive male guardianship system. She highlighted multiple ways in which the guardianship limits women human rights defenders, including by requiring male permission to apply for a passport, to travel abroad, to enroll at university, to access the justice system, or to seek and accept a job. She also noted that in addition to the male guardianship system, there are unwritten rules which limit women in Saudi Arabia. Ms. Laveille called on Saudi Arabia to revise the associations law to provide legal protection for human rights defenders, and to abolish the discriminatory male guardianship system. She noted that the recent changes to laws removing the ban on women driving and attending sporting events are important, but that these changes are being used to divert attention of the Saudi people and distract the international community from other human rights violations.
Mr. Pry read a statement prepared by the Gulf Center for Human Rights, which focused on the imprisonment of human rights defenders and the culture of impunity in the Saudi government. GCHR stated that it is in the preliminary stages of bringing a case against Saudi officials in another State with sufficient legal ties to Saudi Arabia. GCHR called on the Saudi government to appeal the sentences of human rights defenders, release political prisoners, release women detained for crimes under the guardianship system, and to ensure that is no retaliation or judicial harassment of human rights defenders.