12 March 2019 – Today, Americans for Democracy & Human Rights in Bahrain (ADHRB) hosted a side event on impunity in Saudi Arabia during the 40th session of the Human Rights Council (HRC) in Geneva. The event was co-sponsored by the International Freedom of Expression Exchange (IFEX), Bahrain Institute for Rights and Democracy (BIRD), CIVICUS World Alliance for Citizen Participation, European Center for Democracy and Human Rights (ECDHR), International Federation of Human Rights (FIDH), European Saudi Organisation for Human Rights (ESOHR), Cairo Institute for Human Rights Studies, and ALQST. Husain Abdulla of ADHRB moderated the event, with remarks by Sue Eedle of ALQST; Oliver Windridge, a human rights lawyer; a researcher for ESOHR; and Sonia Tancic of FIDH. The panel also heard the testimony of Zainab Abu Al-Khair, the sister of a victim of torture by the Saudi government.
Husain Abdulla, Executive Director of ADHRB, moderated the event. Abdulla opened by thanking the co-sponsors and panelists, and discussing the recent joint statement on Saudi Arabia at the HRC, led by Iceland with 36 signatures. The joint statement expressed continuing concerns about human rights defenders in Saudi Arabia and systematic impunity for perpetrators of human rights abuses. He noted that Switzerland was unfortunately not a signatory to this statement. He mentioned that although the international community has made its displeasure clear over the detention of rights activists and the murder of journalist Jamal Khashoggi, no high-level figure has been held accountable for these actions. He stated that this lack of accountability is a feature of Saudi Arabia's judicial system and hierarchy of power led by Crown Prince Mohammed bin Salman, who has led a crackdown on dissent, arrested and tortured critics of the government, led Saudi Arabia's engagement in the murderous war in Yemen, and may have ordered the murder of Khashoggi. He then turned it over to the panelists for their remarks.
Sue Eedle of AlQst opened her comments by highlighting impunity in the context of torture in Saudi Arabia. Eedle noted that ALQST has documented numerous cases of torture in its work, especially in the case of women human rights defenders and the use of false confessions coerced through torture. She highlighted in particular the lack of investigation, and that no one is punished for these acts, commenting that punitive measures and investigations into torture are about individuals accountability, but also about deterring future instances of torture. Without this deterrent effect, torture will continue unchecked from top to bottom in Saudi Arabia.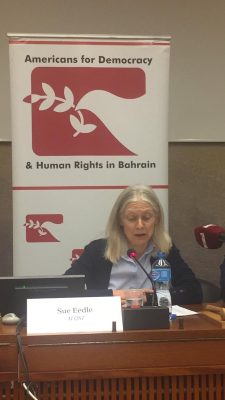 Eedle noted the "casual" brutality of prisoners and detainees in detention centers in Saudi Arabia, recounting the story of a detainee who was beaten until his arm was broken, then dragged around the prison by his ankles. She noted that in 2017, the Saudi Crown Prince Mohammed bin Salman (MbS) promoted two notorious torturers to high-ranking positions in the Kingdom, despite publicly billing the Kingdom and MbS as a "reformer."
Eedle then discussed the connection between corruption and torture in Saudi Arabia, particularly in the context of silencing political criticism or opposition. She noted that corruption and torture are connected and mutually reinforcing, creating a vicious circle, echoing similar comments made by the Special Rapporteur on torture in his report to the Council this session. Both corruption and torture in Saudi Arabia are symptoms of the absence of checks and balances and the result of consolidation of power. Eedle described an "anti-corruption" measure in 2017 led by MbS, in which 381 individuals were summoned, and 87 "confessed;" the government stated that over 400 billion Saudi riyals were "retrieved to State treasury." However, these interviews and confessions occurred among a lack of judicial procedures – these individuals were held incommunicado at the Ritz-Carlton, some have alleged they were tortured, and many were denied legal access. Despite MbS and the Saudi government praising this measure, no one has been tried for this alleged corruption and there has been no result of these investigations.
Eedle concluded her remarks by noting that public scrutiny is so important – pressure from outside the country is the only thing that works in the case of Saudi Arabia, as we have seen from the recent joint statement led by Iceland. She called on the Council to create a Special Rapporteur on the human rights situation in Saudi Arabia, and called on Saudi Arabia to also grant country visits for other Special Rapporteurs, including those on torture, executions, and human rights defenders, to see if these alleged reforms are being carried out on the ground and to bring an end the culture of impunity in Saudi Arabia.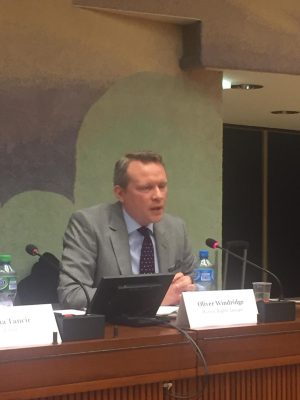 Oliver Windridge, a human rights lawyer, formerly worked for the United Nations on legal issues. In 2016, he left to be an independent practitioner, and one of the first meetings he held in this context was with United Kingdom Parliamentarians on the issue of Saudi Arabia. He recounted that he felt "deflated" by the meeting and the situation in Saudi Arabia, with one remaining question – "What is the point?" Windridge has noted that since that meeting, there has been a change on the issue of Saudi Arabia, particularly with the joint statement in the Council this week, and in his work with activists, NGOs, and human rights lawyers.
Windridge then discussed the first case that he covered, that of a protestor who was executed. He received a copy of the Judgment from the Specialized Criminal Court (SCC) in this case. Windridge highlighted that in reading these judgments, normally human rights lawyers must read between the lines to find serious violations of human rights law. However, with Judgments from the SCC, all these violations are included, particularly details of allegations of torture. The SCC includes these details, but then put the onus on the defendant to prove the torture, and the Court ignores the allegations. He noted that Saudi Arabia is an anomaly, as most other countries do not include their violations or bad acts outright.
Windridge also briefly discussed two other cases from Saudi Arabia that he is covering, Mohammed al-Otaibi and Israa al-Ghomgham. Al-Otaibi was sentenced to 14 years in prison and a travel ban, as well as an indefinite ban on publishing online. He was subjected to these measures because he created a Twitter account and attempted to create a human rights organization. Israa al-Ghomgham is one of six individuals whose case is currently pending before the SCC. He has received a copy of the indictment, which shows that there is no allegation of any violence. Rather, these individuals are currently on trial for using social media and arranging for protests on social media. Windridge noted that four of the six are facing the death penalty for this charge, although the death penalty has been dropped against al-Ghomgham.
Windridge noted that the work that he and other human rights lawyers do is not an attempt to impose obligations on Saudi Arabia, but rather to hold them to account for the obligations which they have voluntarily agreed to, including under the Convention Against Torture and other human rights treaties.
Windridge returned to his original question – "what is the point?" He noted the joint statement in the Council as making a difference in these cases, as well as the report of the 2017 visit by the former Special Rapporteur on counter-terrorism and human rights Ben Emmerson, published in late 2018. He noted the important information contained in this report, and how it can and should be utilized to understand the current situation in Saudi Arabia.
Zainab Abu Al-Khair discussed the case of her brother, Husain Abu Al-Khair, a Jordanian man who was arrested in May 2014 in Saudi Arabia and sentenced to death on charges relating to drug crimes, though he maintains that the drugs were planted by border police. Husain was tortured to produce a confession and has been imprisoned since his arrest. He informed the Court of his torture, but this was ignored. Husain does not have a lawyer, and the Jordanian Embassy was not informed about his case. His appeal was recently rejected. Two of the other men in prison with Husain were recently beheaded without receiving any prior warning, and this has taken a toll on Husain, as he believes his execution may be carried out at any moment. She urged those present to help her family and her brother.
A researcher from ESOHR stated that this kind of conversation on human rights is not allowed to happen in Saudi Arabia, as there is no civil society. ESOHR brought up the case of Loujain Al-Hathloul's father, who recently had his Twitter account suspended and was subjected to a travel ban for speaking out on his daughter's case. ESOHR asserts that Saudi Arabia is a "torture state," with total disregard for its international human rights law obligations.
ESOHR stated that Saudi Arabia must begin from the top and train staff within state apparatus and within prisons. At the moment, torture serves an important purpose for Saudi Arabia to eliminate and deter dissent. As a state party to the Convention Against Torture, Saudi Arabia has both a negative obligation to refrain from torture, and also a positive obligation to put in place measures to prevent torture from occurring within its borders. However, ESOHR noted the case of high-ranking officials attending the torture of prisoners, such as Saud Al-Qahtani who oversaw the torture of Loujain and another human rights defender. ESOHR commented that the only time Saudi Arabia is "anti-torture" is at the Human Rights Council, where they put on an act to impress the international community.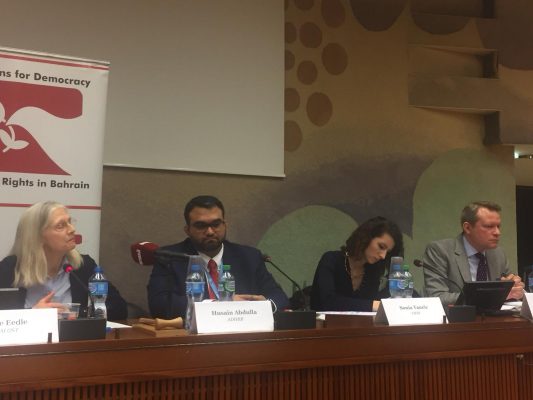 ESOHR also highlighted the new counter-terrorism laws laid out in 2017, under which detainees can legally be held for 90 days incommunicado, which provides for an environment in which torture and ill-treatment can be carried out with no knowledge of such from the outside world. ESOHR also noted that Saudi Arabia blocks investigations of torture from any outside bodies. In the case of Loujain, she attempted to submit two complaints on her recent torture and officials from the Saudi Human Rights Commission, which is meant to be impartial, told her they could do nothing for her case. ESOHR noted that this is part of the state apparatus, and is designed to allow these systems to fail and to allow torture to take place. ESOHR also pointed out that the Saudi Human Rights Commission, the only domestic human rights institution, lacks independence and fails to meet the standards in the Paris Principles. Similarly, prosecutors are not independent, and report to the Royal Court.
ESOHR expressed concern about the urgent situation of Loujain's trial, which will be held at the SCC tomorrow (13 March  2019).  ESOHR stated that the SCC is used to give the appearance of judicial proceedings, but is nothing more than a "show trial" when it comes to cases like Loujain's and Israa's. The SCC is notorious for pre-determined sentences, and there is an overwhelming sense that activists are guilty before they ever enter the courtroom. ESOHR also commented on Saudi Arabia's use of pro-government media to incite hatred from the public against human rights defenders, calling them "traitors" and "enemies of the state." This tactic was also used against Sheikh Nimr al-Nimr, who was executed after an unfair trial.
Finally, ESOHR concluded that with the recent joint statement in the Council, the tide is turning. Saudi Arabia is feeling international pressure and responding – for example, Loujain was recently forced to sign a royal pardon, and there is a sense that Saudi authorities are trying to find a mechanism to release her without losing face. Another example of the effective use of international pressure is the recent attention paid to Israa Al-Ghomgham's case, and the subsequent removal of the death penalty against her as a result.
Sonia Tancic of FIDH opened her remarks by asking what comes next after this joint statement in the Council? She noted that until now, Saudi Arabia has been able to pepetrate violations in Yemen and other domestic human rights violations with impunity because of the kingdom's power and political stature. Tancic noted that the joint statement led by Iceland is timely and can be seen as a major step, as it expresses that States will no longer accept Saudi Arabia's practices of systematic repression, which contravenes its role as a Member of the Council. Tancic noted however that it is "deplorable" that it took the murder of Khashoggi and the imprisonment of women human rights defenders to see a collective response from the Human Right Council. She highlighted the courage and tenacity of these defenders in carrying out their work, as well as the importance of NGOs working collectively on Saudi Arabia.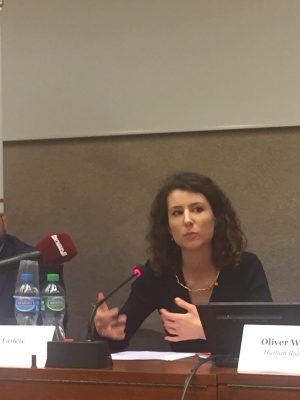 Tancic noted that the joint statement is only the first step and in order to move forward, States will need a broader base of support to see collective action in the Council. She notes that the absence of any state in that support is extremely concerning, and the absence of Switzerland and Latin American states was noted with particularity. She highlighted that at the June session of the Council, the Special Rapporteur on extrajudicial, summary or arbitrary executions will release her report on her country visit to Turkey on the killing of Jamal Khashoggi including actions and recommendations for Member States. She emphasized the fact that it is important for the Council to act on this report and work toward a resolution in the Council, that includes monitoring the situation in the country until there is accountability for the murder of Khashoggi, release of women human rights defenders and an end to impunity, stating this will take long-term solutions rather than short-term to lead to a solution.
Finally, Tancic brought attention to the fact that 2019 is Saudi Arabia's last year as a member on the Council, and they have been uncooperative the entire time they have been a member. She said that the current term of the kingdom should be criticized, and that a bid for a new term should be categorically refused. She also urged Western countries to halt arms supply and sale, and end sale of surveillance technology, and called on NGOs in these countries to have discussions domestically on this.
The panel then answered questions about the lack of local remedies in Saudi Arabia and if international jurisdiction can be used, the regional effect of the attention on Saudi Arabia, and the new counter-terrorism laws of 2017. The panelists answered that there have been discussions on international jurisdiction in lieu of regional mechanisms. They also confirmed their confidence in a ripple effect of the laws of countries in the region. The panel stated then that the 2017 laws have a loose definition of terrorism and are being used to justify detaining and torturing human rights activists. The panelists concluded by stating unanimously that the pressure of the international community will have a positive effect, and that collective action by NGOs and States are necessary to provide further pressure and criticism to effect change.