5 March 2019 – Today, Americans for Democracy & Human Rights in Bahrain (ADHRB) held a panel event at the 40th session of the United Nations Human Rights Council (HRC) in which panelists outlined the deteriorating human rights situation in Bahrain, making the case for international action to stem the slide in human rights. The panel was moderated by Tor Hodenfield, of CIVICUS, and Andrew Smith of Article 19, Bridget Quitter of ADHRB, Megha Ramesh of the Bahrain Institute for Rights and Democracy (BIRD), and Ali Al Fayez, a Bahrain political activist, participated as featured speakers. The event was supported BIRD, IFEX, CIVICUS, FIDH, Article 19, the Gulf Centre for Human Rights, the European Centre for Democracy and Human Rights, and the Cairo Institute for Human Rights Studies.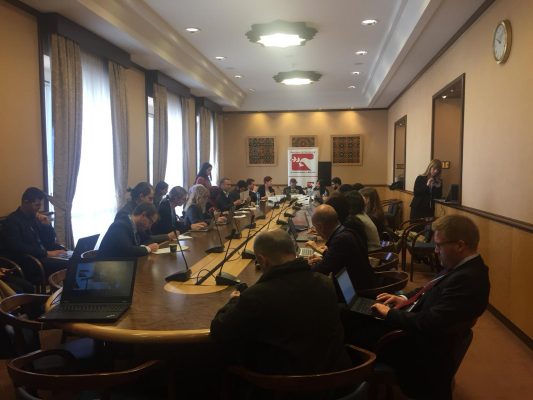 Tor Hodenfield began the panel by providing context to the situation in Bahrain noting that many of the state delegates and NGOs in the room have supported civil society in Bahrain for nearly a decade, before noting that since 2011, the government has suppressed and demonized civil society. This is of particular interest now because Bahrain is a new Member State on the Human Rights Council as of October 2018. This is of additional importance because in the four months since the country's election to the Council, the government has taken steps to further stamp out political and civil societies. Just in those four months, the country has committed a litany of abuses.
After these opening remarks, Tor highlighted several important trends in Bahrain, calling attention to the fact that there is no independent media in the country nor are opposition political societies legally allowed to operate. In 2018 alone, courts stripped 204 people of their citizenship, many of whom were activists and peaceful dissidents. Furthermore, the government has placed severe restrictions on foreign funding of NGOs. Beyond this, the government has increasingly persecuted activists for engaging with the Council. At HRC39 in September 2018, the Assistant Secretary-General highlighted these reprisals, criticizing Bahrain for levying travel bans against activists for their engagement with international human rights mechanisms. In addition to these restrictions, there is a pervasive climate of impunity as security forces are not held accountable for abuses. This lack of accountability has been raised by the Bahrain Independent Commission of Inquiry, which highlighted that the government has not adequately investigated human rights violations committed by security forces.
Megha Ramesh called attention to particular challenges faced by human rights defenders in Bahrain – especially those faced by women human rights defenders and women activists. She highlighted in particular the cases of three high profile women human rights defenders Medina Ali, Najah Yusuf, and Ebtisam AlSaegh. These women, she noted, face abuses on a regular basis due to their outspoken activism. But part of their abuse stems from the attention they have received from the international community, as the government responds to negative international attention by reprising against Ali, Yusuf, and AlSaegh.
One such incident was in early September 2018 when the British parliament raised the cases of Ali, Yusuf, and AlSaegh, after which the government targeted them, even in prison. The Assistant Secretary General has also raised cases of Bahraini women human rights defenders, including Hajer Mansoor, the mother-in-law of London-based Sayed Ahmed Alwadaei, a Bahraini human rights activist. A few days after the publication of the report naming Mansoor, prison officers reportedly physically assaulted Ali, Yusuf, and Mansoor, and moved to deny them their religious rights. Prison officials also placed the women in isolation cells for several hours, punishing them for their inclusion in the report. Additional punishments included a reduction in the number of weekly phone calls to family members or legal counsel, a limited amount of time out of their cells, and the erection of a physical barrier between them and their visitors during family visits. In protest, Mansoor, Ali, and Yusuf have refused family visits for six months.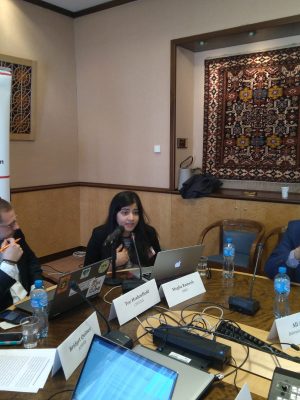 In response to a question from Hodenfield about the international response to recent arrests of women human rights defenders, Ramesh noted that Najah Yusuf's arrest is due to her protest of the Formula 1 race. She highlighted that Yusuf's arrest and conviction rely on free expression-related crimes associated with social media use: calls for peaceful protests and criticism of the government. Despite being an important part of her arrest and sentence, Formula 1 has largely removed itself from responsibility. In response to F1's refusal to take a more concrete and supportive stance on human rights and activists arrested around its event, 17 NGO's including Amnesty International and Human Rights Watch wrote to Formula 1 ahead of the Grand Prix this year. Yesterday the signatories received a response wherein F1 once again distanced itself from abuses committed by Bahraini security forces.
In regards to Mansoor's case, Ramesh noted that her conviction is in reprisal against her son in law, Sayed Ahmed Alwadaei, who is based in London and who leads BIRD's advocacy efforts. Due to his activism, Alwadaei has faced numerous reprisals against himself and his family. Recently, Bahrain's final appeals court upheld the three sentences against Mansoor and Alwadaei's his brother in law and cousin. As a result, they have exhausted all legal remedies. But importantly, the United Nations Working Group on Arbitrary Detention has taken up Mansoor and Alwadaei's family members' cases. The Working Group published its communication in January 2019, but the Bahraini authorities responded with a smear campaign against Alwadaei, including labelling him a terrorist.
Even as the UN has expressed its concern over acts of reprisals against Mansoor, and Alwadaei's family members, the Government of the United Kingdom (UK) has not recognized these cases as being reprisals. The UK's silence on these cases is extremely concerning because it demonstrates that although Alwadaei is an asylee in the UK, the UK government will not take concrete steps to address the political persecution of his family in Bahrain. In addition, while British parliamentarians have raised these cases, they have yet to take a positive stance in his aid, and they have not addressed Mansoor's case, nor her advocacy in relation to Alwadaei.
Bridget Quitter began her remarks by noting that in early October 2018, Bahrain was elected to a seat on the Human Rights Council garnering 165 out of 193 votes. Bahrain ran unopposed, which effectively guaranteed it a seat despite its poor record of systematic human rights violations, including consistent acts of reprisal against activists for engaging with the HRC itself. One issue with this, is the membership standards set under Article 9 of General Assembly Resolution 60/251 are loose, calling only on Member States of the Council to "uphold the highest standards in the promotion and protection of human rights."
However, since mid-2016, Bahrain has taken increasingly repressive measures to silence dissent and imprison political activists. The government has dissolved all opposition political parties, silenced independent media, jailed human rights defenders and political leaders, and criminalized forms of expression and association. Membership in the Council has not hindered Bahrain from committing these abuses, but has rather enabled them to continue to commit these abuses, while promoting their Membership in the Council as evidence of a positive human rights record.
Less than a month before Bahrain was elected to the Council, the government arrested members of the Shia community and interrupted Ashura ceremonies in more than 20 villages. When Bahrain won election to the Council, at least 14 of these individuals were still detained on charges of "indulging in abusive activities to cause chaos." Then a month after it won election, the High Court of Appeal overturned the acquittal of political prisoner and former opposition leader Sheikh Ali Salman, and sentenced him to life in prison on spurious political charges of "espionage." The court upheld his sentence only two weeks ahead of the elections for the lower house of parliament, in a signal that dissent was not acceptable. When former Member of Parliament Ali Rashed al-Asheeri tweete he would boycott the elections, the authorities arrested him on spurious state security charges. When the elections were held, given the restrictions on free speech, they were neither free nor fair, in part also due to the dissolution of political societies, which kept them from participating.
Another important development was the arrest of football player and refugee Hakeem AlAraibi in Thailand on the basis of an INTERPOL Red Notice as he traveled from Australia – where he resides – to Thailand for vacation. He was held in Thailand pending a request for his extradition, but was ultimately released after being detained for 76 days. In addition to calling for AlAraibi's detention, Bahrain has continued to apply the death penalty to detainees for "political" crimes. In December the Court of Appeals upheld the death sentence for Moosa Abdulla Moosa Jaafar and then in January 2019, it confirmed the death sentences against Ali Mohamed Ali Mohamed Hakeem AlArab, Ahmed Isa Ahmed Isa AlMalali, and Husain Abdulla Khalil Ebrahim. In February, the Court of Cassation upheld two death sentences, marking a total of seven individuals on death row at imminent risk of execution. The Court of Appeals later upheld another death sentence against an individual. As a result, there are currently at least 19 individuals sentenced to the death penalty in Bahrain.
The Bahraini government has also used citizenship revocations as a tool to quell dissent. In January, the Court of Appeals upheld the conviction of 115 Bahraini individuals in the mass trial of the "Zulfiqar Brigades." Later, Bahrain's Fourth High Criminal Court denaturalized 25 Bahrainis and sentenced nine individuals to life imprisonment across three cases. As a result, there are now 849 Bahraini individuals that have been denaturalized since 2012.
In addition, the government has moved against human rights defenders and activists like Nabeel Rajab, who had his five-year sentence on free expression charges upheld on New Year's Eve. Rajab had criticized torture in Jau Prison and the war in Yemen. In February, the government sentenced Zakeya AlBarboori to five years in prison and stripped her of her citizenship on terrorist charges. The later in February, the Court of Cassation confirmed the three-year sentence against the family members of Bahraini activist Sayed Ahmed Alwadaei, despite the WGAD finding their detention to be arbitrary acts of reprisal. His mother-in-law and brother-in-law will now remain in prison until March 2020, and his cousin will remain in prison until 2028.
Quitter concluded her remarks by noting that in addition to suppressing fundamental freedoms, Bahrain has consistently refused to engage with the Council it now sits on, and it is one of the worst perpetrators of reprisals against civil society for cooperating with the HRC and its mechanisms. Bahrain has refused to allow any Special Procedures into the country to evaluate the situation since 2006 despite numerous mandate holder recommendations and requests calling for a visit. The kingdom has been the subject of 51 joint communications from Special Procedures offices in the last five years, and 89 communications since 2011.
Ali AlFayez stated that the government in Bahrain has silenced dissent and criticism to serve its own self-interests.  In 2001, the Bahraini people voted overwhelmingly to transform Bahrain into a constitutional monarchy – this shows the will of the people. They wanted a democracy with elected representatives, and to have a say in their fate, manage their resources, and decide their future. This is clearly in line with the United Nations, which has stated that peoples have the right to self-determination. The failure of the Bahraini government started in 2002, when the King proposed the Constitution, which gives himself all the power and tailored a parliament to serve him.
AlFayez noted that In Bahrain's Parliament, there are 40 seats appointed by the King on the Shura Council, and 40 seats that are elected in the Lower House. Political opposition group AlWefaq participated in the 2006 election, where they received 64% of the vote, which constituted only 17 seats in the Lower House of Parliament. When people demonstrated in 2011, they wanted to correct the situation, after 10 years of failure and "democracy" that served only the ruling family. These peaceful demonstrations were met with the maximum response – violence of security forces used against protestors. Members of Parliament from AlWefaq decided to leave the Parliament directly after this, as they felt that they could not protect the people. Since then, the political activities led by AlWefaq and other parties have faced challenges because the government does not want any criticism or voices of opposition, and they have oppressed freedom of speech. AlFayez stated that the government then started criminalizing political parties as well – the government dissolved political opposition societies Amal, Wa'ad and AlWefaq. Before that, they imprisoned political leaders and human rights defenders Hassan Mushaima and Abdulahdi AlKhawaja for life because they demanded a change in government through peaceful demonstration. He noted the case of Sheikh Ali Salman, also imprisoned because he opposed a government that serves the ruling family and not the people.
AlFayez noted that unfortunately the international community praised the elections in 2018, despite the fact that there are no political parties left. He noted that the situation is very severe for any political activist.
AlFayez commented that the Bahraini people expected the international community to act based on their stated human rights values and principles. Countries like the United Kingdom and United States should support the rule of law or call for human rights law to be implemented, not to oppose their own stated values and principles for the sake of financial or political interests. In the case of Bahrain, AlFayez states, it is quite clear that the international community decided that these interests should prevail over human rights. AlFayez noted that US President Trump essentially gave the "green light" to King Hamad when he said that there would be "no problem" between the two countries in the future in 2017 – shortly after this, five demonstrators were killed by security forces in Duraz in a peaceful protest in front of Sheikh Isa Qassim's house. The UK, instead of calling for the implementation of human rights law, decided to build a naval base in Bahrain. And here in the UN, Bahrain has won a seat in the Human Rights Council.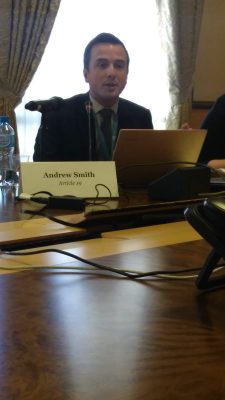 Andrew Smith stated that that civil society is shrinking worldwide, including in Bahrain. These restrictions on civil society are often implemented through subtle means, by targeting NGOs through laws that do not explicitly look like a crackdown – this includes targeting funding and placing restrictions on speech. In Bahrain however, Smith has stated that the government is less sophisticated than that. They have shut down media, opposition and all civil society organizations in an open and public manner. Bahrain is an outlier in the repressiveness of their actions, and they do not even try to justify them to the United Nations or international community.
Smith stated that it is very difficult as human rights advocates to engage in conversations with a government on a framework that is supposed to be universal when there is not a shared language or a clear definition of terrorism at the international level. States prioritize military cooperation, counter-terrorism, intelligence cooperation, and trade over human rights. He noted that we do not see States prioritizing human rights or calling other States out on abuses, because counter-terrorism measures are such an important issue to States that there is no willingness to stand by human rights principles.
Smith discussed the recent trend in the abuse of incitement laws, which target individuals before they commit any act, and are used to silence free expression. Smith noted that according to human rights law, States are required to prohibit the incitement of violence, but the language of the Penal Code in Bahrain  protects the States rather than the people. Many of these laws should not even exist, and people certainly should not be in prison on their basis. Smith also commented on the crackdown on social media, as States are watching these websites closely and more people are targeted. Smith encouraged the people in the room to recall that Nabeel Rajab and Sayed Ahmed Alwadaei used to attend the Human Rights Council,  and many diplomats in Geneva have met the people who are now behind bars or who have been targeted for reprisals.
Smith highlighted the recent arrest and eventual release of Hakeem AlAraibi– who was already out of the reach of the government, he was a refugee recognized by Australia, so he should never have been subjected to an INTERPOL Red Notice in the first place. His release is an example of when international pressure can make States back down, but instead we see State cooperation, like the US and UK, which gives Bahrain the ability to violate human rights without consequence.
Smith noted that this is the first session since Bahrain has been a member, and their mid-term Universal Periodic Review is coming up, and encouraged States to send a clear message that they will not be evading scrutiny and cannot use their seat to gloss over these abuses or pretend like they are  positively engaging with the system. Smith also encouraged States to speak on Bahrain in the Council. He particularly highlighted that States could mention the number of communications from Special Procedures, echoing Quitter's comments. He emphasized that States should not wait until the periodic review in 2022 to criticize Bahrain, particularly when the last joint statement in the Council on Bahrain was in September 2015 – there has been no progress and Bahrain is using the lack of Council attention to say that they are cooperating with the system and positively engaging. States need to use every means at their disposal and do it collectively. Finally, Smith urged States to take the lead on this issue, because leadership in the Council on Bahrain is desperately needed.