13 March 2019 – Today, during the 40th session of the United Nations (UN) Human Rights Council (HRC) in Geneva, Americans for Democracy & Human Rights in Bahrain (ADHRB) and the Gulf Centre for Human Rights (GCHR) hosted a side event on the role of the United Nations and international mechanisms to end systematic torture in Bahrain. The event was co-sponsored by IFEX, GCHR, the Bahrain Institute for Rights and Democracy (BIRD), CIVICUS, the European Centre for Democracy and Human Rights (ECDHR), the International Federation of Human Rights Leagues (FIDH), the Cairo Institute for Human Rights Studies, the World Organization Against Torture (OMCT), and Human Rights Watch (HRW). Zainab al-Khawaja of GCHR moderated the event, with remarks by Husain Abdulla, Executive Director of ADHRB; Ali Abdulemam, a Bahraini human rights defender and blogger; Aya Majzoub of HRW; and Gerald Staberock of OMCT.
Zainab al-Khawaja of GCHR opened the discussion by noting the impact of torture on the victims of abuse in Bahrain. Al-Khawaja spoke from personal experience, having witnessed and experienced torture and ill treatment when she was imprisoned in Bahrain, and because members of her family have been tortured by Bahraini authorities. In particular, she highlighted her father, human rights defender Abdulhadi al-Khawaja's case. Security forces tortured him in custody and broke his jaw, and he is currently serving a life sentence in Jau Prison on political charges.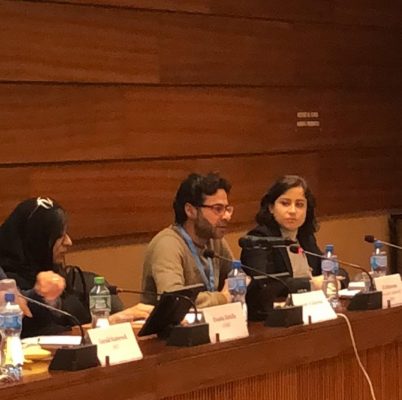 Ali Abdulemam began by answering a question from al-Khawaja, describing his personal experience as a victim of torture at the hands of the Bahraini government. After Abdulemam created a website promoting freedom of expression, he was arrested at the airport in Bahrain and detained, with authorities insulting his family, threatening his wife, harassing him during Ramadan, and beating him "everywhere on his body" in extreme ways before extracting a forced confession. Abdulemam signed four such confessions, none of which he was able to read, and was held in solitary confinement for four months, after which he went into hiding for two years. During this period of time, Bahraini authorities sentenced Abdulemam to 15 years in prison in absentia and denationalized him in 2015.
Husain Abdulla, Executive Director of ADHRB, followed Abdulemam's comments and responded to a question from al-Khawaja about the situation in Bahrain currently, eight years after the 2011 mass pro-democracy protests and about how Bahrainis feel about the UN and its engagement on human rights. Abdulla highlighted that the situation in Bahrain has been deteriorating over the past several years. Currently, ADHRB estimates there are around 4,000 political prisoners in the country. Additionally, torture is increasing, and the government continues to act with impunity, sentencing dissidents to prison sentences in "kangaroo" courts devoid of due process and rife with fair trial rights violations.
He used the case of human rights defender Nabeel Rajab to illustrate this, as he was sentenced to five years in prison – a sentence upheld on New Year's Eve of 2018 – for tweets denouncing torture in Bahraini prisons and criticizing the actions of the Saudi-led coalition in Yemen. Another illustrative case is that of the so-called "Zulfiqar Brigades," a group of 115 individuals who were convicted on terrorism charges and denationalized. Of the Zulfiqar cases, ADHRB has documented 20, and has been able to demonstrate a pattern of arbitrary detention, enforced disappearances, torture, coerced confessions, and unfair trial proceedings. Abdulla noted briefly that these abuses are possible because of continuous and long-standing support of the US and UK governments, support that empowers authorities to act with impunity.
Aya Majzoub, Bahrain researcher at Human Rights Watch, focused on the case of Hakeem AlAraibi to illustrate the use of torture in Bahrain. She explained that officials arrested Hakeem in November 2012 on the charge of vandalizing a police station in Manama. However, Hakeem was playing in a televised match at the time of the incident and there was clear evidence showing that he could not have committed this crime. Despite this, officials detained him for four months and tortured him. He was later sentenced to 10 years in prison in absentia while playing in a match in Qatar.  Hakeem fled to Australia, where he was granted asylum in 2017. However, when he travelled to Thailand in November 2018, he was arrested on the grounds of an INTERPOL Red Notice, a practice that was incompatible with INTERPOL's policy on refugees. INTERPOL later removed this Red Notice, but Bahrain sent an official extradition request. Thailand continued to hold him until Bahrain eventually withdrew the request.
According to Majzoub, this case shows that Bahraini people are not safe, even if they are outside their own country. It also explains the importance to increase international pressure on the Bahraini government.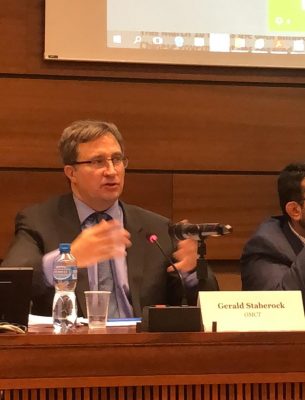 When asked by Al-Khawaja whether he viewed the unfolding situation in Bahrain as a "one step forward, one step back" scenario, Gerald Staberock of the OMCT agreed that many of the changes we have seen since the 2011 pro-democracy protests have been superficial. The creation of the Bahrain Independent Commission of Inquiry provided a series of recommendations and established that a climate of systematic torture and impunity did exist, but the victim side of human rights abuses in Bahrain has yet to be addressed. According to Staberock, reform will remain a mere formality so long as structured, planned, and pervasive torture practices exist, rather than resulting from the misbehavior of a few. These are some of the biggest challenges moving forward, since there cannot be a successful campaign against torture and impunity without involving the victims of torture and abuse and protecting their safety. Al-Khawaja echoed Staberock's concerns, saying changes being made by the Bahraini government are the bare minimum necessary to keep the US and UK governments from pressuring Bahrain further or causing the countries any embarrassment on the international stage. When Al Khawaja was arrested, the Bahraini authorities would take care to comply with human rights regulations by transparently recording proper treatment of detainees, but then would physically and verbally abuse prisoners once the camera was switched off. The majority of reform and protection mechanisms appear to be cosmetic, rather than real.
Al-Khawaja asked Abdulemam whether he feels that his personal experience with torture at the hands of the Bahraini government might be similar to the experiences of other activists and human rights defenders in the country. Agreeing with the suggested correlation, Abdulemam highlighted the stories of Nazeeha Saeed, a Bahraini journalist summoned by authorities in 2011 for her activity in the aftermath of the pro-democracy demonstrations and subsequently tortured; Ebrahim Sharif, who was sentenced to six months' imprisonment due to a tweet criticizing the Sudanese president; and Ahmed Ismail, killed while documenting police brutality in his village during the Formula 1 automobile race. He noted that more than 200 Bahraini human rights defenders have recently been summoned to the National Security Agency – Bahrain's secret police – and tortured in order to silence their writing, tweeting, and other online activism efforts.
Noting dissatisfaction with the pace at which change takes place, Abdulla stated that people should not lose hope, in part because hope is what keeps human rights defenders going. The documentation of abuses is only the first step in what we hope is a process of accountability, but that ultimately, even accountability is a much larger question. We have seen some successes, small though they may be, Abdulla noted. While we cannot necessarily get people out of prison, we can help in smaller, but no less important ways, like getting someone who needs it medical care, or family visits. These small steps are important and Bahrain would be much happier if NGOs were silent, especially during high-profile events like the UPR, the Committee against Torture review, and the Human Rights Council.
Abdulla noted that strengthening accountability is made more complicated because the government is complicit in, and the source of, many rights abuses. The Ministry of Interior is the epicenter of abuses in Bahrain, with high level officials directly implicated in torture and other violations. Rashid AlKhalifa, Nasser bin Hamad, and other officials, whether members of the ruling family or lower level officials are all complicit in violations.
Majzoub explained that the Bahraini government routinely uses sporting events, such as the upcoming Formula 1 race, to improve its image and promote the idea of Bahrain as a progressive and tolerant country. For this reason, the international sport community must be involved to ask Bahrain to stop the violation of human rights. In this regard, NGOs and human rights organizations can cooperate with sports organizations and institutions that can help promote and protect human rights on the ground. According to Majzoub, leverage with Formula 1 can be part of the strategy to capitalize on sporting events to pursue human rights.
In his concluding remarks, Staberock reiterated the concerns of other panelists, adding that torture and impunity do not simply affect the victim, but Bahraini society at large, with entire families and communities forced to face the consequences of abuse and related trauma for years to come. Before we seek a cure, according to Staberock, the international community must first acknowledge that Bahrain has yet to truly comply with recommendations combating impunity and torture and then collectively act to exert pressure on Bahraini authorities. A major lesson learned from prior advocacy efforts, like the case of Hakeem AlAraibi, is that putting a face to tales of torture and abuse can make a serious difference – as attendees left the side event, Staberock urged each person to take up and share at least one victim's story in public advocacy efforts, building on previous momentum by using our own voices in the fight for substantive change.