11 June 2019 – Today, Americans for Democracy & Human Rights in Bahrain (ADHRB) held a briefing on Capitol Hill that covered the human rights situation in Bahrain. The briefing specifically looked at corruption, abuses committed by the Ministry of Interior (MOI), and assistance from the United States (US). The event, moderated by ADHRB's Executive Director Husain Abdulla, featured expert panelists including Seth Binder from Project on Middle East Democracy (POMED), Jodi Vittori from the Carnegie Endowment for International Peace, and Monica Zuraw from ADHRB. Representatives Jim McGovern (D-MA) and Ilhan Omar (D-MN) both delivered opening remarks, thanking ADHRB for its work to address human rights concerns in Bahrain and calling upon Congress to give more attention to the issue.
Representative Jim McGovern (D-MA) started off the panel by expressing appreciation for the ADHRB's efforts, as well as the efforts of POMED and the Carnegie Endowment for International Peace. He stated how, following the events of 2011, there was much more vocal bipartisan support for putting pressure on Bahrain to support human rights and adhere to BICI recommendations. Unfortunately, in more recent years this support has diminished and Congress has turned a blind eye to the authoritarian regime. Rep. McGovern acknowledged the worsening human rights situation in Bahrain and increasing discrimination against Shia Muslims. He called upon the kingdom to allow the press to operate, strip national security of their arrest powers, and to end the discrimination against Shias. He also called on members of Congress to consider adopting and advocating for Bahraini prisoners of conscience through the Tom Lantos Defending Freedoms Project. Congressman McGovern currently advocates for prominent human rights defender Nabeel Rajab, who is serving prison time in relation to tweets.
Representative Ilhan Omar (D-MN) then followed with her opening remarks and thanked ADHRB for their work. She stated that the work of human rights organizations is essential and noted that Congress cannot create a positive impact on human rights without the folks on the ground, who often are putting themselves in danger. She expressed that ADHRB's report on Bahrain's Ministry of Interior and the information provided is crucial. She highlighted key takeaways from the report, which included Bahrain's routine suppression of dissent and the frequency at which political prisoners and activists are jailed, raped, tortured, executed, or disappeared. Representative Omar also noted how Bahrain has the highest rate of mass incarceration in the Middle East region. Congresswoman Omar concluded with how Congress should be looking closely at ending arms sales to Bahrain because "when we support a government that violates human rights, we undermine our efforts and standing around the world."
Husain Abdulla went on to introduce the panelists and briefly expanded on the remarks made by Representatives McGovern and Omar. He stated that having an ally in Bahrain is not helpful when it consistently violates human rights. While it is important to look at specific violations, it's also important to shed a light on the broader role the Bahraini government plays in these abuses. There needs to be a greater focus on human rights in regards to the relationship between the US and Bahrain.
Monica Zuraw then outlined ADHRB's report, Anatomy of a Police State: Systematic Repression, Brutality, and Bahrain's Ministry of Interior. The report draws on years of primary documentation from ADHRB's United Nations Complaint Program and internal case database, which is obtained through its fieldworkers and processed by its legal team. The report analyzed over 1,000 discrete incidences of abuse comprising more than 3,000 specific rights violations attributable to the Ministry of Interior between 2011 and 2018, and this pattern of police brutality and repression was apparent at every command level. While the Bahraini government claims that misconduct in the Ministry of Interior is at the fault of a few "bad actors," she noted that these serious violations, like torture, are widespread and actually the product of a culture of impunity and a system of incentives that reward perpetrators of such abuse.
Zuraw highlighted other key findings from the report, including that Bahrain is one of the most heavily policed countries in the world, with about 45 MOI personnel per 1,000 civilians, which is more than double the ratio at the height of Saddam Hussein's dictatorship in Iraq. Additionally, 1 in every 635 Bahrainis has been arbitrarily detained, disappeared, tortured, raped, killed, or otherwise abused by the MOI, which has been run by Sheikh Rashid bin Abdullah Al Khalifa, a member of the royal family, since 2004. The abuses perpetrated would not be able to happen without his knowledge and approval.
She then discussed in more detail the abuses committed by specific units in the MOI, and how ADHRB has made an effort to hold perpetrators of such abuses accountable through several mechanisms. For starters, she highlighted the organization's two week social media campaign, where each day for two weeks they highlighted an individual from the MOI that has been involved in severe abuse and rights violations. They did this in the form of "issuing an ADHRB Red Notice" against the individual – posting a graphic with their photo and listing their alleged abuses. Zuraw also said that the Bahraini individuals identified should be barred entry from the US due to their role in perpetrating human rights violations, and that ADHRB previously notified the Department of State of multiple individuals. Lastly, she raised the importance of the Global Magnitsky Human Rights Accountability Act and that a majority of the individuals identified in the report would qualify for sanctions.
Zuraw ended with recommendations for the audience, including to pressure the US and the international community as a whole to impose sanctions on key perpetrators who are involved in or oversee gross human rights violations across Bahrain's MOI, up to and including Interior Minister Sheikh Rashid bin Abdulla AlKhalifa. She also called on the US to suspend all assistance to Bahrain's MOI – including training, weapons sales, and equipment transfers – until tangible and independently verifiable progress has been made towards fundamental reforms adhering to international human rights standards.
Jodi Vittori launched into a discussion about the security sector of Bahrain, specifically examining the  Ministry of Interior (MOI) and the Ministry of Defense (MOD). She expressed that security procurement contributes to Bahrain's poor human rights situation. She pointed out that we can see the effects of security procurement through coercion, patronism, sectarianism, and external support. Bahrain uses coercion as a means to repress their citizens. In order to do so, the security forces need equipment, which is a part of security procurement and includes arms, surveillance, food, and housing to the security forces. It gives the state the ability to force compliance on it citizens. Vittori mentions that patrionism can also lead to corruption. She stressed that patronism is beneficial to regimes because key support is important to keeping the system alive. In an authoritarian regime, the leadership will control all the information.
Vittori highlighted that in a recent report, Bahrain ranked as an "F" – the lowest ranking- when it came to their level of openness and transparency of its budget.This in part due to there being no independent audits, a lack of availability to the public, and not having to go through parliament. The lack of oversight on a large budget can lead to high levels of corruption. Due to the budget not being made public, there is no concrete budget figure for Bahrain's security sector, but she concludes that it is fairly high.
She then went on to talk about how sectarianism is a huge issue in Bahrain. Authoritarian regimes, such as Bahrain, tend to pick on a group to label as an enemy of the state or to justify why the government is in power. The ruling Sunni family has labeled the Shia majority population as the "enemy." They claim that the Shia want an Iranian style government and therefore pose a threat to the country. Bahrain plays upon sectarian concerns to bolster itself as it faces constant protests and dissatisfaction among the population. Within the MOI and the MOD, there is clear division between Sunni and Shia. The Shia are basically excluded from obtaining any jobs in those ministries Vittori stressed.
In terms of external support she pointed out that the Bahraini defense system is not about defending the country itself, but more about holding up for 48 hours until external support can come to their aid.Additionally, the US is responsible for 85% of the equipment in the Bahraini defense. She concludes with two policy recommendations starting with that the US should use the leverage that they have to push Bahrain to publish a national security strategy because they do not have one. Next, the US should require transparency for all budgeting operations including offset contracts to go through Congress for review especially when participating in deals.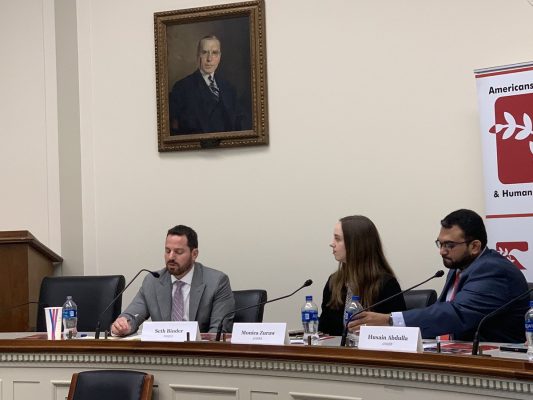 Seth Binder concluded the panel by speaking specifically to the relationship between the US and Bahrain. He stated that the US has significant leverage on Bahrain given that it provides 85% of its security equipment. Meanwhile, Saudi Arabia and the United Arab Emirates have a greater influence given that they provide direct regional support. The US provides an overarching security blanket for Bahrain as counter-terrorism interests have been increasing since 9/11, however the Trump administration appears to have directed its attention exclusively on Iran and is ignoring human rights violations in the Arab Gulf. Given this complete narrowing of focus, Binder stated that the role of Congress in holding Bahrain accountable is now more important than ever. Since Bahrain's major focus is regime survival, rather than preserving human rights, he called upon Congress to use its leverage to set conditions on arms sales and push back in areas in which our interests do not align. Sometimes it's okay to have some distance between our partners, and the relationship between the US and Bahrain is a perfect example he said.
Abdulla then opened the floor to questions. A member of the audience asked for some clarification regarding the abuses committed by Bahrain's Special Security Force Command (SSFC), to which Zuraw responded that ADHRB has recorded 46 individual cases of abuse directly implicating the SSFC as the lead perpetrator, including 25 extrajudicial killings. ADHRB also documented 77 cases that lacked a clearly identified perpetrator but matched SSFC patterns of abuse – 46 of which were extrajudicial killings.
The next question raised was if there were more protests recently in Bahrain considering the economy hasnt been doing well. Abdulla noted that the Bahraini government has started to suppress concern about the economy – not just political dissent – because of simmering discontent over rising prices while wages stay the same. Additionally, civil space in Bahrain is essentially closed and there has been an increased crack down on social media so there is no remaining space for protest. He explained that most of Bahrain's wealth is kept by the royal family and aristocratic Sunnis, while the rest of the population is left with scraps. While these select few live a lavish lifestyle, the island is filled with unpaved roads and construction equipment that remains unused. Due to the drastic economic inequality that exists in Bahrain, he expects future civic unrest to focus on economic issues.
Panelists were also asked about why Saudi Arabia typically attracts more attention than Bahrain and what can be done to change this. Panelists explained that this is mainly due to Saudi Arabia's size and influence, but it doesnt mean the situation in Bahrain isnt as bad. Bahrain has all the same human rights issues as Saudi Arabia, but for an even smaller country. The panelists recommended op-eds, social media, and legislation that places pressure on the Bahraini government to help raise awareness.