19 September 2019 – Today, during the 42nd session of the United Nations (UN) Human Rights Council (HRC) in Geneva, Americans for Democracy & Human Rights in Bahrain (ADHRB) along with the European Centre for Democracy & Human Rights (ECDHR), the European Saudi Organisation for Human Rights (ESOHR), ALQST, MENA Rights Group and the Right Livelihood Foundation hosted a side event to highlight how Saudi Arabia uses practices like arbitrary detention and executions to quash all calls for reform. Tyler Pry of ADHRB moderated the event, with commentary provided by Ali Adubisi of ESOHR, Areej al-Sadhan (the sister of Abdulrahman al-Sadhan, who was forcibly disappeared in Saudi Arabia), Yahya Assiri of ALQST and Inés Osman of MENA Rights Group. Video remarks were also provided by Dr. Agnes Callamard, the Special Rapporteur on extrajudicial, summary or arbitrary executions.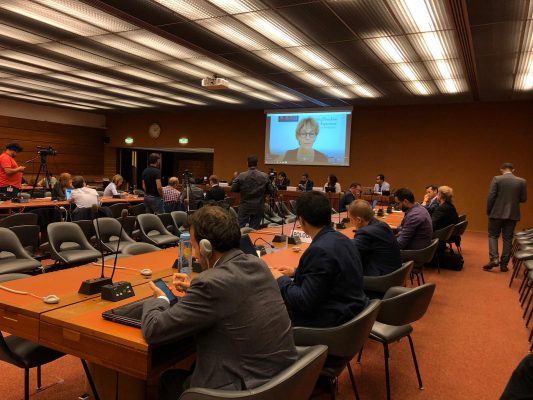 Tyler Pry of ADHRB opened the panel by highlighting that in March 2019, 36 states signed a joint statement to the Human Rights Council expressing concerns over arbitrary arrests in Saudi Arabia, including human rights defenders and women's rights activists, and co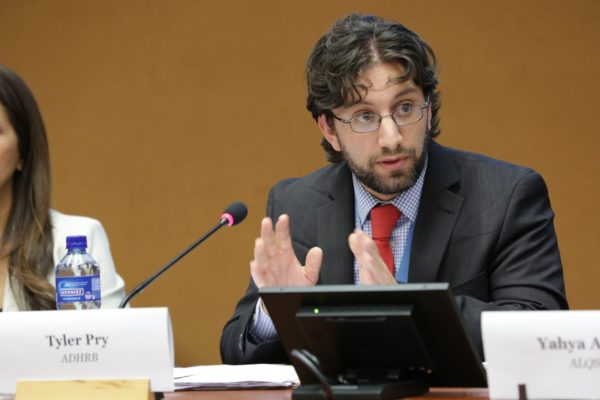 ndemning the killing of Jamal Khashoggi. In the June 2019 HRC session, Special Rapporteur Callamard's report also investigated and analyzed the murder of Saudi expatriate journalist and American resident Jamal Khashoggi in the kingdom's consulate in Istanbul. He also underlined that despite the attention that surrounds Saudi Arabia regarding its abuses, the Council has been unable to keep the issue on the agenda. He emphasized that the side event would draw attention to Saudi Arabia's human rights abuses like arbitrary detention and executions to act as an impetus for future action on them in the Council.
Special Rapporteur Agnes Callamard discussed by video recording her report on the killing of the Saudi journalist Jamal Khashoggi. Her investigation has shown that his execution constitutes an extrajudicial killing and enforced disappearance, an act of torture and a violation of the Vienna Convention on Consular Relations and the UN Charter on the prohibition of extraterritorial use of force in time of peace. She continued explaining that, according to her report, by killing a journalist, Saudi Arabia has violated the core principle of freedom of expression. She stated that his execution was the result of an elaborate plan made by the kingdom, planned, overseen and premeditated by high officials. Dr. Callamard noted the failure of Saudi authorities to investigate transparently, in good faith and to determine the responsibilities of the criminal act. The trial of 11 suspects accused of his murder in Saudi Arabia was very short and failed to provide any fair trial guarantees in accordance with the international legal framework and violated the right to truth and to know.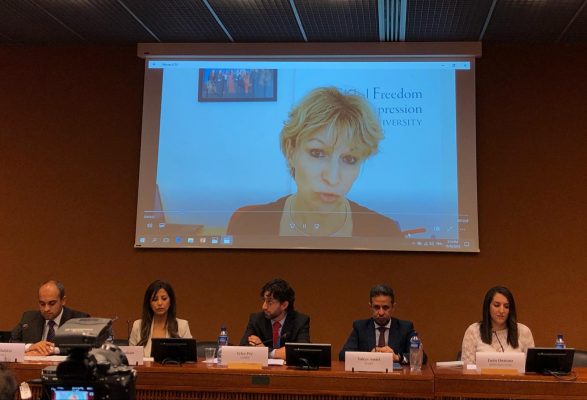 In June 2019, after the release of her report, Saudi Arabia condemned it as biased and based on untrue sources, but as noted by Dr. Callamard, they have never provided reliable information on these accusations. Dr. Callamard explained that the kingdom has characterized Khashoggi's killing as a domestic matter, ignoring the violations of international law that were committed with this act. Dr. Callamard noted that many members of the Human Rights Council called upon Saudi Arabia to implement their obligations and guarantee accountability for such actions, but after a few months, many countries around the world decided that it was better to keep this issue on the back-burner and ignored the findings about extensive violations that human rights defenders, journalists and activists in the country have faced and gave the G20 as an example of this hypocrisy. She expressed that its is crucial for us to demand more rather than simple denunciations Dr. Callamard reiterated that the inaction of many is another form of execution, it kills existing courage and hope, it poisons the true values of the international system. She concluded her speech by encouraging attendees not lose hope and courage, and stated that we must believe that justice can be achieved and done. 
Ali Adubisi of ESOHR discussed the issue of the death penalty in Saudi Arabia. He noted that the kingdom is still carrying out many executions based on legislations that also allow death sentences for charges which do not meet
the international standard of "most serious crimes." He mentioned the recent mass execution in April 2019, involving 37 citizens, including six individuals who were sentenced to death for alleged crimes committed as minors, in violation of international law. Their executions were carried out after a trial that violated international standards of fairness, with forced confessions via torture. Adubisi noted that since the beginning of 2019, Saudi Arabia has executed more than 100 individuals and these figures are alarming. He then showed some photos of individuals who have been convicted and executed, in particular, he mentioned the case of Munir al-Adam, a minor arrested and executed in April 2019 despite communications released by the Special Procedures offices on his case, and a decision from the Committee on the Rights of Persons with Disabilities concerning his hearing loss as a result of torture. Adubisi also raised the case of Israa al-Ghomgham, who is no longer at risk of execution, as prosecutors dropped the death penalty charges against her following advocacy from the international community. He did note however that her husband and other co-defendants are still at risk of execution, and Israa remains detained. He continued his discussion on statistics regarding the percentage of executions in the country, which has risen consistently in the last four years until now, when Crown Prince Mohamed bin Salman came to power. Adubisi again highlighted that some individuals are increasingly charged for non-serious offenses, sometimes based on religious acts. These facts, he concluded, demonstrate the minimal value that the Saudi authorities attach to human life and their willingness to continue to flout all rules of international law.
Areej al-Sadhan, the sister of Abdulrahman al-Sadhan, a Saudi citizen and humanitarian worker who was forcibly disappeared in Saudi Arabia continued the conversation. She mentioned that her brother was forcibly taken from his Red Crescent office in Riyadh without providing any information to the family on him. It has been a year and a half that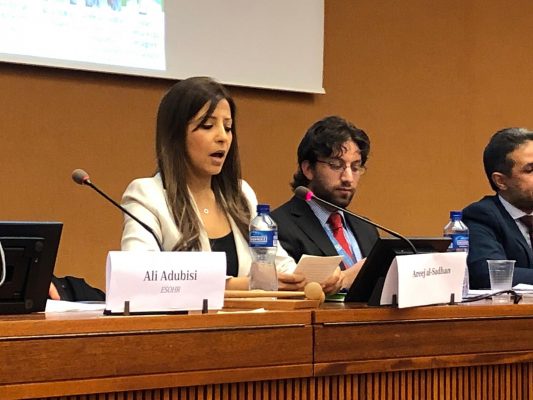 there has been no available information about his condition. Al-Sadhan added that they believe he is suffering torture and violence by authorities, and this has affected the quality of his family's life – they have been suffering mentally too. She noted that the Saudi authorities have not provided any responses to requests and communications from the family, and have not shown any respect for life or for the human rights of its citizens. Al-Sadhan also expressed her commitment to raise this issue at the UN to draw attention to the many individuals who are still suffering in Saudi Arabia.  She reiterated her willingness to keep searching and fighting for her brother and for those who need justice. She mentioned that freedom of expression is a unwritten crime in Saudi Arabia and authorities have denied her the possibility of communicating with him, violating her brother's basic human rights.
Yahya Assiri of ALQST echoed how arbitrary detention was a family struggle and highlighted how the murder of Khashoggi would shine a light on the human rights violations that have been going on for a long time in Saudi Arabia. He mentioned that there has been an exponential increase in enforced disappearances, especially under the new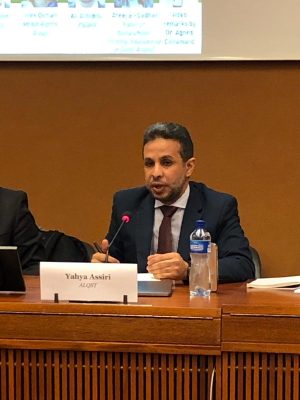 regime of Mohammed bin Salman. He noted that torture is at its highest and the authorities in Saudi Arabia have been trying to silence citizens who have been critical of the political situation. Remarks that date back to the Arab Spring of 2011 are even used as justification for imprisonment. Assiri also noted that after Khashoggi's murder, states are beginning to notice that the current Saudi government will not be as stable as they once envisioned. Assiri explained that MbS has been viewed as a reformer due to significant investments made to improve his image, and that this would happen again as he is attempting to rebuild public perception of him. He suggested that civil society organizations in allied countries of Saudi Arabia should not remain silent and should instead voice their grievances in order to prevent the normalization of relations with Saudi Arabia. He added that these gross human rights violations should be spoken about frequently in order to give prominence to these issues and to force Saudi Arabia to engage internationally on their human rights abuses.
Inés Osman of MENA Rights Group mentioned that the current 42nd Human Rights Council would be Saudi Arabia's last session. It has been on the Council for 12 years since the Council was first created, yet they have not held themselves to a higher standard. She continued that Andrew Gilmour, the UN Assistant Secretary-General for Human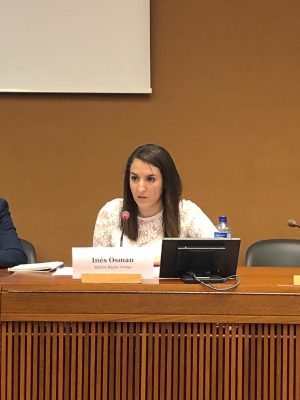 Rights, mentioned Saudi Arabia as part of the report that was released recently concerning reprisals and has been mentioned eight times out of ten, making it the most mentioned in the Middle East and North Africa region. Osman also noted that the authorities in Saudi Arabia monitor social media closely and have been cracking down on citizens who engage with UN mechanisms. Osman added that there is a gap between Saudi Arabia's commitments to the human rights system and reality. According to her, they have utilized the vague and broad definition of terrorism to detain and execute people arbitrarily. She cautioned that Saudi Arabia's commitments to adopting the recent UPR recommendations remain superficial, as the implementation of these recommendations would have significant structural impact on the ruling family. Osman highlighted how Saudi Arabia viewed Callamard's report on Khashoggi's murder as "biased and abusive allegations." She added that the Council's inaction regarding this case has fostered an increasing lack of trust by individuals and that more pressure is needed.