20 September 2019 – Today, during the 42nd session of the United Nations (UN) Human Rights Council (HRC) in Geneva, Switzerland, Americans for Democracy & Human Rights in Bahrain (ADHRB) held a joint side event with the Gulf Centre for Human Rights (GCHR) highlighting and celebrating the work of Bahraini human rights defenders. The event was supported by CIVICUS, IFEX, the European Centre for Democracy and Human Rights (ECDHR), Bahrain Centre for Human Rights (BCHR), MENA Rights Group, Article 19, Reporters Sans Frontiers, OMCT SOS-Torture Network, Frontline Defenders, Bahrain Institute for Rights and Democracy (BIRD), Index on Censorship, Cairo Institute for Human Rights Studies, and PEN International. Khalid Ibrahim, Director of GCHR moderated the event, and Renate Bloem of CIVICUS, Gabriella Bangar of ADHRB, and Sabrina Bennoui of Reporters without Borders delivered remarks.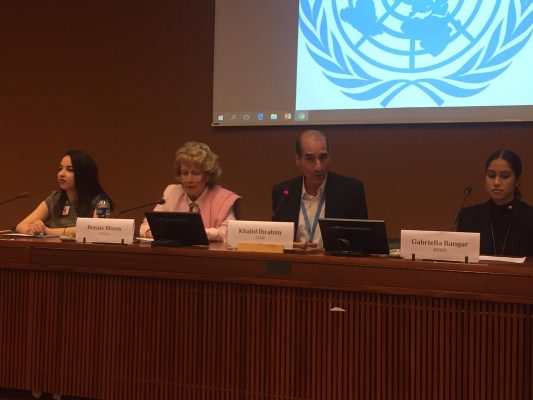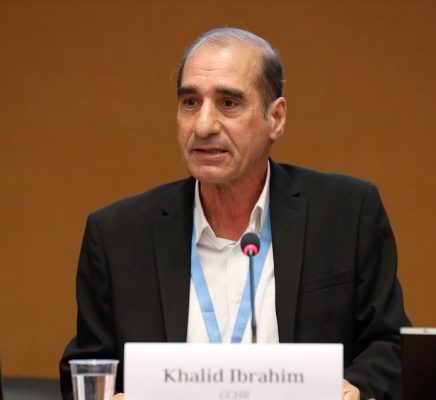 Khalid Ibrahim opened the panel by highlighting the plight of the many human rights defenders imprisoned in Bahrain and calling for their immediate release. He called attention to several human rights defenders in particular like Nabeel Rajab, who have been detained and imprisoned simply for tweeting or expressing their opinions online. He underlined that the situation is even worst now, as there are more than 4,000 activists and journalists in jail, a result of widespread and systematic repression, and Bahrain's attempt to silence any dissent.
Renate Bloem of CIVICUS opened her speech highlighting her solidarity for Nabeel Rajab, a prominent Bahraini human rights defender and citizen journalist, who has been in prison since mid-2016, but who recently had his five-year prison sentence for tweeting and retweeting criticism of the war in Yemen and torture in Jau Prison, upheld on 31 December 2018. As a result, and barring his early release, he will be imprisoned until 2023. Bloem also discussed the Bahraini government's failure and refusal to implement the recommendations it received during its 3rd cycle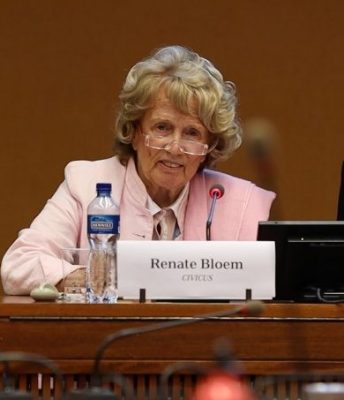 Universal Periodic Review (UPR) in November 2017. She also criticized the Bahraini government's refusal to follow through with its promises to implement the recommendations of the Bahrain Independent Commission of Inquiry, which was commissioned by King Hamad in 2011 after the mass pro-democracy protests in Bahrain and the government's violent response to the protests. This violent response included the suspension of normal law and the implementation of martial law, the widespread use of torture and policy brutality against protesters and dissidents, and extrajudicial killings.
Bloem then focused her attention on Nabeel Rajab's case, highlighting his human rights work and denunciation of violations by Bahrain's security forces against human rights activists. She noted that he fought for the greater good of the Bahraini people and faced a great deal of backlash for his work, ultimately facing government slurs and slander and a prison sentence. Bloem concluded her remarks by suggesting that the international community needs to take a stronger and more vocal stance on Bahrain and publicly condemn its human rights violations. In particular the states of the UN HRC must adopt a joint statement on Bahrain, in an indication of widespread concern over the kingdom's abuses.
Gabriella Bangar of ADHRB discussed how the Bahraini government violently suppresses peaceful protests and noting that authorities continue to systematically silence opposition activists, including through forcing the dissolution of major political opposition societies and the imprisonment of their leaders. She drew attention specifically to the many Bahraini political prisoners who suffer inhumane conditions. Bangar noted that as a result of these inhumane conditions, hundreds of prisoners in Bahrain's Jau Prison began a hunger strike, where they called for changes in the government's treatment of prisoners. She mentioned the case of Hasan AlGhassra, a prisoner who has sought to explain the hunger strike in a voice recording sent from Jau Prison. In his message, Hasan describes how the Bahraini government uses de facto isolation practices to separate prisoners, placing Bahraini prisoners in the same cells as other prisoners with whom they do not share the same language, culture, or religion, which, the prisoners claim, is in effect solitary confinement. Bangar noted that after the hunger strike started in Jau Prison in August 2019, over 400 prisoners in Bahrain's Dry Dock Detention Center joined the strike. Rather than taking into account the prisoners' complaints and working to address them, the authorities responded by denying the hunger strikers of family visits, phone calls, and appropriate medical care.
Bangar shifted her comments to focus on the inhumane treatment of high-level political prisoners, in particular the treatment Sheikh Ali Salman, Abdulwahab Husain, and Husain Mushaima suffer. In 2014, Sheikh Ali Salman, a prominent political prisoner, was convicted in relation to speeches he gave as Secretary-General of the now dissolved Al Wefaq Society, Bahrain's largest political opposition society. Abdulwahab Husain is another prominent political activist and a founding member of Al Wafaa Islamic Movement. He was arrested, detained, and tortured because of his activism. He is serving a life sentence in jail and currently suffers from a number of ailments, as he has been denied important and necessary health care. Bangar also raised the case of Hassan Mushaima, another prominent political prisoner who is serving a life sentence in Jau Prison because of his political activism. He suffers from several chronic conditions including diabetes, yet he has not received the medical care he needs.
Bangar turned her attention to a new report recently released by ADHRB and BIRD, entitled "Breaking the Silence: Bahraini Women Political Prisoners Expose Abuses," which tracks nine current and former female political prisoners jailed for their activism or the activism of those close to them. She concluded her remarks by calling upon the international community to publicly pressure the Government of Bahrain to immediately and unconditionally release all political prisoners and prisoners of conscience.
Sabrina Bennoui of Reporters Without Borders focused her remarks on freedom of expression, raising concerns about the imprisonment of journalists. She noted that there are currently 12 journalists in jail. While this may pale next to Turkey or equal the number of jailed journalists in Saudi Arabia, this is an impressive figure, because of Bahrain's small population. For example, the Saudi government has jailed 13 journalists, but the kingdom is much larger than Bahrain. Bennoui called attention to the fact that journalists have been targeted because they were doing their job. Some, like Hassan Qambar have been sentenced to dozens of years in jail. In addition to the Bahraini government's efforts to target print journalists, authorities have targeted and imprisoned bloggers, social media activists, and citizen journalists – amateurs who write and publish about issues of importance to the public. According to Bennoui, Reporters without Borders has tracked increasing prosecution of free expression-related crimes since 2017, when the government shut down the remaining independent newspaper, Al Wasat.
The panel continued with some questions regarding what the next steps could be to address Bahrain's failure to comply with its human rights' obligations at the international level.  Bloem replied explaining that is very difficult right now obtaining something concrete from the Human Rights Council. We should, she said, push for a strong joint statement on Bahrain and ideally a resolution, but the latter is more difficult. The panelists agreed with Bloem and emphasized the need to continue to defend and protect human rights and human rights defenders through advocacy and to support those who continue to suffer human rights abuses in Bahrain.