Click here to subscribe to the Bahrain Bi-Weekly newsletter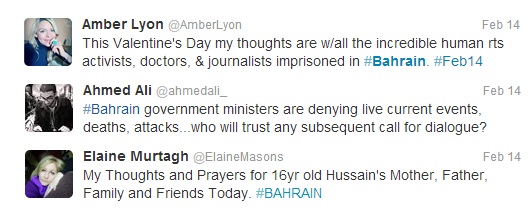 ADHRB features relevant, timely Tweets by its Twitter followers in each newsletter.
ADHRB Commemorates Two-Year Anniversary of February 14 Protests with Bahraini Activists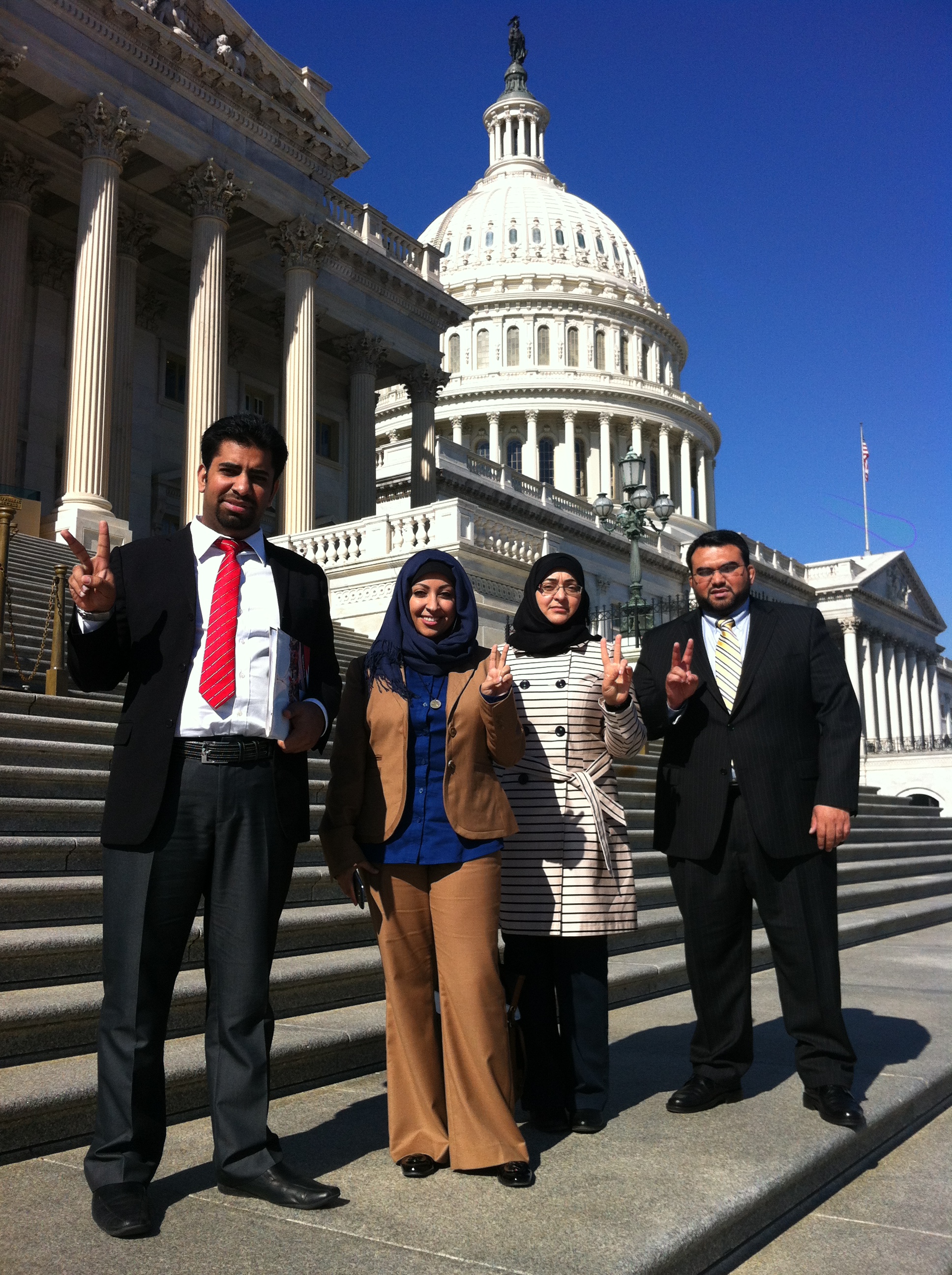 Mohammed al-Maskati, Maryam al-Khawaja, Jalila al-Salman, and Husain Abdulla
in front of the U.S. Capitol building in Washington, D.C.
During the week of February 10, ADHRB hosted Bahraini human rights defenders Jalila al-Salman, Mohammed al-Maskati, and Maryam al-Khawaja in Washington, D.C., to discuss the human rights situation in Bahrain with Members of Congress, Executive branch officials, representatives from non-governmental organizations, and members of the public.Maryam al-Khawaja, Acting President of the Bahrain Center for Human Rights (
BCHR
) and Co-Director of the Gulf Center for Human Rights (
GCHR
), and Mohammed al-Maskati, President of the Bahrain Youth Society for Human Rights (
BYSHR
), spoke at an 
event
 hosted by ADHRB and 
Freedom House
 on Capitol Hill. Frederic Wehrey, Senior Associate for the Middle East Program at the 
Carnegie Endowment for International Peace
, spoke on the panel as well, which was moderated by Charles Dunne, Director of Middle East and North Africa Programs at Freedom House. The event featured opening remarks from 
Congressman Keith Ellison (DFL-MN)
.Jalila al-Salman, Vice President of the Bahrain Teachers' Association (BTA), spoke about her experience of having been arrested, tortured, and sentenced to prison at an 
event
 hosted by the National Endowment for Democracy and the Project on Middle East Democracy.
---
Upcoming Events
Thursday, February 21 | 
6pm
Pre-release film screening of Academy Award nominee "NO." 
Panel discussion to follow. 
RSVP 
here
.
Landmark E Street Cinema
The title of this film, refers to the "No" referendum campaign that aimed to unseat Chilean dictator General Augusto Pinochet in 1988. The panel discussion following the screening, sponsored by 
Amnesty International USA
, 
Freedom House
, and 
Reporters Without Borders
, will address free speech in Cuba and Bahrain, where prisoners of conscience are imprisoned for expressing their views.
---
News from Bahrain
Commentary on the Two-Year Anniversary of Protests in Bahrain
The Precarious Ally: Bahrain's Impasse and U.S. Policy
U.S. Urged to Lean Harder on Bahrain's Ruling Family
Bahraini Pro-Democracy Protests Mark Anniversary of Uprising: An Interview with Maryam al-Khawaja
Bahrain Protests on Second Anniversary of Uprising – Live Updates

 Husain Abdulla: U.S. Foreign Policy in Bahrain Two Years after the Uprising

 ADHRB on the Two-Year Anniversary of the Uprising in Bahrain
 Statements by U.S. Lawmakers on the Two-Year Anniversary of Protests in Bahrain
Commemorating the 2-Year Anniversary of Uprising in Bahrain – Congressman James McGovern (D-MA)
Bahrain Two Years Later – Senator Ron Wyden (D-OR)
Senator Rubio Marks Anniversary of Pro-Democracy Demonstrations in Bahrain – Senator Marco Rubio (R-FL)
The Two-Year Anniversary of the Popular Uprising in Bahrain – Congressman Henry "Hank" Johnson, Jr. (D-GA)
Protester and Police Officer Die During Unrest
Teen Killed in Bahrain as Protests Mark Anniversary of Uprising
Policeman Killed as New Protests Flare in Bahraini Capital
National Dialogue Underway in Bahrain
Bahrain Marks Second Anniversary of Uprising with Dialogue, Deadlock
Top Ministers to Join Bahrain Dialogue  

 U.S. State Department Comments on the Bahrain National Dialogue

 EU Reiterates Support for Dialogue in Bahrain 
Bahrain Human Rights Groups Announce Formation of New Network
Foundation Statement of the Bahrain Human Rights Network (BHRN)