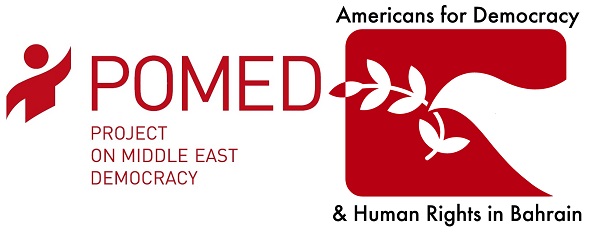 The Project on Middle East Democracy (POMED) and Americans for Democracy & Human Rights in Bahrain (ADHRB) present:
Upcoming Elections in Bahrain:
Can the Stalemate Be Broken in Time? 
Thursday, June 5, 2014
10:00 am – 11:30 am
Carnegie Endowment for International Peace
1779 Massachusetts Ave. NW
At the beginning of 2014, a new phase of political negotiations was launched by Bahrain's Crown Prince. With the reported full backing of the King, the formal opposition parties in Bahrain and international community were encouraged by the potential to break a nearly two-year stalemate in negotiations to seek a political compromise to the national crisis. But the fanfare of the announcement has since faded, with many observers fearing that a window of opportunity may soon be missed.
Parliamentary elections in Bahrain are tentatively planned for the coming months, and Bahraini political elites and voters must soon decide whether to participate in the polls. Without a breakthrough in the country's long-standing political stalemate, the alternative – the election of a parliament devoid of opposition voices for another four-year term – will only contribute to Bahrain's negative trajectory.
What are the main obstacles to political reform and reconciliation in the country? What steps need to be taken by political actors in Bahrain to make these elections credible and meaningful? And what diplomatic options does the United States have to encourage genuine reform and address deepening divides in Bahrain?
Please join POMED and ADHRB for a discussion of the political dynamics in the country, including the state of political negotiations in Bahrain and the role of the international community in spurring long-delayed reform.
Matar Ibrahim Matar
Former Member of Parliament,
National Assembly of Bahrain
Les Campbell
Middle East and North Africa Director
National Democratic Institute (NDI)
Dr. Dafna H. Rand
Deputy Director of Studies & Leon E. Panetta Fellow,
Center for a New American Security (CNAS)
Moderator: Stephen McInerney
Executive Director,
Project on Middle East Democracy (POMED)
Click here to RSVP for the event.
We will also live-tweet from the event (@POMEDwire and @ADHRB), so follow the conversation online using #BahrainElex. 
Please contact Alex Russell at alex.russell@pomed.org with any questions.