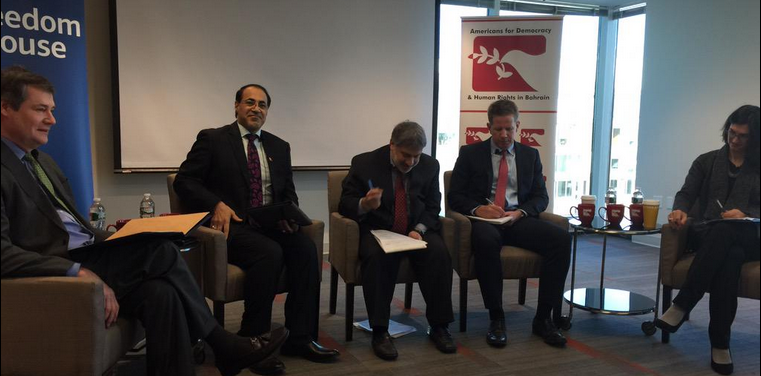 12 February 2015 – Washington, DC – Americans for Democracy and Human Rights in Bahrain (ADHRB), with Freedom House, hosted an event on 11 February at Freedom House entitled "Preventing the Next ISIS: How the U.S. Can Work With Coalition Partners to Combat Extremism in the GCC." Dr. Robert Herman, Vice President for Regional Programs at Freedom House, moderated the discussion over how the United States can further encourage its GCC allies to combat extremism through a respect for basic human rights.
Nabeel Rajab, President and Co-Founder of the Bahrain Center for Human Rights, delivered opening remarks via video from Bahrain. Mr. Rajab said that while the Bahraini government is vocally opposed to extremism in the region, it is actually quite tolerant of extremist ideas within its borders, which could lead to increased radicalization within the country.
After the video, Dr. Herman began the Q&A. In his first question he asked panelists to comment on what they believe to be the main drivers of Islamic extremism in Gulf Coast Cooperation (GCC) countries.
Charles Dunne, a Non-Resident Fellow at Freedom House, emphasized that extremism not only occurs in the GCC, but across the world, highlighting the recent events in Paris and radicalization of African immigrants in his home state of Minnesota. He argued that extremism stems from three sources: social alienation, poverty, and exploitation of sectarian tensions. Mohamed al-Tajer, President of the Bahrain Human Rights Observatory, noted the Saudi government's influence on growing sectarianism in the region and abroad. Specifically, Mr. al-Tajer discussed the influence of Saudi-financed Islamic centers around the Muslim world in breeding tolerance and extremism.
Frederic Wehrey, Senior Associate at the Carnegie Endowment for International Peace, highlighted government corruption, an influx in political prisoners, and exclusion from social, political and cultural processes as causes for regional extremism. Sarah Margon, Washington Director of Human Rights Watch, stressed that people do not turn immediately to extremism when facing such problems, but that continuous disenfranchisement and desperation leads to radicalization. She asserted that GCC governments are reinforcing these divisions, thus breeding extremism, and that the international response to has not been strong enough.
In his second question, Dr. Herman asked the panelists what role the United States and the international community can play in addressing extremism in the GCC. Ms. Margon suggested that the United States match their rhetoric with action, balance the militarized campaign with respect of human rights, and utilize restrictions against human rights violators, similar to the Magnitsky Act. Mr. Wehrey added that merely addressing the threat that ISIS possess is not enough, and warned that the U.S. may be too reliant on religious clerics in combating extremist rhetoric.
Mr. Dunne noted that the U.S. Naval Fifth Fleet base in Bahrain is all the more reason for the U.S. to address extremism in the country, and cautioned that instability in the region could lead the U.S. to move the base due to security concerns. Mr. Dunne also suggested that the U.S. and international community utilize a robust education campaign for youth to prevent extremism. Mr. al-Tajer reasserted his claim that addressing Saudi's influence in the region is vital before progress can be made in other Gulf States, pointing out that text books written by Saudi Arabia and used in Bahraini vilify Shia.
During the Q&A, panelists were asked to comment on whether Gulf countries are providing direct support for extremist groups. Mr. Dunne asserted that while GCC states may not be providing direct material support to extremist groups like ISIS, their domestic and international policies enable extremism.
Responding to a question about whether the United States could deter private sector companies from working with corrupt governments in the GCC, panelists lamented that there is little the United States can do other than to discourage such relationships. However, Ms. Margon added that good business practices are good for these companies bottom line, and that while it is not their job to root out corruption, it is in their best interests not to work with corrupt governments. Mr. Dunne added that addressing the occurrences of local level corruption is just as important as bringing an end to large-scale corporate corruption.
When asked about long-term U.S. strategies to stave off extremism in the region, Mr. Wehrey noted that the United States often struggles to create a long-term policy due to the annual structure of budgets and financial plans in the country. However, he urged the administration to look past this constraint to develop a long-term strategy for the region.
Finally, when asked where it was better for GCC states to be ruled by a secular dictator or a democratically-elected Islamist, the panelists argued there is an attainable third option: a populist, secular democracy. Mr. Dunne ended the discussion on a positive note, pointing to Tunisia as a model for countries in the region to emulate when creating constitutions and opening up political dialogue.