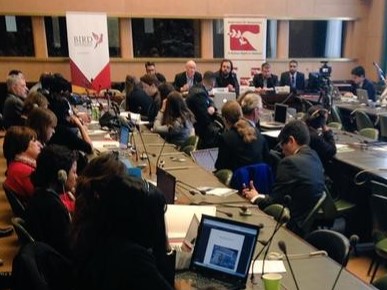 10 March 2015 – Geneva, Switzerland – Americans for Democracy & Human Rights in Bahrain (ADHRB), in conjunction with the Bahrain Institute for Human Rights, Amnesty International, Human Rights Watch, Pen International, the Bahrain Center for Human Rights, the European Saudi Organisation for Human Rights and Human Rights First, hosted an event at the 28th session of the United Nations Human Rights Council titled "Criminal Justice and Human Rights in Saudi Arabia." Brian Dooley, the Director of Human Rights First, opened the discussion and moderated the panel.
James Suzano, the Legal Officer at ADHRB, began his speech by setting out the visit of the Special Rapporteur on the Independence of Judges and Lawyers to Saudi Arabia over 10 years ago. Suzano presented ADHRB's new report entitled "The Pretense of Progress" which looks into the recommendations made by the Special Rapporteur following his mission and assesses Saudi implementation of these recommendations and their compliance with international obligations. He spoke about the lack of independence in the judiciary, the under-representation of women in the judiciary and legal profession, and the passing of the anti-terrorism legislation. He argued that Saudi progress in implementing the recommendations of the Special Rapporteur has been negligent. The government has yet to make any significant move towards judicial independence, does not incorporate women in any significant fashion in the judiciary, and actually regressed in terms of the human rights incorporated in its domestic criminal law and procedure.
Samar Badawi, Saudi Arabian human rights defender and activist, joined the conversation via Skype. Mrs. Badawi was unable to attend the panel as she faces a travel ban; a reprisal for taking part in the 27th Session of the Human Rights Council. Mrs. Badawi claimed that there has been no improvement in Saudi Arabia's criminal justice system since the visit of the Special Rapporteur on the Independence of Judges and Lawyers in 2002. She argued that there have in fact been tighter controls on the judiciary, through the establishment of government institutions, in order to suppress political and human rights dissent in the country. The institutions that continue to harass and prosecute peaceful rights defenders, and are "incorporated to protect government sovereignty", include the Public Prosecutor and Ministry of Interior. The anti-terrorism laws in Saudi Arabia, argues Mrs. Badawi, is used as an attack against political dissent and human rights activism. Human rights lawyer Waleed Abu al-Khair, who is also Mrs. Badawi's husband, was the first person sentenced using this law. He continues to serve an arbitrary prison, sentence despite allegations of torture.
Adam Coogle, Researcher at Human Rights Watch, noted the serious rise in the numbers of individuals executed in Saudi Arabia in the beginning of 2015 as compared to 2014. He argued that many due process problems that Human Rights Watch has been investigating for years continue to persist. This includes crimes of "contacting foreign journalists" and "visiting websites hostile to the Kingdom" that carry long-term prison sentences. The terrorism law in Saudi Arabia, allows for 69 days of incommunicado detention and in many cases, the defense does not even know the charges that they face. The retrial and resentencing of activists, according to Coogle, as they approach the end of their term is a serious concern.
Hala al-Dosari, Saudi Arabian human rights activist, highlighted the difficulties in achieving due process in Saudi Arabia particularly regarding women's rights. She argued that the justice system lacks the codification of laws, including the absence of a definition for violence against women, and the lack of due process in law and practice. She also described the ill-fated role of the Committee for the Prevention of Vice and the Promotion of Virtues, whom intimidate and harass women that they observe to not be "dressed appropriately" publicly. This includes chasing women, forcing them to "cover up", and even arresting them. "Judges have leverage to issue any kind of sentence, and often use "religious" codes to impose lashings" according to Ms. Al-Dosari. "onfessions are sought by interrogations officers when the required evidence are lacking; sometimes judges ignore complaints of defendants that confessions were extracted by force." Three judges in Saudi Arabia have also issued a death sentence against an individual with proven mental disorders. She argued "most Saudi women are being sentenced for "being with unrelated men" Punishments include imprisonments and lashings, most of the time more severe punishments are handed down to women than to men for similar charges.
Sevag Kechichian, Researcher at Amnesty International, discussed the discrepancies in Saudi Arabia's justice and legal systems that are in conflict with their international human rights obligations. "The law in Saudi Arabia  is such that if a citizen participates in this conference they can be tried as a terrorist", argues Kechichian. He raised the cases of Samar Badawi and Raif Badawi, the latter who has been sentenced for 10 years and 1000 lashes. Judges in Saudi Arabia, argues Kechichian, violate basic international human rights, even if they may not want to as they are often pressured by the Ministry of Interior.  He also argued that he only evidence in many cases in Saudi Arabia are confessions extracted under torture. Despite numerous visit requests made by Amnesty International in their 50 years of establishment, the Saudi government has never let them into the country arguing that they do not allow the international community to interfere in their internal affairs.
###
A pdf of this summary is available here.