On 12 November 2015, Americans for Democracy & Human Rights in Bahrain (ADHRB), Split This Rock, and Busboys and Poets co-sponsored a poetry event entitled "Stifled Verse, Free Verse: An Evening of Poetry and Solidarity," at Busboys and Poets in Washington, DC. The event honored the imprisoned Qatari poet Mohammed al-Ajami, who is currently serving a 15-year prison sentence for the contents of his poetry.
Ellen Duthoy, an advocacy fellow at ADHRB, hosted the event. Featured poets included Zein El-Amine, a teacher of Arabic language and culture at the University of Maryland; Joseph Ross, an award-winning author and teacher at Gonzaga College High School in Washington DC; Rasha Abdulhadi, a cultural worker, educator, and community technologist; Sarah Browning, co-founder and Executive Director of Split This Rock; and Amin "Drew" Law, a nationally touring performance poet and writing facilitator.
Ellen Duthoy opened the event by providing background on Mohammed al-Ajami's case, including his arrest, sentencing, and current imprisonment.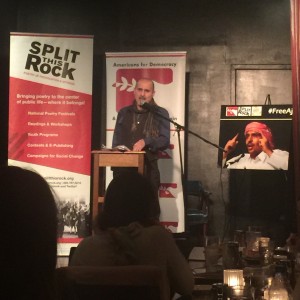 Lebanese-born poet Zein El-Amine read a poem written by Mohammed al-Ajami from his prison cell. El-Amine read both the original Arabic poem and an English translation provided by Kareem James Abu-Zeid. El-Amine noted that prison had "only sharpened al-Ajami's words." Al-Ajami's poem challenged his country's suppression of his voice and called on artists to fight for their convictions and persist in their efforts to speak the truth. Mr. El-Amine also mentioned his enforced disappearance at the hands of the Bahraini government and spoke to the hypocrisy of the Qatari government for simultaneously presenting itself to the world as a bastion for free media and imprisoning al-Ajami for his poetry. He finished by reciting a poem based on a conversation with a Lebanese political prisoner who wrote epic poems while in prison.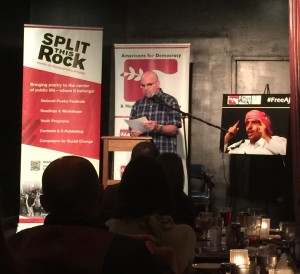 Joseph Ross continued to speak on the theme of oppression. He recited two poems about Nelson Mandela, including a fictional conversation between Mandela and Trayvon Martin. Mr. Ross also recited a poem written by one of his students entitled "What can be said?" that highlighted racial injustice in the U.S. He finished with a poem that touched on John Coltrane and Martin Luther King, Jr.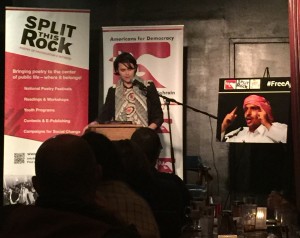 Rasha Abdulhadi, who grew up in Damascus and rural Georgia, recited poetry that highlighted the voices of the oppressed through her experience as a Palestinian-American. She read Lisa Suhair Majaj's poem "Guidelines," which focused on how to challenge and overcome the negative stereotypes that Arab-Americans and minorities face in the U.S. She also recited her poem "Is Palestine Everywhere?" which connects the Palestinian struggle for freedom with the struggles of other oppressed groups. Ms. Abdulhadi finished by reciting a traditional Moroccan poem and speaking about how traditional Arabic poetry can "smuggle words in plain sight."
Sarah Browning introduced the work of Split This Rock, explaining how it engages the DC artistic community and outlining upcoming events that will take place as part of the al-Mutanabbi Street Starts Here festival. Her poetry focused on repression and injustice committed by the U.S. both at home and abroad. Her poems "In Guantanamo" and "Headline: 6 Killed in Raid" highlighted the U.S. role in the War on Terror. Ms. Browning finished with a poem entitled "Girls in Red on Page One," which explained how oppression can manifest in the presentation of information to the public.
Amin "Drew" Law closed the event. He expressed enthusiasm for the participating artists and appreciation that the event provided individuals a platform to get their story out to a wider audience. Mr. Law recited three poems, including a spoken word performance that highlighted his Palestinian roots and American upbringing, and a poem demonstrating the importance of his father in his life.