November 2015 – Athletes and sports figures have played an active part in Bahrain's pro-democracy movement since it began in February 2011, and the Bahraini government has punished them harshly for it. Police arrested and suspended over 150 athletes, sports personalities, and club staff in relation to the protests. Those arrested include 27 members of national and Olympic teams. Many can no longer compete in their respective sports. Authorities arrested, tortured, and imprisoned many others, and at least 79 athletes remain in prison today.
Sheikh Salman bin Ebrahim Al Khalifa's recent decision to declare his candidacy for the FIFA presidency has shone a spotlight on the abuse of footballers in 2011. That year, the Bahrain Football Association, at the time headed by Sheikh Salman, suspended over thirty football players, club staff, and referees. Included among them was national team player Ala'a Hubail, Bahrain's star striker. FIFA has formally cleared Sheikh Salman to run for the presidency this February.
Governmental, judicial and sports authorities did not prosecute footballers alone. The Bahrain Basketball Association targeted players and club staff who "offended the kingdom's wise leadership." Authorities have also persecuted handball and volleyball players and staff, snooker players, and bodybuilders since the start of the uprising.
This month's Champions for Justice features three players whose stories highlight the government's continued arbitrary harassment of athletes and the politicization of sports in the country. The government curtails political expression for sportspeople as it does for all sectors in Bahrain's society. The relevant authorities, such as the Bahrain Football and Basketball Associations, did not protect their athletes from arbitrary prosecution and torture. At best they were negligent; at worst, the sports associations directly participated in the identification of athletes who expressed their political opinions, leading to their arrests.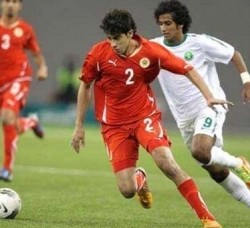 Hakeem al-Oraibi, 21, is a former football player for the Bahrain National Team and al-Shabab FC. In November 2012, police arrested Hakeem and charged him with possession of "firebombs," participation in an illegal gathering, and setting fire to a police station in Manama. Hakeem stated that he was playing in a televised match at the time of the incident. Despite this alibi, police detained Hakeem for four months. During his detention, officers severely beat Hakeem and threatened to stop him from ever playing football again.
After being released on bail, Hakeem returned to football. In January 2014, while in Qatar for a match with the Bahrain National Team, the court sentenced Hakeem in absentia to ten years in prison, along with eight others. From Qatar, Hakeem fled to Australia, where he is currently seeking asylum. If he returns to Bahrain, he will be imprisoned.
Mohammed Mirza, 39, is an award-winning Brazilian Jiu Jitsu fighter. He has represented Bahrain in many tournaments, including the 2008 Asian Open Championship in Thailand, where he came second and third in several categories. Police arrested Mohammed on 16 March 2011, one day after the declaration of a state of emergency and two days after the entrance of the Peninsula Shield Force into Bahrain. Police detained Mohammed and eight others at a checkpoint on suspicion of "kidnapping a police officer." A military court later sentenced each defendant to 15 years in prison. However, an appeals court acquitted all defendants except Mohammed, who received a reduced sentence of ten years in prison for unclear reasons. Human rights activists assert that police forced Mohammed to sign a confession after subjecting him to physical and mental torture in detention.
Younes Hussein Hadher, 22, is a football player for Eletefaq club and played for the Bahrain national youth team. On 19 December 2012, Bahraini security forces arrested Younes from a government office in Manama while he was renewing his passport. During his first hours of detention, officers severely tortured the young footballer and charged him with the crimes of illegal gathering and attempted murder. Younes denied these charges. His lawyers stated that he was attending football training when the alleged crimes took place, but the Public Prosecution detained him for 45 days and ultimately transferred him to Dry Dock Prison. Since then, authorities have renewed his detention several times.
Younes suffers from epilepsy, and his health has deteriorated markedly while in prison. Prison officials have repeatedly denied Younes access to the medication he needs. He has been hospitalized multiple times as a result of complications from his condition, and he continues to suffer from epileptic episodes and pain. In October 2013, he had to be transferred to Salmaniya Hospital for a time due to constant pain that prevented him from standing on his feet and caused him to fall unconscious.
His family has continuously pleaded for his release because of his poor health. Prison staff denied him access to medication for three weeks between September and October 2015, causing him to suffer from cramps. He has also been denied the right to buy from the prison's canteen, unlike other prisoners.