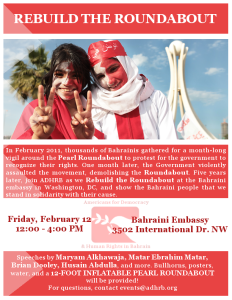 In February 2011, thousands of Bahrainis gathered for a month-long vigil around the Pearl Roundabout to protest for the government to recognize their rights. One month later, security forces violently assaulted the movement and demolished the Roundabout. To recognize the courage of Bahrain's pro-democracy movement, and to commemorate those injured and killed protesting for a free and equal future, join ADHRB as we Rebuild the Roundabout at the Bahraini embassy in Washington, DC. Show the people of Bahrain that we stand in solidarity with their cause.
When: Friday, February 12 from 12:00 to 4:00 PM.
Where: The Embassy of the Kingdom of Bahrain: 3502 International Dr. NW, Washington, DC.
Commemorative speeches will be delivered by:
Maryam al-Khawaja, Bahraini human rights activist
Matar Ebrahim Matar, NED Fellow and former Bahraini MP
Husain Abdulla, Executive Director of Americans for Democracy & Human Rights in Bahrain
Brian Dooley, Director of the Human Rights Defenders program at Human Rights First
Bullhorns, posters, water, and a 12-FOOT INFLATABLE PEARL ROUNDABOUT will be provided! For questions, please contact events@adhrb.org