8 March 2016 – Geneva, Switzerland – Americans for Democracy & Human Rights in Bahrain (ADHRB), the International Federation for Human Rights (FIDH), Reprieve, the European Saudi Organization for Human Rights (ESOHR), AL-QST, t
he European Centre for Democracy & Human Rights (ECDHR), the World Coalition Against the Death Penalty, the Saudi Organization for Rights and Freedoms (AORF), and the Gulf Centre for Human Rights presented today a side event at the 31st Session of the Human Rights Council on the use of executions in Saudi Arabia.
Nicolas Agostini from FIDH moderated the panel and introduced the subject, stating that Saudi Arabia's membership in the Human Rights Council promulgated the country's human rights abuses into the spotlight. "The killing spree that was witnessed at the end of last year and the beginning of this year
Ellen Duthoy of ADHRB continued the discussion. "On 2 January 2016, the Government of Saudi Arabia executed 43 people in the same day," she said. She continued by introducing Sheikh Nimr al-Nimr, a Muslim cleric that had been killed in the mass execution. She highlighted his peaceful activism, stating that Saudi authorities "violently arrested Sheikh Nimr, leaving him with multiple gunshot wounds… Throughout the legal proceedings, Saudi authorities repeatedly violated Sheikh Nimr's right to trial." Duthoy detailed a laundry list of human rights abuses, including Sheikh Nimr's lack of access to an attorney, his inability to cross examine witnesses, and the use of confessional evidence. "The decision to execute Sheikh Nimr, a peaceful activist, shows that Saudi Arabia is not afraid to carry out executions that will be internationally condemned." Duthoy said that Saudi Arabia's latest mass execution is "just another benchmark in a trend that has been going on for years." "Saudi Arabia executes more and more people every year," said Duthoy, going on to state that Saudi Arabia can even legally execute children. "Children have been sentenced to death as young as thirteen years of age," said Duthoy, detailing that Saudi judges can impose capital punishment as soon as a detainee shows signs of puberty. "Saudi Arabia has markedly increased its use of the death sentence. As a member of the Council, this is acutely problematic."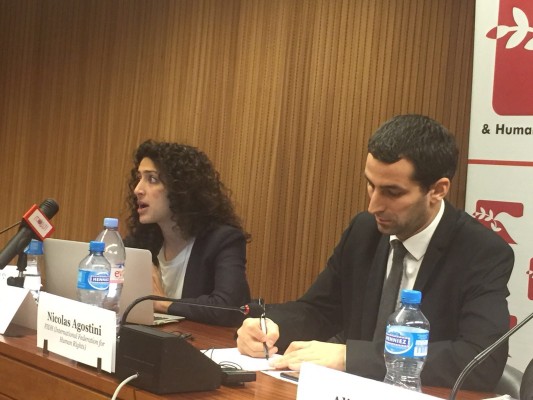 Maya Foa from Reprieve continued the panel. "Saudi Arabia is the 4th top executing country at this point… if they continue at this rate, we'll see more than 350 executions carried out by the end of the year." She continued with some figures, stating that 72% of persons currently on death row were sentenced for non-violent crimes. "The use of coerced confessions is widespread," said Foa, stating that many victims demonstrate signs of significant physical abuse after re-appearing from their initial arrest. "In Saudi Arabia, if you speak out, you will be killed," said Foa, also citing the message sent by the execution of Sheikh Nimr. "The rise of executions is mirrored in the rhetoric of Saudi officials," said Foa, who explained that the government labels dissenting speech of any kind as an act of terrorism. "At least four people that were executed on 2 January were children at the time of their alleged offenses," said Foa, continuing by stating that Reprieve was currently working towards their release. Regarding international pressure, Foa stated, "Unfortunately, because of the close relationship, the United Kingdom and other countries brush over Saudi Arabia's human rights abuses… but this close relationship can also be leverage." She cited September 2015 public outcry, which forced the UK government to withdraw from a contract bid for Saudi prisons. With that in mind, Foa called for action. "We must make sure that, when cases come to light, they have as much support as they can."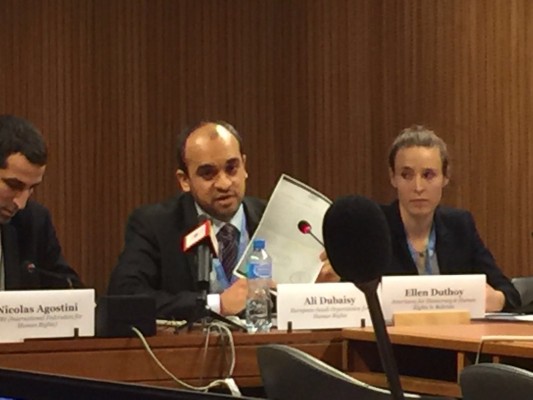 Ali Dubaisy from ESOHR highlighted his own experience with the Saudi criminal justice system. "Saudi Arabia is taking the wrong approach… they have a lack of interest in finding a positive relation or positive dialogue, and seem to consider the Human Rights Council an enemy." He continued by talking about the Saudi strategy for attacking the international human rights community. "Saudi Arabia always has an excuse… but will never engage in dialogue." "The response of authorities was to claim that Sheikh Nimr had a fair trial," he said, but this could not be further from the truth. In examining the role of the lawyer in death penalty cases, he said, "the truth becomes clear. Lawyers cannot meet their clients during pre-trial detention… there is no role for the lawyer during investigation or the period of torture…" He described how lawyers cannot protect their clients from torture, stating that they are often even denied the ability to examine evidence obtained by means of torture "so that they can't interfere with the judge's decision." "Equality between the prosecution and defense does not exist in Saudi Arabia," Dubaisy finished.
Agostini asked the panelists what they thought the Council could or should do in order to fix what he characterized as one of the worst situations in the world. Duthoy answered first, stating that "we need a lot more engagement… States have seemed reticent, but when they do act, they have made things too hard for Saudi Arabia to get away with their executions." Dubisy stated that there has been no support for victims in the Human Rights Council until the last two years, when some NGOs started supporting victims. "States are understanding more and more the situation in Saudi Arabia, but now we need more NGOs to focus on Saudi Arabia." Foa continued by saying that Saudi Arabia wishes to have good relations with other States, "it's really important that we call on our own respective countries to uphold a certain standard with Saudi Arabia. If we don't want to see mass beheadings, then our governments shouldn't be working with governments that openly kill scores of people."