29 June 2016 – In the past month, the Government of Bahrain has pursued a sustained campaign of repression. The police arrested Nabeel Rajab on expression-related charges and placed him in solitary confinement. The government forced Zainab Al-Khawaja into exile after threats of re-arrest and indefinite detention, and a week later imposed travel bans on a group of rights activists travelling to the UN Human Rights Council in Geneva. Fifty-three persons were stripped of citizenship, including leading religious figure Sheikh Isa Qassim. The majority of denaturalized persons were native Shia Bahrainis, punished under the terrorism laws for acts of protest. The Ministry of Justice has suspended Al Wefaq political society and is attempting to dissolve the organisation.
These attacks on Bahrain's civil society are unprecedented in scope and scale and have not been seen since the March-June 2011 period of martial law. The Government of Bahrain is purposely closing the door on political and human rights reform by silencing its critics and imprisoning the leading politicians and human rights defenders. We, the undersigned, unequivocally condemn the repression of civil society.
Death Penalty
There are currently 10 individuals on death row in Bahrain. Eight are considered prisoners of conscience, and two have exhausted all legal appeals. In the current context of civil society repression, the risk of death row inmates being executed has increased.
On 31 May 2016, an appeals court in Bahrain upheld the death sentences of three individuals – Sami Mushaima, Abbas Al-Samea, and Ali Abdulshaheed Al-Singace –  and the life sentences of six others. It upheld the stripping of citizenship of eight of them. The death sentences continue to be upheld despite documented coercion, torture, and ill-treatment against the defendants.
The defendants were arrested over two years ago on 3 March 2014 during house raids on charges of allegedly creating improvised explosive devices which led to the killing of three police officers, one of them an Emirati citizen. On 26 February 2015, the High Criminal Court convicted them of all charges and issued their sentences. All defendants denied the charges against them, and pleaded innocent.
According to reports, security forces subjected the detainees to more than a week of enforced disappearance, during which they were allegedly tortured. Sami Mushaima, who is one of three individuals sentenced to death for his alleged planning of the bombing, has claimed that the security forces tortured him to force his confessions by beating him in his genital area, and keeping him handcuffed at all times, even in his prison cell. They also forced him to stand for hours and limited his access to a toilet. Abbas al-Samea also alleged he was subjected to various form of torture, including electric shocks, sleep deprivation, and sexual assault. Other defendants in the case have reported being subjected to the same forms of torture.
Human Rights Defenders and Civil Society
Nabeel Rajab
On 13 June 2016, Bahraini authorities arrested President of the Bahrain Center for Human Rights Nabeel Rajab at his home in Bani Jamra. The prosecution charged him with "spreading false news." He was kept in solitary confinement for 15 days – an act which may amount to torture – and was urgently transferred to the Bahrain Defence Force Hospital after developing heart problems in detention. His family state these health issues are unprecedented for Rajab.
This recent round of reprisals against Nabeel Rajab dates back to 2014. After spending two years in prison between 2012 and 2014, Rajab took an advocacy tour, visiting the European Parliament, several European capitals, and participating in the September 2014 UN Human Rights Council session. Upon his return to Bahrain in October 2014, police arrested him at the airport and charged him with "insulting statutory institutions." Rajab received a travel ban in November 2014, and in January 2015 a criminal court sentenced him to six months in prison.
Rajab posted bail and remained out of detention until his re-arrest on 2 April 2015. The prosecution charged him with "spreading rumours in war time" and "insulting a statutory body". The charges were used to hold Rajab for an extended detention period, but were never tried in court. In July 2015, Rajab received a pardon clearing him of the charges lobbied against him in January 2015, however those issued in April and his travel ban remain in place. The threat of re-arrest stifled his ability to work.
On 26 June 2016, Rajab's lawyers received notification that he is scheduled to appear in court on 12 July 2016 in connection with the charges issued in April. The more recent charge of "spreading false news" continues to be investigated. Rajab was held first at the East Riffa Police Station and was recently transferred to the West Riffa Police Station. His detention conditions have been poor, and his health has deteriorated as a result.
Further information can be found here.
Zainab Al-Khawaja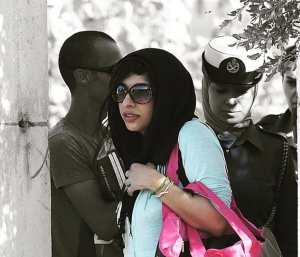 Human rights defender Zainab Al-Khawaja was forced into exile on 7 June 2016, after the Danish Consulate in Bahrain informed her of threats they had received from a high-level government official that she would be re-arrested and held indefinitely if she remained in the country. Al-Khawaja and her family have fled to Denmark.
Zainab Al-Khawaja and her infant son were released from prison a week earlier after serving two months of her 37-month sentence. Al-Khawaja was sentenced to a total of three years and one month in prison and a fine of  3,000 BHD on several charges related to her exercise of freedom of expression and her peaceful dissent against the Bahraini government. On 2 February 2016, the court of appeal upheld a 9-month prison sentence  against Zainab for trying to visit her father,  human rights defender Abdulhadi al-Khawaja, in Jau Prison when he was on a hunger strike in August 2014. In December 2015, the court amended a prison sentence against Al-Khawaja to one year and four months instead of three years and three months on charges related to tearing up a picture of the king and allegedly insulting a public officer during a peaceful protest in Bahrain. In October 2015, the court reduced her sentence to one year in prison instead of three years over the same charge of insulting the king.
In an open letter Al-Khawaja wrote and smuggled out of prison, she wrote, "My cause is the cause of my people. If nothing changes for the people of Bahrain, then my staying in jail or release is not of great consequence."
Travel Bans
Three human rights defenders and the parents of an extra-judicially killed protester were denied travel to Switzerland on 12 June 2016, in violation of their right to free movement as protected under article 12 of the International Covenant on Civil and Political Rights. The activists were travelling to participate in the 32nd Session of the UN Human Rights Council. The government had placed the activists on travel ban only days earlier.
Two of the human rights defenders, Ebtisam Al-Saegh and Hussain Radhi, were participants in UN human rights workshops recently held in Bahrain. Another activist, Dr. Taha Al-Durazi, was barred from travelling to the United Kingdom on 10 June.
On 29 June, journalist Nazeeha Saeed was banned from boarding a flight, without reasons presented. According to Saeed, the Ministry of Interior, Public Prosecution, and Immigration Offices all confirmed that she had no travel ban, but she was turned away again when trying to cross the King Fahd Causeway between Bahrain and Saudi Arabia.
The Government of Bahrain frequently employs two types of travel bans. The first travel ban type is imposed during the criminal investigation procedure. This type of travel ban was placed on Nabeel Rajab in November 2014, during his investigation on charges of 'insulting statutory bodies', for which he received 6 months. The ban was never lifted.
The second type, seen regularly in the past month, is the secret travel ban. These can only be discovered by the traveler when attempting to exit the country. As in Nazeeha Saeed's case, authorities sometimes deny that the person is banned from travel if asked, despite the reality of being denied movement.
Political Societies
Sheikh Ali Salman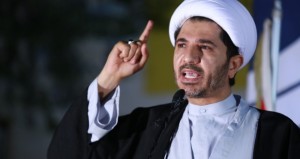 On 30 May 2016, an appeals court increased the prison sentence of Sheikh Ali Salman, the General Secretary of the Al Wefaq political society, from four years to nine. The appeal was launched by the Public Prosecution, challenging the criminal court's decision to acquit Sheikh Ali Salman on charges of "attempted overthrow of the regime." Sheikh Ali Salman was initially sentenced on the lesser charges of inciting hatred in June 2015.
The increased sentence is the latest reprisal against the leader of the country's largest opposition society. In January 2015, Human Rights Watch reviewed Sheikh Ali Salman's speeches and found there was no basis for the severe charges. The government's prosecution of Sheikh Salman violates his right to the freedoms of expression, association, and assembly. The case underscores the authorities' repeated efforts to conflate peaceful criticism with a threat to national security, and thereby justify the use of harsh punishments for opposition activists.
On 28 December 2014, Bahraini security forces arrested Sheikh Ali Salman – just two days after his re-election as the society's Secretary General – when he delivered a speech calling for reform of the country's political system.
Six months later, on 16 June 2015, the Criminal Court sentenced Sheikh Ali Salman to four years in prison for "publicly inciting hatred, inciting civil disobedience of the law, and insulting public institutions" in his speeches and acquitted him of "attempting to overthrow the regime". Although the main evidence on which the court based the conviction was Sheikh Ali Salman's speeches, the judge refused the defense team's request to present supporting evidence, including the recordings of the very speeches for which he was being prosecuted.
In September 2015, the United Nations Working Group on Arbitrary Detention (WGAD) declared that Sheikh Ali Salman had been arbitrarily detained by the Government of Bahrain. The decision, which cites both free expression and due process concerns, requests that the Bahraini government release Sheikh Salman immediately, and provide him with an enforceable right to compensation against the government.
Al Wefaq's Dissolution
On 14 June 2016, the Ministry of Justice and Islamic Affairs shut down Al Wefaq, the largest political society in the country and the leading opposition group. Following the ministry's request, a court ordered the expedited closure of Al Wefaq, the freezing of their assets, and the suspension of all their activities. The court also placed Al Wefaq's headquarters under the control of the Justice Ministry.
The Bahraini government rationalized its decision by asserting that Al Wefaq supported a sectarian political platform that countered national unity, owed allegiance to "foreign religious and political" entities, supported terrorism and extremism that threaten the state, and called for foreign intervention. The court arrived at its decision without allowing Al Wefaq's attorneys to present their defense.
The Government is now in the process of fully dissolving the political society through expedited court proceedings. An initial September court date was moved forward to 28 June, with a second court hearing on 4 July. Al Wefaq's lawyers state they have not been granted adequate time to prepare and withdrew from the legal proceedings in protest.
Read more here.
Stripping of Citizenship
Sheikh Isa Qassim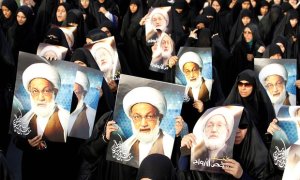 On 20 June, the Ministry of Interior stripped Sheikh Isa Qassim of his citizenship. The religious cleric, who has the rank of Ayatollah, is the spiritual leader of the majority Shia citizen population of the country. A statement from the Ministry of Interior said, "he exploited the religious pulpit for political purposes" and aimed to incite violence.
Sheikh Isa is not only a highly regarded cleric, he has also been a vocal critic of the Government of Bahrain. He was an integral opposition figure during the 2011 protests. The cleric has also long served as a leader in the subsequent pro-democracy movement.
Other Cases
Between 30 May and 30 June, the government has issued nine separate denaturalization orders, leading to 61 individuals stripped of citizenship, including that of Sheikh Isa Qassim, above. The majority are likely to have been rendered stateless.
Of these nine cases, six were related to protests and tried in court under counter-terrorism laws. Due to the excessive powers granted to them under the terrorism laws and a systematic reliance on coerced confessions, Bahraini courts regularly violate due process and fair trial procedures.
In one incident, a Royal Decree signed by the King of Bahrain stripped the citizenship of three officers in the Bahrain Defence Force. Additionally, a court stripped 13 persons affiliated with the terrorist group ISIS of citizenship under the counter terrorism law.
Recommendations
We, the undersigned, therefore call on the Government of Bahrain to:
Immediately release Nabeel Rajab from detention, drop all charges, and lift his travel ban;

Commute all sentences against Zainab Al-Khawaja;

Lift travel bans from all activists;

Commute the sentence of Sheikh Ali Salman, free him, and release all other prisoners of conscience;

Reverse the dissolution of Al Wefaq and allow all political societies to exercise their freedoms of association, assembly, and expression;

Reinstate the citizenship of Sheikh Isa Qassim; and,

Reinstate the citizenship of all persons unfairly stripped of citizenship, especially those made stateless.
Signed:
Americans for Democracy & Human Rights in Bahrain
Bahrain Institute for Rights and Democracy
European Center for Democracy and Human Rights
Justice Human Rights Organization