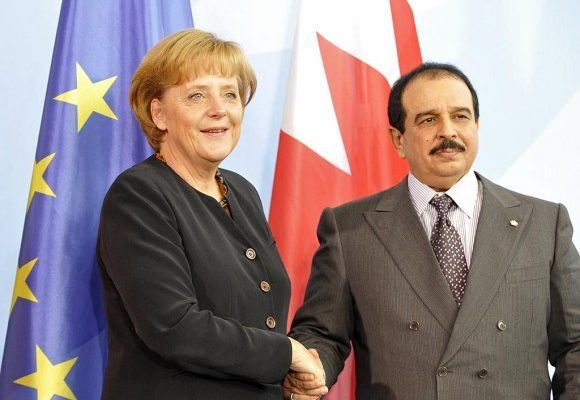 Bahrain and Germany's bilateral relations, which date back to 17 May 1972, have helped enable the Bahraini government to usher in an era of unprecedented repression and human rights violations. Over the past 44 years, Germany has engaged in substantial military and security cooperation with Bahrain and the other Gulf Cooperation Council (GCC) states despite the deep disregard for human rights that has pervaded throughout the Gulf governments. Since 1972, Germany has sold billions of dollars of military equipment, sponsored state visits, and failed to block the sale of "weaponized malware" to the GCC states, even as Bahrain, Saudi Arabia, and the UAE – in particular – have violently intensified their repression of civil society.
Nevertheless, Germany's representatives have recently engaged constructively on the human rights situation in Bahrain. As a United Nations Human Rights Council (HRC) member state, Germany supported all five joint statements on the deteriorating status of human rights in Bahrain and calling for reform. These statements expressed condemnation of torture and ill-treatment of political prisoners, lack of due process for detainees, and the Bahraini government's failure to implement key recommendations made by the Bahrain Independent Commission of Inquiry (BICI) report.
Simultaneously, however, German arms exports to GCC countries have gradually increased to their highest level since the beginning of this century. In 2012, German's military exports to GCC countries exceeded $1.58 billion, more than double 2011's total of $633 million. In a controversial move, the German government reversed a previous decision and permitted the supply of German-manufactured Leopard battle tanks to Saudi Arabia. Critics of the deal claim that the Leopard tanks can be used to crush anti-government protests. In January 2016, Germany pledged to reconsider its arms exports to Saudi Arabia due to the country's abysmal human rights record. Months later, Germany approved the sale of Leopard 2 tanks worth €1.6 billion to Qatar, 23 airbus helicopters to Saudi Arabia, 660 machine guns to Oman, and 65,000 mortar cartridges and 130 machine pistols to the United Arab Emirates (UAE).
The German Left Party has frequently raised concern over Germany's arms sales to GCC countries with oppressive records. In 2013, Jan van Aken, defense spokesman for the Left Party, said, "The worst human rights violations are apparently no longer a reason to deny the approval of exports." The Party has also raised the issue numerous times in 2016 in front of the German Parliament (Bundestag), including introducing a motion to revoke arms export licenses to GCC member states.
In addition to arms sales, Germany has sponsored exchange programs for Bahraini authorities complicit in human rights abuses. In November 2014, Bahraini representatives from the Ombudsman Office and the Prisoners and Detainees Rights Commission participated in a study exchange organized by the German Federal Foreign office. The Bahraini government established the Office of the Ombudsman in February 2012 to monitor the behavior of Ministry of Interior personnel and investigate human rights violations. However, as ADHRB details in its report Subservient and Unaccountable, the Ombudsman lacks proper oversight and has failed to achieve any improvements in police practices. ADHRB has received reports that, in some cases, Bahrainis authorities have even retaliated against victims who filed complaints through the Ombudsman's formal complaint program.
Despite these concerns, Germany supported the EU's decision to award the 2014 Chaillot Prize for the Protection of Human Rights in the GCC region to Bahrain's National Institution for Human Rights (NIHR) and the Ombudsman Office for "their engagement favoring human rights promotion and awareness in the GCC region." In a statement, an EU delegate announced that "the coveted honor" was awarded to "acknowledge and further encourage their remarkable efforts." By recognizing the NIHR and the Ombudsman, Germany and the EU failed to acknowledge that both institutions are deeply flawed, and have largely been unable or unwilling to hold the Government of Bahrain accountable for systemic human rights violations.
Finally, Germany has permitted FinFisher to export its malware code, which is commonly used for surveillance, to Bahrain and a number of other repressive governments with poor human rights records. The Germany-based FinFisher, formerly part of Gamma International, has helped Bahraini authorities utilize the surveillance technology to target and blackmail human rights activists and opposition leaders. By downloading FinFisher surveillance software onto activists' personal devices, Bahraini authorities can monitor their emails, social media accounts, personal documents, and even turn on device cameras to record their activities.
In October 2014, Bahraini authorities downloaded the FinFisher malware onto the devices of UK-based Bahraini activists Dr. Saeed Shehabi, Mohammed Moosa Abd-Ali Ali, and Jaafar al-Hasabi. Abd-Ali Ali and al-Hasabi had been imprisoned and tortured in Bahrain prior to seeking asylum in the UK, while al-Shehabi was sentenced to life in prison in absentia for his human rights activism. Bahraini authorities used FinFisher to pose as Mohammed Moosa Abd-Ali Ali online and prod his activist friends for personal information, as well as solicit his female Facebook friends for sex to slander his name. Additionally, Bahraini officials remotely accessed al-Shehabi's email to send pornographic material to political contacts in Bahrain.
According to WikiLeaks, "FinFisher continues to operate brazenly from Germany selling weaponized surveillance malware to some of the most abusive regimes in the world. The Merkel government pretends to be concerned about privacy, but its actions speak otherwise."
Still, the Bundestag is becoming increasingly aware of the human rights abuses in Bahrain and other Gulf monarchies. Within the last year, Members of the Bundestag have questioned German support for Bahrain and GCC member states on more than four different occasions. This shift has been spearheaded by the Left Party, who specifically criticized the spread of FinFisher and arms exports to Gulf monarchies. The Left Party's concerns should continue to be considered by the Government of Germany in their reevaluation of weapons export programs that enable the Gulf monarchies to repress their people.
As repression of civil society reaches unprecedented levels in Bahrain and other GCC member states, Germany must rethink its role in the Gulf. The German government must realize that exporting sophisticated weapons and abetting the proliferation of surveillance technology to repressive leadership is not its long term interests; it must instead take immediate action to prevent the proliferation of equipment that allows the Bahraini government to monitor and blackmail peaceful human rights activists. If Germany is truly a global leader of democracy and human rights, its foreign policy should reflect its priorities, not contradict them.
Alexander Kochenburger is an Advocacy Intern at ADHRB.