15 November 2016 – The Government of Bahrain continues to deny adequate medical care to Bahraini activist and detainee Hussain Abdulwahab Hussain Ali Ismail. NGOs who have spoken to the family have received reports that security officers beat Hussain after he insisted on receiving treatment. We, the undersigned NGOs, strongly condemn the Bahraini government's ill-treatment  and refusal to provide healthcare to Hussain, and demand that he be released into the care of independent medical experts immediately.
Hussain Abdulwahab is currently detained at Dry Dock, the main pre-trial detention centre. On 6 January 2016, Bahraini authorities summoned Hussain Abdulwahab to a police station, where he was arrested. His family state that he was blindfolded during his interrogation, which lasted nine days. Government forces gave him very little information on the charges facing him, and he was forced to sign confessions without knowing their full content. State media broadcasted the terrorism charges against Hussain Abdulwahab on the day of his arrest, which include allegedly joining a terrorist group and spying for a foreign country. But the family states that he only learnt of his charges after signing the confession, when forces transferred him to Dry Dock. It was at the detention centre where he first learnt that the Bahraini government charged him with terrorism offences. Forces held him in pre-trial detention for six months, which is an extremely long time period under 2014 amendments to the anti-terrorism law. The case, which is ongoing, was referred to court in June 2016.
His family has filed numerous appeals regarding Hussain's ill-treatment, including official complaints to the Ministry of Interior Ombudsman's office and to the Special Investigation Unit (SIU), demanding authorities provide Hussain with the medical attention that he requires. Yet, over a week after submitting the complaints, Hussain's health continues to deteriorate.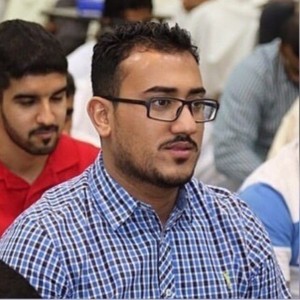 Hussain relies on a wheelchair for mobility. However, due to the recent decline in his health, he has difficulty moving and is mostly bedridden. In response to the Bahraini authorities' failure to provide access to medical care while in detention, Hussain began an open hunger strike on 5 November. On 6 November, Dry Dock administration transferred him to the prison's clinic. At the clinic, Hussain refused to leave until authorities confirmed an appointment with healthcare specialists for his treatment. In response, a police officer kicked and reportedly beat Hussain until he fell out of his wheelchair. Government authorities have still not provided access for Hussain to see a doctor.
Hussain is the son of prominent political leader and activist Abdulwahab Hussain Ali Ahmed Esmael. Bahraini authorities sentenced Abdulwahab to life in prison as part of the Bahrain 13 for participating in the 2011 pro-democracy protests. After taking part in the 2011 demonstrations, security forces arrested and beat him and his daughter. During incarceration, authorities subjected Abdulwahab  to torture and mistreatment. Abdulwahab is a lifelong activist, and the Bahraini government repeatedly targeted and imprisoned him prior to 2011. In 2001, after being pardoned by King Hamad bin Isa al-Khalifa, Abdulwahab co-founded the now-dissolved opposition society, Al-Wefaq. In 2009, Abdulwahab founded another opposition group, Al-Wafa'. He has been spent a portion of his recent sentence in solitary confinement. Prison authorities have repeatedly denied Abdulwahab access to medical care while in prison, despite his suffering from a chronic neurological disorder.
The Government of Bahrain's actions are in direct violation of Article 25 of the Universal Declaration of Human Rights (UDHR), which states, "everyone has the right to a standard of living adequate for the health and well-being of himself." Additionally, authorities are in violation of Article 12 of the International Covenant on Economic, Social, and Cultural Rights (ICESCR) recognizes the right of everyone "to the enjoyment of the highest attainable standard of physical and mental health."
The undersigned NGOs call on the Bahraini government to:
Immediately provide all necessary medical attention and care to Hussain Abdulwahab Hussain Ali Ismail and all prisoners in Bahrain;
Immediately and unconditionally release all political prisoners of conscience, including Hussain Abdulwahab Hussain Ali Ismail, Abdulwahab Hussain Ali Ahmed Esmael, and all members of the Bahrain 13 still in prison; and
Abide by international human rights standards, including the ICCPR and ICESCR, by upholding citizens' right to healthcare.
Signed,
Americans for Democracy and Human Rights in Bahrain (ADHRB)
Bahrain Center for Human Rights (BCHR)
Bahrain Institute for Rights and Democracy (BIRD)
European Centre for Democracy and Human Rights (ECDHR)