26 January 2017 – In the early hours of 26 January 2017, Bahraini security forces fired live ammunition at protesters in Diraz, Bahrain. The security forces shot 18-year-old Mustafa Ahmed Hamdan in the head; he is currently receiving urgent medical care at Salmaniya Medical Center. Hamdan is in critical condition. We, the undersigned organizations, are seriously concerned about the health of Hamdan and other individuals injured, condemn the excessive use of force against protesters, and call on the Government of Bahrain to immediately launch investigations into the attack.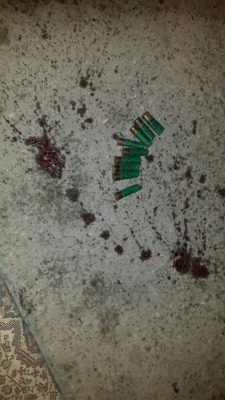 Unknown Bahraini security forces wearing black balaclavas shot Hamdan during the early hours of 26 January 2017.It is currently unclear under which branch the security forces involved in the attack operate. The live ammunition from the attacks recovered from the area in Diraz is consistent with the types of ammunition Bahrain's riot police use. The ammunition found at the scene of the attacks appears to be Victory Starlight 32gr cartridges. These weapons are manufactured in Cyprus.
Reports from Hamdan's family indicate that his skull is fractured from the ammunition, which entered into the back of Hamdan's head. Hamdan was first taken to Bahrain International Hospital, a private hospital, which refused to treat him. He was then transferred to Salmaniya Medical Center, where doctors performed emergency surgery. Hamdan is now reportedly in critical but stable condition. His mother said in a media interview that he is "between life and death."
Hamdan is one of several reported injured in the recent attack by security forces in Diraz, who opened fire using live ammunition and birdshots on unarmed protesters. Additionally, there are reports of around five arrests from the area, including a minor that was arrested during a brutal house raid that involved breaking the doors. The reason the individuals have been taken into custody are unclear at present. The recent attack seemingly comes amid an incitement campaign against Diraz protesters, including a Bahrain News Agency report that 20 people are facing charges in three separate cases. According to reports, the defendants are facing charges over alleged attacks on suspected informants in Diraz. One of these suspected informants was allegedly tortured and has since died.
A permanent sit-in in Diraz has been ongoing since 20 June 2016, when the Bahraini authorities revoked the citizenship of prominent spiritual leader Sheikh Isa Qassim. Sheikh Isa Qassim's residence is in Diraz, and protesters have gathered around his house since June 2016 to protect him from possible reprisals. Since the beginning of the sit-in, the Bahraini government has tightened security around Diraz. Security has set up checkpoints into area staffed with police who prevent non-Diraz residents from entering and who, residents state, carry machine guns. Some of the last reports of violence in Diraz by security forces was 21 December 2016, when Bahraini security forces raided houses and attacked protesters.
The human rights situation in Bahrain has reached a critical level recently. On 15 January 2017, the Government of Bahrain carried out the execution of three torture victims on death row. Since that that time, hundreds of Bahrainis have participated in protests around the country. The repression of civil society has reached high levels, as human rights defender Nabeel Rajab faces a number of charges in two separate cases – all of which relate to the exercise of his rights to free speech. A number of UN Special Procedures mandates have also responded to the recent heightened persecution of the Shia majority population. Since August 2016, the undersigned organizations have documented the harassment of at least 70 Shia clerics, with nine sentenced to between one year and two and a half years in prison for their speech and assembly.
The attack last night and this morning in Diraz is the latest step in what is continuing to be a critical time in Bahrain. The Bahraini authorities have disregarded individuals' internationally-sanctioned rights to assembly by violently shooting protesters gathering in Diraz with live ammunition. We, the undersigned, condemn this excessive and deadly use of force by the Bahraini security forces. We call on the Government of Bahrain to do the following:
Immediately launch an investigation into the attack in Diraz on 25 January and 26 January;

Hold those security forces who attacked and shot protesters, including Mustafa Ahmed Hamdan, accountable for their crimes;

Ensure the rights of those arrested last night and this morning are respected and that they are given fair treatment under the law.
Signed,
Americans for Democracy & Human Rights in Bahrain
Bahrain Center for Human Rights
Bahrain Institute for Rights and Democracy
European Centre for Democracy and Human Rights