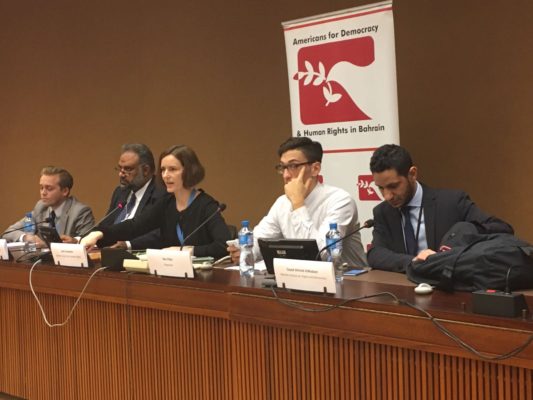 Julie Gromellon of the Bahrain Center for Human Rights (BCHR) started off the panel mentioning this is one more Council session where the HRC has not taken action despite deteriorating human rights abuses in Bahrain, including reprisals against human rights defenders, executions, and the continuing deterioration of the broader human rights environment in the country.
Sam Jones, Researcher at Americans for Democracy & Human Rights in Bahrain (ADHRB) followed Ms. Gromellon and framed the debate. He remarked about Bahrain's engagement with the Universal Periodic Review (UPR) process during its second cycle review in 2012, noting that Bahrain engaged with the UPR mechanism one year after the government suppressed the popular pro-democracy movement. During that cycle, the international community made 176 recommendations, of which the government accepted 158. In the aftermath of the government's violent response to the peaceful protests, the government also accepted the 26 recommendations made by an international panel of human rights experts, the Bahrain Independent Commission of Inquiry. As Sam noted, despite this ostensible engagement with the international community, "ADHRB is forced to conclude that the government has is either unable or unwilling to engage in reform." The Bahraini government has failed to fully implement any of its 176 recommendations and has only made progress on two of the recommendations. It has technically implemented 23, but demonstrated its unwillingness to reform by actively contravening recommendations to curb torture and arbitrary detention or to protect free expression, free assembly, and detention.
Some issue areas that had seen limited success have since been downgraded by ADHRB due to government backtracking on recommendations where that had been nominal progress, including those pertaining women's rights. Since 2012, the government has expanded its legal framework to restrict civil society and taken steps to harass and dissolve civil society organizations. Recently, it has dissolved the Al-Wefaq  National Islamic Society and now it is targeting Wa'ad, a secular, leftist organization. These actions have heralded a "disturbing backward trend in its overall human rights environment" as the government "harasses scores of activists and journalists." According to Mr. Jones, "in just two months since sent we this report for printing, the government has committed some of its most egregious human rights violations": not only have the authorities targeted Wa'ad, but they have executed of three victims of torture after unfair trials based on coerced confessions, empowered the NSA to prosecute activists, and advanced an amendment to allow military courts to try civilians. Mr. Jones finished his remarks by re-emphasizing past recommendations that should be implemented, noting that recommendations should be specific and time bound and should including reporting procedures. "Bahrain is at a crucial juncture" and the UPR is one of the few mechanisms for serious human rights reform. "If there is not concerted international pressure, it is deeply troubling to imagine where Bahrain will be by the next UPR cycle."
Ebrahim Demestani, the Vice-President of the Bahrain Nursing Association followed Mr. Jones' remarks and spoke about medical impartiality, access to medicine, and the recent militarization of hospitals and medical services. He spoke about his experience in 2011 as one of the medics targeted by the government for treating injured protesters and noted how the government arrested the medics and subjected them to different types of torture. Recently, the situation has become worse as the government has militarized the medical services, beginning with taking over the only civilian hospital in the country. "The government replaced civilian management with military management and targeted the nurses and paramedics." Mr. Demistani also stated that he was one of several medical personnel, including Dr. Ali al-Ekri to be tried and sentenced in a military court. Furthermore, after a government edict, hospitals cannot treat protesters immediately, but must first wait for the approval of the Ministry of Interior. The government also transferred the oversight of ambulances from the Ministry of Health to the Ministry of Interior. "This led to the case of a protester who was hit in the head with a bullet, but who was scared to receive medical attention because of the fear of torture that he became effectively braindead while waiting for attention."
Mr. Demistani also talked about the dismissal of medics from their jobs who participated in 2011 protests. "Thanks to Canada who recommended reinstating dismissed employees, and other international efforts, some were reinstated. But we are hoping in the coming UPR to receive more and more specific recommendations regarding dismissed employees." While the ILO and Ministry of Labor have an agreement to reinstate dismissed employees, many have not been given back their jobs.  He closed his remarks by speaking about the human rights environment in Bahrain, saying, "Things have gotten worse and we heard two days ago that government  is trying to dissolve Wa'ad society. We want the international community to support us so we can continue to advocate for human rights and freedom and to do this, we need the help of the human rights community."
A representative from Reprieve followed Mr. Demistani and spoke about executions and the death penalty and about the United Kingdom's role in whitewashing the human rights abuses perpetrated by the Bahraini government. Over the past five years, the UK Foreign and Commonwealth Office (FCO) has spent millions of pounds to improve Bahrain's human rights standards, particularly the Ombudsman, National Institute for Human Rights, and the Special Investigation Unit. The UK argues that these bodies are progressing and getting better and working to improve the situation of human rights in Bahrain, but this is untrue. "I want to push back against the myth that there is legitimate human rights reform in Bahrain." This reform program serves the "Bahraini government to white wash" human rights abuses. Since the UK's involvement, Bahrain's human rights situation has not gotten better. Rather, its record remains extremely poor.
Despite their mandate and the outcry over Ali al-Singace, Ali Mushaima, Abbas al-Samea, Mohammed Ramadan, and Husain Ali Moosa over their torture and coerced confessions, "These reform bodies have flatly refused to investigate allegations of torture." According to Reprieve, "This is not an issue of these bodies needing more time to develop. Rather, these institutions are responsible for illegal conduct that has made them complicit in the abuses." Continued UK endorsement of these institutions thus serves to deflect international scrutiny of Bahrain's human rights record at a time when this scrutiny is needed, as country's see the UK is working with them and thing to hold off their criticism.
International mechanisms operate as a means to challenge Bahrain and the UK over these institutions and consistent allegations of torture. If Bahrain wants to prove these are legitimate reform efforts and not an elaborate white washing exercise, it needs to ratify the Optional Protocol to the Convention Against Torture and allow the Special Rapporteur on torture to visit the country. These are basic anti-torture steps. If there is political will to end torture these are easy steps.
Sayed Ahmed AlWadaei from the Bahrain Institute for Rights and Democracy (BIRD) closed the panel and discussed his experience as a protester and victim of reprisals for his engagement at the United Nations Human Rights Council. In many ways, the pro-democracy uprising in Bahrain was the most inconvenient protest in the Arab world as so many countries have interests in the country. In suppressing the protests, the government used military courts whose staff members enjoy humiliating defendants. After being detained for his engagement with the protests, security forces detained Mr. AlWadaei and assaulted him, sentencing him to one year in prison. After he was released, he fled to the UK for asylum. In 2015, Mr. AlWadaei took an advocacy trip in Europe with Nabeel Rajab. They told the world what it means to be a human rights defender in prison and  highlighted harassment of Nabeel, "There is no clearer case for human rights defenders being imprisoned as a voice for the voiceless than Nabeel Rajab" and he is now in prison for interviews and tweets.
On 31 January 2015, Mr. AlWadaei found out that the Bahrain News Agency had listed him along with 72 other individuals as denaturalized persons. He thought there must be an international outcry over this, but there was no serious consequence. In to the mass denaturalizations, Bahrain has committed a number of acts that some would consider red lines, such as empowering military courts to convict terrorists and putting Bahrain is now a de facto state of martial law. "No one from the state has taken responsibility for the death of Mohammed Hamdan and the same state bodies are responsible for murdering Kareem Fakhrawi." The only difference between now and 2011 is that in 2011 governments condemned the issues in 2011. Now, the UK supports Bahrain, "putting its faith in the abusers."
Recently, Mr. AlWadaei took part in a protest against King Hamad when he visited Theresa May during which he was detained for a few minutes. On that same day, his wife and infant son were about to leave Bahrain to go reside in the UK, security forces beat, mistreated, and detained his wife for 7 hours, telling her they would take reprisals against Mr. AlWadaei for his activism. Last week, his mother-in-law and brother-in-law were detained and his brother-in-law was tortured and forced to confess against Mr. AlWadaei Security forces told his brother-in-law they would take revenge against him for coming to the Human Rights Council. Mr. AlWadaei said, "Before it was me paying the price, but now it is my family that is paying the price." But the international community has "failed to at least put Bahrain under scrutiny. To do a joint statement – that would at least put something on the record. If this is the case, then why are we even here, that is the question I have for all states here." He urged the community to act and to take full advantage of the opportunity for engagement represented by the UPR, especially in light of the silence at the current HRC session.