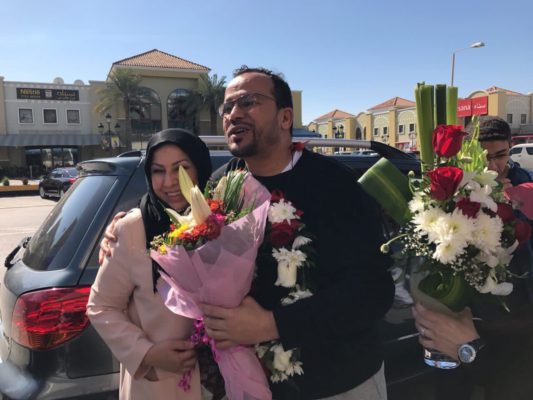 Today, 10 March 2017, Bahraini Dr. Ali al-Ekri has complete his five-year prison sentence. Dr. al-Ekri was the last remaining doctor in prison who government forces arrested during 2011 for upholding his principles of medical neutrality. Americans for Democracy & Human Rights in Bahrain (ADHRB) welcomes the completion of Dr. al-Ekri's sentence; however, we note with strong condemnation the charges against him and the arbitrary, lengthy prison sentence to which the Government of Bahrain subjected him.
Dr. al-Ekri is a pediatric orthopedic surgeon who worked at the Salamniya Medical Complex in Manama, which became a critical location during the 2011 pro-democratic uprising. The Bahraini government arrested 48 doctors, nurses and paramedics in March 2011 for working to treat injured protesters. Dr. al-Ekri was the last remaining medical professional still in prison, despite international support for his release. Government security forces tortured Dr. al-Ekri to extract a false, coerced confession and sentenced him to five years in prison for providing medical treatment to Bahraini citizens who participated in the pro-democracy protests.
Dr. al-Ekri was among the first of dozens of medics arrested by security forces. Human Rights First talked to Dr. al-Ekri, and he told them that he was in the operating room treating a teenage boy when security forces came to arrest him. He was taken to multiple detention centers where he said he was tortured and beaten, kept in solitary confinement for two weeks, and during one interrogation, he lost consciousness four or five times. He said "he was told to confess to things like having weapons, killing patients, depriving patients of care and occupying the hospital." He asked to see a lawyer the first day he was detained but he ended up confessing in the third week without meeting with his lawyer or family members. Military courts initially sentenced Dr. al-Ekri to 15 years in prison for more than a dozen charges, including possession and concealment of weapons, occupying a public building, promoting the downfall of the regime and inciting sectarian hatred. This sentence was later reduced to 5 years in a civilian court. At an appeal hearing of Dr. al-Ekri in March 2012, the judge refused to allow evidence of his torture in custody to be presented. "I don't regret doing my duty." Al-Ekri said after his appeal was rejected. "I don't regret speaking about the violation of medical neutrality that I witnessed."
Bahrain continued the militarization of the healthcare system by arresting and detaining medical workers for providing care to protesters. Before his arrest, Dr. al-Ekri and other doctors noticed that ambulances stopped coming and civilians started bringing the injured in their cars. They heard that ambulances were being diverted away from Salmaniya hospital and security forces were detaining their drivers. Another doctor was turned away after he received a call that a patient had come in with a serious gunshot wound. Human rights organizations have accused the government of having made systematic efforts to deny medical services to wounded protestors and have proclaimed the deterioration of health services in the kingdom.
Most recently, masked security forces shot eighteen-year-old Mustafa Ahmed Hamdan in the head while he was participating in a sit-in protest. He was first taken to Bahrain International Hospital, a private institution that refused to treat Hamdan due to a government requirement that a Ministry of Interior official be present when patients have injuries that could be sustained during protests. He was then transferred to Salmaniya Medical Center, a public hospital with government forces present, where he received emergency surgery. However, because Hamdan did not receive the prompt adequate medical care that he required, he has since been rendered brain dead. Additionally, security forces arrested the medic on-site who first treated Hamdan.
Dr. Ali al-Ekri has spent the past five years in jail for upholding his Hippocratic Oath to provide care impartially to those in need. ADHRB hails his release and supports his return to providing medical services to the general public. Since many of the medics released from Bahraini prisons still face discrimination, ADHRB will continue to monitor any new developments.