This week, a delegation of staff from the US Congress is visiting Bahrain to take part in bilateral talks with government authorities in the country. This is the second Congressional delegation trip since the new Administration took office. The first delegation trip occurred in February 2017 and, shortly following, Bahrain Foreign Minister Khalid bin Ahmed Al Khalifa came to the US to meet with Secretary of State Rex Tillerson, National Security Advisor McMaster, members of Congress (x, x, x), and the CEO of Lockheed Martin. Now, the second delegation trip in just three months is taking place. According to the state-run Bahrain News Agency (BNA), the delegation has so far met with the Defence Minister Lt. Gen. Yusuf bin Ahmed Al Jalahma, National Committee to Combat Trafficking in Persons Chairman Osama Al Absi, Ministry of Foreign Affairs Undersecretary for International Affairs Dr. Shaikh Abdullah bin Ahmed Al Khalifa, and Ministry of Interior Ombudsman Nawaf Mohammad Al Mouawda.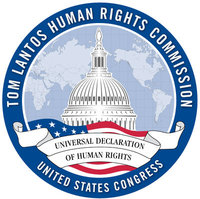 While staff of the US Congress visits with authorities of the Bahraini government, members of the US Tom Lantos Human Rights Commission (TLHRC)'s Defending Freedoms Project remain in prison. Currently, TLHRC lists the following prisoners of conscience incarcerated in Bahrain: Abdulhadi al-Khawaja, Abduljalil al-Singace, Ahmed Humaidan, Sheikh Ali Salman, Naji Fateel, and Nabeel Rajab. At least two of the TLHRC Defending Freedoms Project prisoners are at this time experiencing urgent medical problems.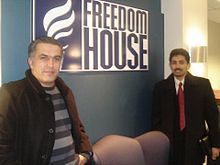 Prominent human rights defender and Bahrain Center for Human Rights president Nabeel Rajab has been subjected to long-term solitary confinement during his pretrial detention. Bahraini authorities arrested Rajab last year in June 2016 and brought a number of charges against him all relating to the peaceful exercise of his rights to freedom of expression. Rajab currently has two cases against him; one case is related to tweets, and the other case is related to media interviews. Rajab has experienced a number of health issues during his 10-month pretrial detention, including heart complications and problems with his gallbladder.
Most recently on 5 April 2017, Rajab underwent a much-needed surgery at the Bahrain Defense Force (BDF) military hospital for a chronic condition, including a deep cyst and ulcerated tissue on his back. Bahraini authorities allowed Rajab to stay in the hospital only one day post-operation, before forcing him back to his prison cell, which he has described as unsanitary and not fit for long-term incarceration. Authorities refused to allow Rajab's family to visit him until 8 April 2017, when he had to be taken back to a military medical clinic. The doctors examined the surgical wound, finding that it was inflamed and not healing as it should. Rajab currently remains at the clinic; his family visits are reportedly under strict surveillance, and authorities only allow visits from two members of the family once per week.
Human rights defender Abdulhadi al-Khawaja is another member of the TLHRC Defending Freedoms Project who is experiencing pressing medical problems following the start of a hunger strike. Al-Khawaja is serving a life-in-prison sentence for his role peacefully protesting the Bahraini government during the 2011 pro-democracy movement. Courts sentenced al-Khawaja to life in prison on terrorism charges. Al-Khawaja is a founding member of the Bahrain Center for Human Rights, and previously worked with Dublin-based human rights organization Frontline Defenders.
On 12 April 2017, al-Khawaja began an open-ended hunger strike as a response to the poor and unsanitary living conditions in Jau Prison and the degrading treatment of prisoners. Last month, al-Khawaja's family said that he was experiencing significant medical problems with his eye, which has since resulted in partial loss of vision. Jau Prison officials have escalated repressive control measures at the facility. Inmates report that the authorities have cancelled or severely limited family visits; cancelled hospital appointments; and prevented detainees from accessing medical care unless they wore a uniform with shackles and consented to an invasive strip search. Since the start of al-Khawaja's hunger strike, he has not been subjected to shackles in order to visit the medical facility. However, this morning, daughter Maryam al-Khawaja reports that authorities will be forcing al-Khawaja to wear shackles from now on. He is currently having problems with his blood sugar, blood pressure, and kidneys.
Both Rajab and al-Khawaja are experiencing urgent medical problems due to the treatment to which they are both being subjected while in prison. Staff participating in the Congressional delegation trip in Bahrain at the same time have a unique position and duty to raise these particular TLHRC cases of concern with the Bahraini officials. While the Administration has severely scaled back public calls criticizing governments that violate international human rights law – like with Rajab and al-Khawaja's cases – the Congressional staffers should take the opportunity to at least privately raise these particular cases during their meetings with the government officials in Bahrain.