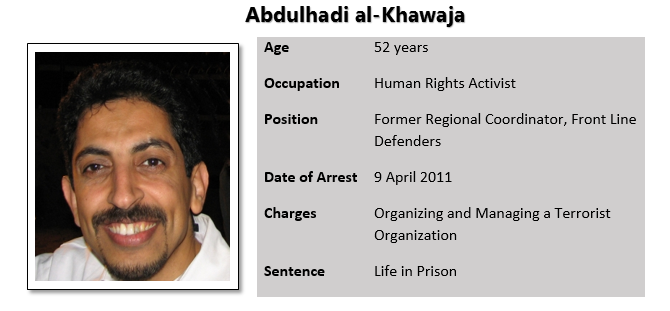 Abdulhadi al-Khawaja has spent his life peacefully advocating for the human and civil rights of the people of Bahrain.  Al-Khawaja began protesting the Bahraini regime as a student in London. After the Government of Bahrain failed to renew his passport, he stayed in Europe, eventually seeking asylum in Denmark and becoming an active member in the Committee to Defend Political Prisoners in Bahrain. He went on to cofound the London-based Bahrain Human Rights Organization in 1991.
After a general amnesty was granted by the government in 2001, al-Khawaja returned to Bahrain. There he helped to found and direct the Bahrain Centre for Human Rights. His efforts to track human rights violations drew harsh responses from the Bahrain Government, which attempted on numerous occasions to silence him through threats, detainment and defamation campaigns.
Al-Khawaja played a prominent role in the most recent peaceful protests in 2011, leading demonstrators in their opposition to government repression. On April 9, 2011, government forces stormed his daughter's apartment, severely beat him and another activist who was present, and arrested him. On June 22, 2011, al-Khawaja was sentenced by a military court to life in prison based on confessions obtained under the duress of torture.
Since his arrest, Al-Khawaja has been subject to prolonged abuse from his captors, ranging from bone-breaking beatings to sexual assault. The Government of Bahrain has refused to investigate credible allegations of torture and al-Khawaja has been denied adequate medical care since his detention in 2011.
Between February and May of 2012, Mr. al-Khawaja went on a 110-day hunger strike, which prompted the government to, at one point, tie him to his bed and forcibly insert a feeding tube. During this time, he was denied access to any independent medical examinations or care. His lawyer was also denied access to him during this time, and on other multiple occasions, sometimes lasting up to 45 days.  Despite the rapid deterioration of his health as a result of the hunger strike, Mr. al-Khawaja remained committed to peaceful protest, encouraging all Bahrainis "to continue on a path of peaceful resistance…I don't want anybody to be hurt in my name." An appeal by the Danish government for Mr. al-Khawaja to be released and afforded medical treatment in Denmark was denied by the Government of Bahrain.