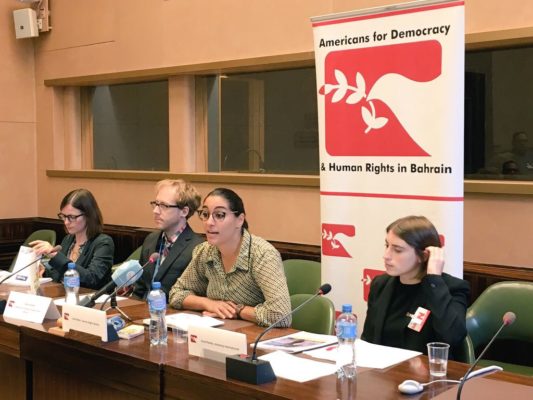 On 13 September 2017, Americans for Democracy & Human Rights in Bahrain (ADHRB) and Amnesty International hosted an event at the 36th session of the Human Rights Council that sought to explore the means by which Bahrain's state security agencies—particularly the National Security Agency—systematically violate human rights in the name of countering terrorism. The panel explored issues relating to the abuse of overly broad counter-terror legislation, secretive policing practices, systematic torture to coerce confessions and recruit informants, and new judicial structures that render civilians subject to military trials. The event was further co-sponsored by Human Rights Watch (HRW), Reprieve, the Bahrain Institute for Rights and Democracy (BIRD), the Gulf Center for Human Rights (GCHR), the European Center for Democracy and Human Rights (ECDHR), Article 19, International Service for Human Rights (ISHR), International Federation for Human Rights (FIDH), and Index on Censorship.
Laila Matar of Human Rights Watch began the panel welcoming the audience and immediately raising the High Commissioner's statement in which he expressed concern over increasing reports of torture in Bahrain and the shutdown of civil and political society space. She continued, highlighting that recently, Bahrain had reintroduced the death penalty after a multi-year de facto moratorium. Ending her opening remarks, she introduced the panelists, Ariel Plotkin of Amnesty International, Devin Kenney of ADHRB, and Harriet McCulloch of Reprieve.
Ariel Plotkin of Amnesty International opened the panel by introducing Amnesty International's new report, No One Can Protect You about the Bahraini government's increasing suppression of civil and political society activists and human rights defenders, increasing torture, nationality revocations, forced explusions, and the excessive use of force against civilians. This suppression is visible, she stated, in the lack of Bahraini activists on the panel in person and it has continued even up to the Human Rights Council, with the government summoning Ebrahim Sharif for interrogation just this morning.
Plotkin noted that among the activists who have recently been detained is Nabeel Rajab, who faces up to 15 more years in prison for peaceful dissent.  Another activist facing persecution is Ebtisam al-Saegh, who was arrested, interrogated, and tortured for her human rights work. Plotkin stated that Nabeel and Ebtisam are among "scores of activists who have been summoned on baseless charges for their peaceful expression." Ebtisam's case and the torture she faced is part of a larger recent trend. "In May alone Amnesty has received reports of 80 to 90 activists who were tortured or threatened to stop their political activities by the NSA."
As a result of this increasing suppression, Plotkin observed, activists are more afraid than before to speak out. While activists in Bahrain have been scared before, what is new is activists outside Bahrain are now afraid of speaking out. They have faced intimidation as the government pressures their family members who have remained inside Bahrain, whether through interrogation or prosecution.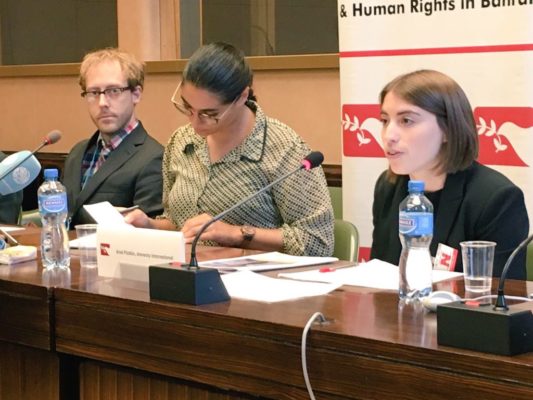 Plotkin noted that the repression inside Bahrain has reached new heights. Amnesty has observed a "higher level of excessive use of force, including by NSA members" in recent months. Amnesty has also "documented for the first time in a long time, the use of live ammunition." Plotkin ended her remarks by highlighting that despite the increasing repression, the "international community has reacted in a shocking manner, without condemning the crackdown." She finished by stating that "as a result of the lack of an international response, members of the once vibrant civil society are unable to speak here today whether because of fear, being in jail, or travel bans."
In his remarks, Devin Kenney, Legal Fellow at ADHRB discussed Bahraini domestic legislation. The value in examining a country's laws, he observed, is that the law is the "voice of the state. It is what the government chooses to say, under its own processes, in its own words." By examining the law, if you can demonstrate the law itself is abusive, you can move past arguments about whether the government behaved abusively in specific instances.
Kenney first looked at Bahrain's counter-terror statutes, the base law of which was passed in 2006 and then amended in 2013 and again in 2014. He noted that "the original 2006 law established an extremely vague and broad definition of terrorism." This definition encompasses public protest, meaning that Bahrain's provision on financing and other related aspects of terrorism becomes deeply problematic. To illustrate the intensely problematic nature of the counter-terror law, Kenney quoted the law itself, highlighting that the law defines terrorism to cover, not just the political use of violence, but also to include
Any … illegitimate means constituting a crime punishable by law to which an offender resorts … with the purpose of infringing public security or endangering the safety and security of the Kingdom or of damaging national unity … it such means by its nature … harms the environment, public health, the national economy, or public property, institutions or facilities; … or prevents or impedes public authorities, houses of worship, or institutes of learning from exercising their functions."
After quoting the original 2006 law, Kenney analyzed it, saying that the law has been used to make any form of public protest illegal. Moreover, as the law never defines "terrorist purpose," the government has broad space and authority to use the law flexibly.
In addition to the already overly broad and flexible 2006 law, Kenney noted that the 2013 and 2014 amendments add increasingly regressive material. One article from the 2013 amendment, he states, criminalizes "anyone who incites another to commit a terrorist crime" even if there are no results. Beyond that, the 2013 amendments authorize denaturalization for committing various acts. As a result of this, "simple verbal criticism of the government could result in the person being made stateless." The 2014 amendment, Kenney noted, formally removed most vestiges of protection against arbitrary detention, though in practice there was little protection to begin with.
Via video message, the exiled Bahraini activist Yusuf al-Hoori described the pressure he faced from the Bahraini government to stop his activism, although he lives outside of Bahrain. He told of a call he received from his father in a police station. "My father was tired and worried and fasting at the time. He told me to stop my social media or he will not be released." Al-Hoori noted that while he was thinking about what his father said, that he received another call, from his sister. When she called him, she was crying and she asked me to "stop my activities and apologize to the King of Bahrain." Al-Hoori realized that when his sister called him, she was under pressure from the Bahraini government to do so. But, he states, even as he was worried for his family and for the pressure they were receiving, "I felt a conviction to continue my human rights work." Al-Hoori finished his remarks with a request for the international community, to pressure Bahrain to stop its suppression of human rights and of human rights defenders in Bahrain.
Harriet McCulloch of Reprieve followed Yusuf's remarks with a discussion of five death penalty cases that illustrate what Ariel, Devin, and Yusuf faced. Reprieve works on death penalty issues including on the cases of Abbas al-Samea, Sami Mushaima, and Ali al-Singace, Husain Ali Moosa, and Mohamed Ramadan. The government's targeting and prosecution of these men on terror crimes demonstrates that the "global war on terror paradigm is being used to suppress political dissent."
The police, McCulloch stated, targeted these five men because of their political affiliations and dissent. They were tortured and did not get a fair trial and three men were executed even though the government presented no solid evidence linking them to an actual terror crime. While the cases of these five men are shocking, they are not without precedent in the region, as Saudi Arabia is doing the same thing: targeting and prosecuting peaceful dissidents on grounds and for crimes that the international community would not consider "real" crimes.
McCulloch highlighted that while this prosecution of peaceful dissidents for alleged terror crimes goes on in Bahrain, governments around the world have thus far failed to put enough pressure on Bahrain and its neighbors to halt the repression. To the contrary, Donald Trump and Theresa May both visited the region and in their remarks they only discussed security, without touching on human rights. By ignoring human rights, McCulloch stated, May and Trump have signaled that the Bahraini government can get away with these practices – arbitrary detention, torture, unfair trials featuring coerced confessions – with little or no international condemnation. This is because the broader international response to Bahrain's use of the death penalty, in particular, has been extremely weak, especially in the UK. The failure of the US and the UK to address these issues is in large part due to their acceptance of the "false narrative of Bahrain as a reforming state." This is problematic, because international law specifies that the death penalty should be used only for crimes that qualify as the "most serious crimes." The charges and crimes these five men face do not accord with this, in particular because of vastly unfair trials and their torture. The UK's acceptance of this false narrative is illustrated by its continued praise of Bahrain for moving in the right direction of human rights, itself demonstrated by the UK's continued training of Bahraini security personnel.
McCulloh stated that while the UK has appeared problematic in addressing rights violations in Bahrain, the international community has also been slow to respond. In past two years, Human Rights Council members have not been able to agree on a joint statement condemning Bahrain's human rights record. "The UK has played a specifically negative role, lobbying to water down the last joint statement."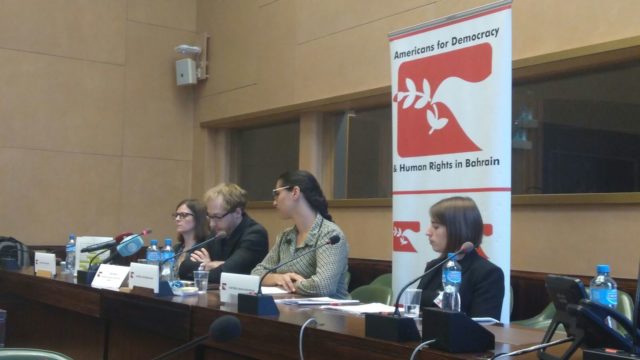 McCulloch ended her remarks by noting that while Bahrain states it is fighting terrorism, "executing peaceful dissidents and torturing them do not help in fighting terrorism." If Bahrain wants to make progress and be recognized as making progress, it must cooperate with the mandates of the Special Procedures, although it has not allowed any Rapporteurs into the country in 10 years.
Ending the remarks section of the panel, Matar, noted that at the beginning of the 36th Session of the Human Rights Council, a group of NGOs sent a joint statement to Council members calling on states to take a principled approach to Bahrain and its human rights violations. This approach can follow from some select states' voluntary pledge to follow a previous joint statement which laid out a set of objective principles that, if a state should meet them, would warrant action in the Council.