On 2 February 2018, marking the seventh anniversary of the Arab Spring protest movements across the Middle East and North Africa in 2011, Bahraini human rights defender Maryam al-Khawaja spoke at the Georgetown University Law Center with journalist Mehdi Hasan and Egyptian activist Mohamed Sultan, addressing the current impact of American foreign policy on human rights in the region. Al-Khawaja, who was detained and forced into exile for her activism in Bahrain, described how the government has only intensified its attacks on the human rights and pro-democracy movement since 2011. The authorities have continued persecuting those targeted during the uprising – like al-Khawaja's father and sister, Abdulhadi and Zainab – while institutionalizing many of that crackdown's worst repressive measures, such as military tribunals for civilians. The findings of the Bahrain Independent Commission of Inquiry (BICI) in 2011 were enough to indicate crimes against humanity, al-Khawaja said – and the authorities have only escalated their human rights violations in the interim.
Meanwhile, American policy has largely encouraged the deterioration in the human rights situation. With the Fifth Fleet based in Manama and approximately 85 percent of Bahrain's military equipment American-made, the United States (US) has an out-sized influence on the small kingdom. Yet it has consistently under-utilized this leverage under both the current and former administrations, culminating in President Donald Trump's 2017 decision to scrap all reform conditions on a massive sale of F-16 fighter jets.
A former prisoner of conscience in Egypt and American citizen, Soltan emphasized seizing such points of leverage are critical if the US wants to actually promote reform in these countries – which is the only sustainable solution if it also wants stable military partners. According to Soltan, grassroots organizing and international pressure, particularly when it forced the US to reconsider security aid to the Egyptian government, is the primary reason he is free today.
Both al-Khawaja and Soltan stressed to the audience that there is much the average American can do to advance international social justice movements and generate US government policy that helps rather than hinders them. From calling congressional representatives to signing letters and re-teweeting progressive social media campaigns – even little gestures can come together to energize and link powerful movements.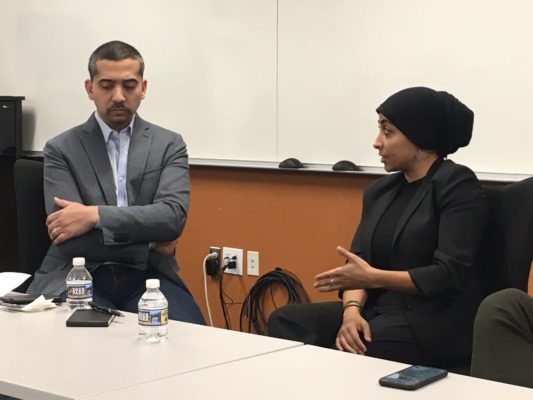 Al-Khawaja concluded by asserting that oppressed peoples in places like Bahrain are not calling on the US government to "save them," they are primarily just asking it to stop doing damage. Right now, however, US policy is directly harming the long-term interests of both Americans and Bahrainis in a stable and secure Gulf. Real, inclusive reforms are the only sustainable path to this shared goal.