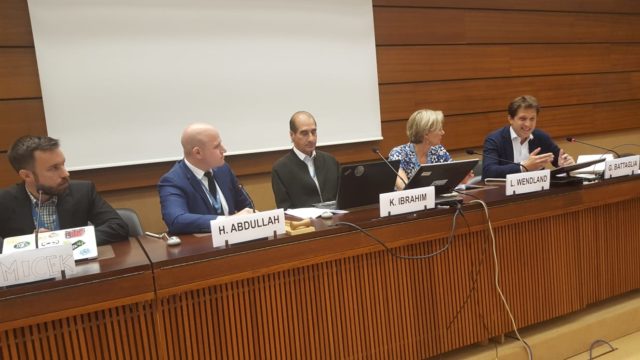 On Thursday 28 June, the Gulf Centre for Human Rights (GCHR) hosted a side event at the 38th session of the United Nations (UN) Human Rights Council (HRC), in cooperation with Americans for Democracy & Human Rights in Bahrain (ADHRB), CIVICUS, Amnesty International, and the International Federation of Human Rights Leagues (FIDH). Michael Payne, ADHRB's Director of Advocacy moderated the event, which featured Peter Micek from Access Now, Lene Wendland from the Office of High Commissioner for Human Rights (OHCHR), Gidou Battaglia the Institute for Human Rights and Business (IHRB) and Khalid Ibrahim, the Director of GCHR. The discussion focused on different areas for cooperation in the fields of business and human rights, opportunities for partnerships between businesses and civil society, and the need for a multifaceted framework for businesses to engage with human rights.
Mr. Payne opened the panel by noting the growing opportunities for partnerships between business, civil society, and governments in relation to human rights activism in the Gulf region. He highlighted the International Labor Organization's Declaration on Fundamental Principles and Rights at Work adopted in 1998. He also highlighted the four categories of universal rights that apply to all people in all states, namely freedom of association and right to collective bargaining, elimination of forced labor, the abolition of child labor, and the elimination of discrimination in respect of employment and occupation. He noted that the Declaration serves as soft law, meaning it does not bring with it any binding obligations. For this reason, the focus should be on state protection rather than on corporate responsibility.
Mr. Payne also raised the UN Guiding Principles, which are also known as the Ruggie Principles, and which the HRC endorsed in resolution 17/4 in 2011. He described the focus areas of the resolution, including states' duty to protect, due diligence under corporate responsibility, and the availability of access to remedy which calls for appropriate steps to investigate and redress business related human right abuses. He noted ADHRB's engagement with Organization for Economic Co-operation and Development (OECD) in relation to the Formula 1 Grand Prix in Bahrain – a mega event contributing to the human rights abuses. OECD allows for the submission of complaints concerning breaches of the Guiding Principles to the relevant state's National Contact Point (NCP). State relevance is determined by whether the offending company is within a state's jurisdiction. In Bahrain's case, ADHRB has filed complaints with Formula 1, alleging that the company is complicit in security forces' crackdowns against activists. The complaint resulted in Formula 1 formulating a due diligence policy concerning human rights.
Mr. Ibrahim began the conversation by outlining how the United Arab Emirates and Bahrain use imported technology to surveill, target, and convict human rights defenders and activists, including Ahmed Mansoor, and Nabeel Rajab. He then discussed three main facets concerning business and human rights in the Gulf region. The first aspect is the cooperation between international companies based in the West and repressive governments in the Gulf, namely surveillance technology. As an example, he cited the United Kingdom-based Gamma International's Finfisher software. He also cited a case where the UAE government had collaborated with a Canadian technology company to block thousands of websites, among them GCHR's. He continued, by noting that technology companies frequently support governments by hacking activists' accounts and monitoring human rights defenders' online activities. After noting this last case, he highlighted the measures GCHR took to remedy this situation. They included filing legal cases in the UK's High Court against the UK Prime Minister and the UK Cabinet of Ministers.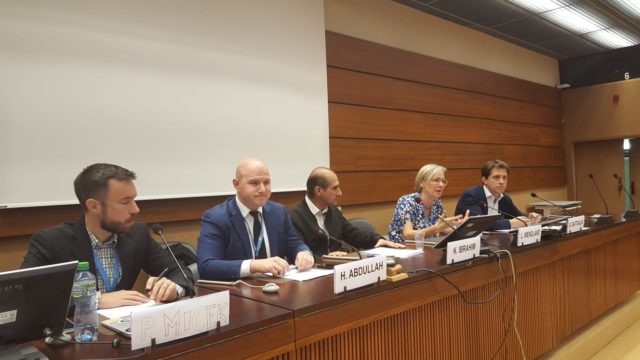 Mr. Ibrahim stridently called for international companies with business interests in the Gulf to implement the highest standards of human rights when engaged in business in the Middle East. Following on this, he highlighted a European Union directive seeking to prevent Western companies from providing repressive governments with tools for monitoring online activism. In particular he called on Facebook to stop shutting down webpages promoting human rights organizations' peaceful activities. He also called on Google to promote awareness about the case of Ahmed Mansoor, the imprisoned UAE activist, blogger, and winner of the prestigious Martin Ennals Award. But more than company support, what is needed, he said, is international support. Mr. Ibrahim highlight the plight of migrant workers, many of whom earn low wages, work in poor conditions, and lack options for unionization. He closed his remarks by calling on businesses to support and welcome civil society organizations working on human rights issues within the Gulf region.
The next speaker, Mr. Micek, addressed the threats and opportunities to businesses and civil society organisations in the Gulf region. As a reference point, he raised West European countries that export military grade spyware and otherwise engage with repressive governments. He noted that the nexus between companies and governments in the region has led to states to invade their residents' privacy, an act that can lead to imprisonment and the deprivation of liberty. He used Ahmed Mansoor's case as an example. The Emirati government targeted Mansoor because he is a human rights defender and internet activist. Using sophisticated spyware, officials tracked and monitored his social media. Micek observed that Mansoor's case demonstrates the connection between the invasion of privacy and governments' use of sophisticated spyware to restrict freedom of expression.
He remarked that surveillance technologies often escape regulations in states such as Tunisia and Egypt. He stressed the urgent need for surveillance technology companies to ensure that human rights conditions become part of their business models and sales. He cited a leaked government report documenting lobbying by nine states including Ireland, Poland, the United Kingdom, and Czech Republic – potentially in reaction to the EU directive cited by Khalid – to weaken human rights regulations on businesses. Without such government recommendation, Micek noted that it is becoming increasingly important for companies to consider which of their technologies are appropriate for exporting. He called for massive reforms in the interest of transparency and accountability. Within this context, he stressed the need to regulate procurement practices while highlighting that both exporting and importing parties have responsibilities to ensure the procurement process abides by international human rights norms. He also noted there is a trend in telecommunications companies shutting down their networks and services in certain areas, depriving residents of their right to freedom and expression. The internet blackout in Duraz, Bahrain is one such case.
He concluded his remarks by noting that the Digital Rights Corporate X Survey seeks to examine the performance of companies in the Gulf region. He revealed that companies operating in Qatar, in particular, fail to disclose necessary information despite the presence of a rather comprehensive data protection law. He highlighted that in accordance with the UN Guiding Principle No. 4, "state owned businesses have heightened responsibilities to respect and protect human rights."
The next speaker, Mr. Battaglia, discussed the recommendations of IHRB's 2015 report "Human Rights Defenders and Business: Searching Common Ground." The recommendations include engaging in effective dialogue with the community, refraining from working with security forces that have a record of human rights violations, forming associations of workers, investigating complaints of misconduct of partners, establishing grievance mechanisms for reporting human rights abuses, and submitting written complains of abuses to the concerned government. Mr. Battaglia further mentioned that all companies have a responsibility to respect and protect human rights, and recognize that their actions, if undertaken without conducting due diligence on the human rights of workers could adversely affect these workers.
Mr. Battaglia also highlighted IHRB's new center in Geneva that focuses on Sports and Human Rights, and he began to discuss the nexus between sports businesses and human rights. He noted examples of progress in sport businesses promoting human rights, such as the November 2017 agreement signed between the Qatari company QDVC, Building and Wood Workers International, the global trade union of construction workers, and VINCI, a France-based construction company. The agreement protects migrant workers from having to pay recruitment fees and from having to surrender their passports, whilst also establishing a committee to discuss workers' living and working conditions. Another example is the recently launching of a complaint and grievance mechanism by FIFA. Despite these advancements, Mr. Battaglia noted that the Special Rapporteur on human rights defenders stated that rights defenders continued to be harassed, threatened, and targeted. As such, there was an urgent requirement for companies to engage with civil society organizations and human rights activists.
Ms. Wendland's focused her remarks on how opportunities for improvement and progress can be used to create change in the business and human rights fields. Stressing the significance of the UN Guiding Principles, she discussed her experiences working with the Qatari government. She noted that the Qatari government endorsed the Guiding Principles and was invested in exploring the possibilities for engaging in an open dialogue.
She referenced the 2017 UN Forum on Business and Human Rights, and remarked on companies' desire to explore how they can address human rights and take the risks involved within a political space into account in their business practices. As a member of FIFA's advisory board, she noted the opportunities created through international events. She highlighted the case of joint inspections concerning the construction workers building the stadium for Qatar's World Cup, which were a result of the intense campaigning and advocacy by PWI Union, civil society organisations, and business partners. In conclusion, she stressed the importance of continued advocacy efforts to challenge judicial systems and deeply entrenched traditions. In today's day and age, when human rights are threatened all over the world, she noted the need to find an open space for growth of civil society participation.
The question and answer session discussed the difficulty of addressing the gaps between the responsibilities of a multitude of vendors, sponsors, security contractors, and differing levels of government involved in organizing mega sporting events. The responses discussed the increasing acceptance and acknowledgement of human rights responsibilities by citing recent incidents, such as the 2026 FIFA World Cup including requirements for maintaining standards of human rights, as well as the meeting between the President of the International Olympic Committee and the High Commissioner for Human Rights. Despite these developments, the panel reiterated the need for collective action to identify, prevent and mitigate systemic challenges in business activities in the Gulf leading to human rights abuses. The necessity for accountability and transparency on government actions and companies' activities was also stressed upon and the possibility of governments using the pretext of national security concerns in order to exert restrictions on digital rights. The event concluded with the panellists calling for businesses to respect and cooperate with NGOs operating in the Gulf countries in order to allow the enjoyment of civil and political rights by all people.