14 February 2019 – On 13 February 2019, Americans for Democracy & Human Rights in Bahrain (ADHRB) held a panel for students at American University's (AU) School of International Service (SIS) on the human rights status in Bahrain, entitled "Addressing Human Rights Abuses in Bahrain and the Arab Gulf." Jeff Bachman, Genocide scholar at AU, provided opening remarks for the panel alongside Shadi Mokhtari, Professor at American University following human rights and politics in the Middle East. They were joined by panelists Justin Shilad, a Middle East and North Africa Research Associate at the Committee to Protect Journalists (CPJ); Monica Zuraw, ADHRB's Advocacy Associate; and Bridget Quitter, ADHRB's Legal Officer.
The event focused on key human rights issues in Bahrain, Saudi Arabia, and the broader Gulf region. Panelists raised concerns about impunity, restrictions on free expression, the targeting of journalists, and the role of the US in supporting Gulf governments despite countless human rights violations. Recent events such as Bahrain's parliamentary elections, the upholding of sentences of prominent human defenders, and the brutal murder of renowned journalist Jamal Khashoggi were highlighted in the discussion.
Shadi Mokhtari opened with an overview of the ways in which Gulf leaders use propaganda and whitewashing of abuses on an international level. She remarked that Gulf leaders tend to care more about the international community's view of them rather than domestic opinions, with governments like Saudi Arabia, Bahrain, and the UAE using public relations campaigns to sell themselves "benevolent monarchies and social reform." Mokhtari highlighted that these governments use self-granted awards for women's rights, international sports and more as a means of overwriting more sinister human rights abuses. Meanwhile, the United States has failed to address serious human rights violations and high profile abuse cases in the region – Jamal Khashoggi's case has only recently taken high enough precedent in international conversation In addition to the Arab Spring protests and human rights advocacy groups, the Jamal Khashoggi case has made room for discussions, criticisms, and diplomatic spats among the international community regarding these violations.
Monica Zuraw provided students with a general overview of Bahrain, emphasizing that, despite its small size, it is a horrendous rights abuser. The ruling AlKhalifa family maintains the longest serving unelected Prime Minister in world history – having held the position for nearly 50 years – and has governed a nation with the highest rate of mass incarceration in the Middle East. The kingdom's prison and political prisoner populations are astounding given the country's relatively small size. The kingdom witnessed a peaceful pro-democracy movement starting on 14 February 2011, where two-thirds of the native population took to the streets to protest for human rights and democratic reform. The AlKhalifa government violently suppressed this movement, arresting thousands, injuring hundreds, and killing dozens. Activists are still imprisoned to this day for their involvement and are serving lengthy prison sentences, including human rights defenders Abdulhadi Al-Khawaja and Dr. Abduljalil al-Singace. Both are serving life sentences, and have faced serious abuse, torture, and denial of access to medical care by authorities.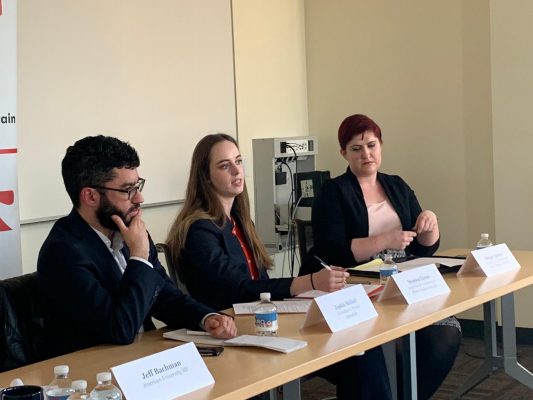 Zuraw highlighted that in an effort to further silence protestors, the government tore down the Pearl Roundabout – Bahrain's focal point and symbol of the pro-democracy movement – after 2011 and removed its likeness from the public eye. The government further targeted political and civil society spaces and figures, with Sheikh Ali Salman, the Secretary-General of Al-Wefaq, providing a prime example of the government's attempts to fully crackdown on Bahraini society. Before his release from prison, "espionage" charges were brought against him for discussions with Qatar dating back to 2011 . He was sentenced to life in prison one week before the elections after the court overturned his initial acquittal during appeals. While the US State Department publicly raised concern for his sentencing on twitter, they subsequently lauded the 2018 November elections, which were held under conditions that were neither free, fair, nor representative of all Bahrainis. Secretary of State Mike Pompeo has further failed to critically engage Bahrain publicly on its rights abuses in recent visits to the kingdom, marking an ultimate lack of US engagement on rights abuses.
Zuraw concluded by calling on the students to take action. Students can campaign or write to the university calling for the Crown Prince's name to be removed from the SIS Atrium or  raising concerns over the university's close relationship with the royal family. AU students' prime location in DC also offers students the opportunity to critically engage with their representatives and senators on human rights violations in Bahrain and encourage them adopt and advocate for Bahraini prisoners from the list of vetted prisoners of conscience compiled by the Tom Lantos Human Rights Commission.
Bridget Quitter provided context on ADHRB's work in documenting and reporting on abuses in the Gulf, and Bahrain more specifically. She noted that ADHRB was founded in 2002, and expanded to DC in 2012 following the Arab Spring in 2011. As part of our advocacy, we have engaged with the United Nations (UN) Human Right's Council (HRC) since 2013; engagement based on our UN Complaint Program in which prisoners or their families reach out to ADHRB and we send their cases to the Special Procedures offices of the UN. Since 2014, ADHRB has submitted information on nearly 1,000 individuals, some of whom have been targeted multiple times. Quitter highlighted that the most common violations are arbitrary detention, torture, and more recently, the denial of much-needed healthcare.
Quitter remarked on the government's intense crackdown since 2015. In 2017, the Bahraini government amended the constitution to allow military courts to try civilians. There has also been an increase in the number of mass trials, especially on accounts of terror-related cases. One in particular, the "Zulfiqar" case saw 132 individuals tried en masse. Of the 132, 115 were convicted, but due to Bahrain's pattern of trying defendants in absentia, only one defendant was actually present in the court for the trial. Furthermore, she remarked on the increase in denaturalizations, noting that since 2012, the government has stripped 824 Bahrainis of their citizenship, a significant figure considering Bahrain's citizen population is approximately 500,000.
Quitter also commented on the vague Bahraini laws that restrict free speech and empower officials to sentence activists to prison. As an example, she drew attention to the sentencing of prominent human rights defender Nabeel Rajab. Rajab was sentenced to two years in prison for participating in news interviews, and the five years in prison for tweeting about Yemen and torture in Bahraini prisons. His conviction was on the basis of "spreading false news abroad which damages the national interest" and "spreading false rumors in wartime, insulting governing authorities, and insulting a foreign country." Despite his call for release by the UN, the Court of Cassation confirmed his conviction on 31 December.
Quitter also remarked on Bahrain's recent parliamentary elections in November 2018, noting that the government dissolved opposition political parties such as Amal in 2012, Wa'ad in 2016, and AlWefaq in 2017. Officials also passed legislation prohibiting individuals from running for office if they had been previously convicted to a prison sentence of six months or more, were leaders or members of dissolved political organizations, or if they "disrupted" parliamentary life.
Quitter concluded her remarks by speaking about impunity and lack of accountability. The lack of investigation into torture, and Bahrain's refusal to reform allows for human rights violations to fly under the radar. She discussed the 2016 Global Magnitsky Human Rights Accountability Act, which holds human rights abusers accountable for their atrocities through sanctions. Until sanctions were placed for the human rights injustices surrounding the case of Jamal Khashoggi, no Arab State was held responsible for violations through the use of sanctions.
Justin Shilad introduced the Committee to Protect Journalists (CPJ), noting that since 1981, CPJ has been advocating for press freedom, along with conducting research and data about the killings, incarcerations, and attacks on journalists. He brought to attention that since 2011, CPJ has noticed a dramatic deterioration of free speech in the Gulf. CPJ gathered that Egypt was third in the world for jailing the most amount of journalists in their work, followed by Saudi Arabia.  The kingdom held 16 journalists in prison last year for exercising their right of free press, and the brutal killing of Khashoggi further demonstrated the region's grim crackdown on press freedom. Shilad claimed that since Mohammad Bin Salman's rise as Crown Prince, he has placed more intense restrictions on civil society, showing that no matter who you are on the ideological spectrum, you are not safe. Under Salman, several journalists have been detained such as Iman al-Nafjan, who was a prominent blogger and was associated with the campaign to end the ban on women driving; Nouf Abdulaziz, who blogged about women rights issues and Saudi detainees; and a non-political journalist, Marwan al-Mureisi, who is being held in an unknown location.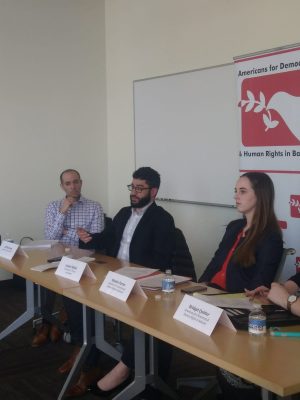 Shilad continued the conversation by noting that since the Saudi-led military intervention in Yemen in 2015, at least seven journalists have been killed. At the beginning of this conflict, Ahmed Al-Assiri, the spokesperson for the Saudi-led coalition, was on the record saying that the media was a target. This statement played itself out, with the killing of journalist Almigdad Mojalli on January 17, 2016 during a Saudi-led airstrike— which was most certainly armed, backed, and given logistical support from the U.S. military. In 2018, CPJ documented 11 journalists being held in Houthi detention in deplorable conditions, enduring horrific torture. In addition to the Houthi and Saudi coalition, there are journalists in southern countries being targeted by militias armed by the United Arab Emirates. He asserted that infringing on press freedom is not limited to borders—it goes beyond the region.
Focusing on Bahrain's treatment of journalists, Shilad mentioned that Bahrain is a perfect example of a "successful completed crackdown on press freedom." CPJ counted at least six journalists behind bars in Bahrain, and three journalists killed since 2011. Among those three was Karim Fakhrawi, the founder of Bahrain's only independent newspaper, Al-Wasat. He never came out of a Bahraini police station after complaining that his house was going to be demolished by the government, and was found dead a few days later. Al-Wasat was then closed down years later.
Shilad expressed that the Khashoggi killing may be a turning point for impunity in the Gulf region. He noted that the current U.S. administration announced sanctions against 17 individuals who were involved in Khashoggi's death. However, the Trump administration announced that it was not going to respond with further sanctions and it was not going to issue a formal report. The  Khashoggi case produced a reaction that we have not seen before in U.S. Congress, which is the willingness to question the U.S.-Saudi relationship. This case brings to light the opportunity to mandate the Magnitsky sanctions that have been disregarded in the past, and pushing other countries to pursue their own versions of the Magnitsky Act.
Jeff Bachman concluded the panel's discussion by reaffirming the points made by the panelists, emphasizing that "when there is no cost for non-compliance, there is no incentive for governments to change." While vague language and definitions of counter-terrorism make room for arbitrary detention on the basis of free speech and political criticism. He mentioned that countries such as Bahrain and Saudi Arabia always make justifications for human rights injustices, citing that they are not human rights violations, but policy violations. These countries claim that they do not possess human rights issues, and support their claims because of the lack of accountability.