11 September 2019 – Today, during the 42nd session of the United Nations (UN) Human Rights Council (HRC) in Geneva, Americans for Democracy & Human Rights in Bahrain (ADHRB) and the Bahrain Institute for Rights and Democracy (BIRD) hosted a side event to launch their new report, Breaking the Silence: Bahraini Women Political Prisoners Expose Systemic Abuses, and to discuss how the civil society crackdown in Bahrain has affected current and former female political prisoners. As a combined effort by ADHRB and BIRD, the report documents the abuses suffered by nine former and current women political prisoners in Bahrain. The event was co-sponsored by BIRD, Global Rights Compliance, Reprieve, CIVICUS, PEN International, European Centre for Democracy & Human Rights (ECDHR), Gulf Centre for Human Rights (GCHR), IFEX, MENA Rights Group, and Women's Global.  Lisa Majumdar of CIVICUS moderated the event, with commentary provided by Lucilla Berwick of BIRD, Omar Soliman of Reprieve, Bridget Quitter of ADHRB, and Oliver Windridge of Global Rights Compliance.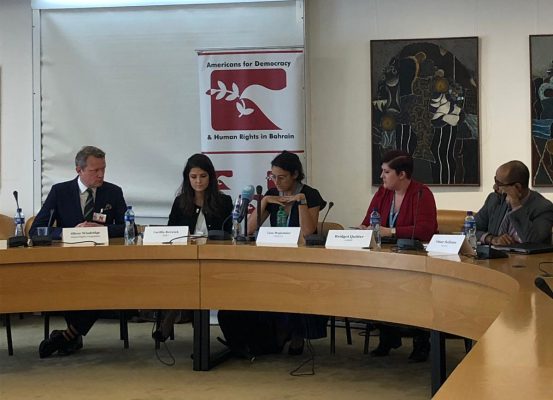 Lisa Majumdar of CIVICUS opened the panel by noting the importance of the report and explaining that the report is valuable because it focuses exclusively on Bahraini authorities' treatment of women in prisons. She also underlined that the difficulties ADHRB and BIRD experienced in collecting the information included in the report increase the relevance of this document.
Lucilla Berwick of BIRD discussed the main focus of the report, which illustrates the systemic repression Bahrain has increasingly directed towards women in the last few years, by focusing on the sort faced by nine women targeted by Bahrain authorities for their opinions or those of their family members. Out of the nine, Hajer Mansoor, Medina Ali and Zakeya AlBarboori are still detained at Isa Town Women's Prison, where they continue to be subjected to punitive measures, including medical negligence and restrictions on family visits. While, the remaining six are no longer in custody, no perpetrator has yet been held accountable. Impunity and the feeling of injustice associated with it, has the potential to amplify the impact of the abuses they have suffered. Nevertheless, these nine women had the courage to come forward, break the silence and show the systematic targeting of women in Bahrain.
She then explained the challenges experienced in writing the report. Since 2015, the Government of Bahrain has refused entry to human rights organizations and monitoring bodies, so going to the country was not an option. In addition, Bahrain routinely refuses to release official documentation, so in some cases, even the women's lawyers did not have any access to the documents, or else declined to disclose them to us for fear of retribution. Therefore, in order to collect the information needed, since the beginning of 2017, ADHRB and BIRD have been in regular contact with the women, their families and lawyers through phone calls, sometimes several times a week. She noted that the testimony of the women revealed explicit misconduct at every stage of criminal procedure, with a diverse range of due process violations perpetrated by Bahraini law enforcement, judicial, and prison officials.
Finally, Berwick discussed the report's recommendations, including that the Bahraini authorities should conduct a timely, transparent, and thorough investigation into allegations of arbitrary arrests, coercive interrogations, and physical and sexual assault against the women of this report, ensuring that those responsible are held accountable. She also called for the release of Hajer Mansoor, Medina Ali, and Zakeya AlBarboori and the provision of reparations for all the women whose human rights have been abused. Finally, she noted the recommendation that the Government of Bahrain should allow the Special Rapporteur on Torture, the Working Group on Arbitrary Detention, and the Special Rapporteur on Violence Against Women access to the country.
Omar Soliman, Middle East and North Africa Caseworker at Reprieve, focused on reprisals against three members of the family of Sayed Alwadaei, the Director of Advocacy at BIRD and their very close partner. He noted that these reprisals were the result of Sayed's work as a human rights activist, particularly concerning his activism on death penalty cases in Bahrain. He noted that Sayed's family had been subjected to numerous human rights violations by the Bahraini authorities in response to BIRD's work, including arbitrary detention, unfair trial, ill-treatment, and possible torture. Because of this, in April 2018, Reprieve submitted a complaint to the UN Working Group on Arbitrary Detention (WGAD) that concerned the persecution of three Bahraini citizens, all of whom were members of Sayed's family. Reprieve's submission highlighted that they were persecuted as a form of reprisal against Sayed for his ongoing advocacy in support of democracy and human rights, which has generally been critical of the Bahraini government. Their detention is therefore arbitrary and stands in ongoing breach of international law.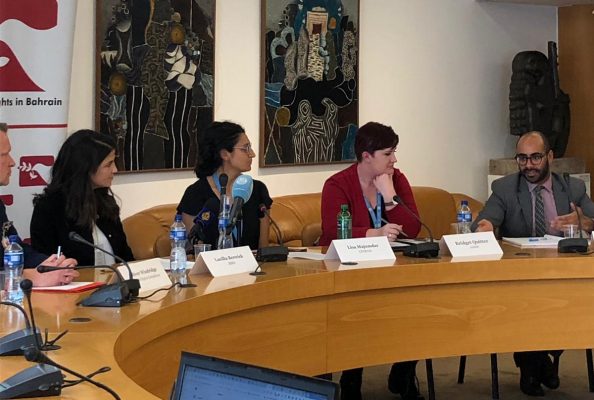 Then Soliman illustrated the case of Hajer Mansoor Hassan, one of the women in the report. In March 2017 she was interrogated without a lawyer present, and without being informed of the charges against her. She was detained for three days without charge and tortured by the Criminal Investigations Directorate (CID). Later, the Public Prosecution accused Hajer of planting fake explosives. Soliman explained that the evidence presented by the Public Prosecution on this charge was also limited to 'confidential sources,' the coerced confessions, and the fake explosive which authorities claimed to have found at the location. In April 2018, Reprieve submitted a complaint to WGAD on behalf of Hajer. In a WGAD decision adopted in August 2018 and published in January 2019, the Working Group concluded that she was deprived of her liberty, interrogated, and prosecuted for her family ties with the family of Mr. Alwadaei and that these were acts of reprisal. He noted that the Working Group opined that the detention was also in violation of the Universal Declaration of Human Rights (UDHR) and the International Covenant on Civil and Political Right (ICCPR).
Soliman then concluded by stressing that the Government of Bahrain did not take any measure to comply with the request by the Working Group to remedy the situation of Hajer without delay and bring it into conformity with the relevant international norms. He noted that, on the contrary, in February 2019, the Court of Cassation upheld the sentence and continued to deny Hajer access to adequate medical care.
Bridget Quitter of ADHRB highlighted that these women's first interactions with the authorities began with their Bahraini and international rights being violated. Officials did not present any warrants during their arrest and security forces used excessive force, with Quitter noting that Faten Naser and Zakeya AlBarboori reported the use of paramilitary equipment and helicopters when they were being arrested at their family home. Others mentioned instances of kidnapping and being beaten. She noted that the women reported that the interrogation process was the most brutal, as the security of their family members were threatened in order for them to provide confessions. Women like Zainab Marhoon and Ameera Al-Qashami were even forced to listen to their family being tortured. Other women had no contact with their family members during their detention and the authorities. She noted that two of the women, Ebtisam AlSaegh and Najah Yusuf, reported being sexually assaulted by the officers of the National Security Agency. These harsh acts forced the women to sign false confessions. Quitter also noted that Zahra AlShaikh was forced to film an apology to the King of Bahrain after her family members were threatened. Quitter notes that when drafting this report, important documentation like Court Judgments, Public Prosecution summonses and indictments, and medical reports were used. She also noted that Bahrain's counter-terror law, which has faced international condemnation, was used to convict some of the women. The Human Rights Committee has criticized its "overly broad definition of terrorism that provides too much room for interpretation and may result in violations of the right to freedom of expression, association and assembly."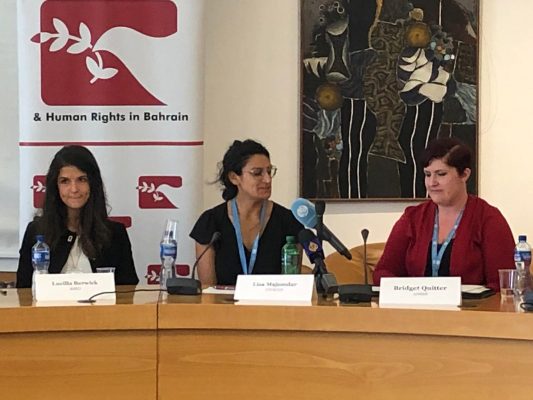 Quitter noted that these women faced reprisals for the international attention their cases have received. They are unfairly targeted by prison guards and are tortured physically and psychologically. The women in Isa Town Prison also believe that the prison administration implemented a policy of collective punishment against the entire prison population to alienate them for the rest. These measures include restrictions to medical treatment, participation in religious rites, family visitation and phone calls. Quitter also mentioned that prisoners lack hygiene products, clean drinking water, and privacy. Complaints were submitted to oversight bodies like the Ministry of Interior Ombudsman but they have failed to fulfill their mandates and dismissed the issues brought up. She expressed that she hopes both this report and event would help to amplify their voices in this struggle that they face, and encouraged attendees to read the report and review their quotes.
Oliver Windridge of Global Rights Compliance explained that even though Bahrain has ratified or signed many international Treaties on human rights, such as the International Covenant on Civil and Political Rights, Convention Against Torture and Other Cruel, Inhuman or Degrading Treatment or Punishment, its obligations do not finish at the point of ratification. He noted that these legal instruments create an ongoing obligation under international law to continue to uphold and protect basic human rights. These obligations continue to this day, and into the future. Windridge clarified that according to the available information in the report, Bahrain failed to uphold and protect these rights.
Windridge then provided a series of recommendations to Bahrain on the basis of the evidence collected in the report presented by ADHRB and BIRD. In particular, he recommended that Bahrain create an independent and transparent inquiry compliant with international standards to fully and impartially investigate the allegations made in this report, noting that any such inquiry should be fully transparent and its findings should be published. Windridge also stated that, where these investigations lead to credible evidence, prosecutions should commence for torture and other related crimes against those who are alleged to have directly perpetrated, supported, or assisted in the treatment described in the report. Where these investigations lead to credible evidence that the judiciary and other authorities failed to follow international standards for the consideration of torture-tainted evidence, Windridge recommended that disciplinary actions should be taken leading to the "root and branch removal" of judges and authorities who allow the use of torture-tainted evidence in court. Windridge concluded by asking Bahrain to ensure the safety of human rights defenders, activists, lawyers, researchers and others who work in the sphere of human rights protection and promotion.