Americans for Democracy & Human Rights in Bahrain (ADHRB) and the Bahrain Institute for Rights and Democracy are pleased to release Breaking the Silence: Bahraini Women Political Prisoners Expose Systemic Abuses, which examines the cases of nine former and current women political prisoners in Bahrain from the moment of their arrest through their interrogation, trial, and detention. See the introduction to the report below, and click here to read the full report.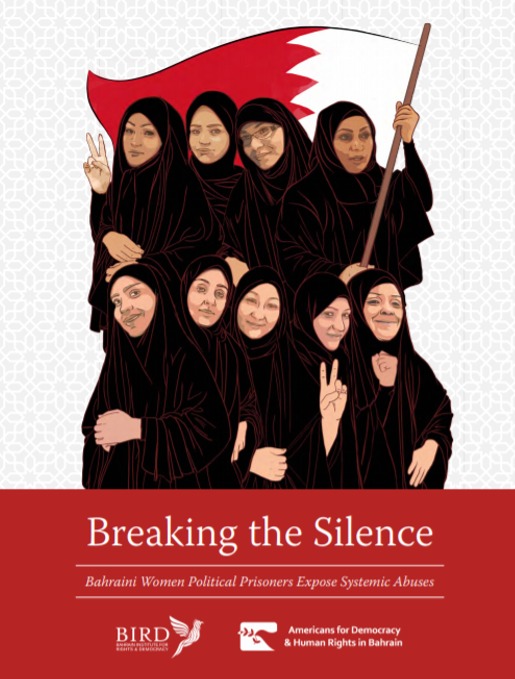 Introduction
Women political prisoners in Bahrain have been subjected to abuse at every stage of the criminal procedure, including illegal arrests, physical, sexual and psychological torture to extract confessions, sham trials and inhuman prison conditions, Americans for Democracy & Human Rights in Bahrain (ADHRB) and the Bahrain Institute for Rights and Democracy (BIRD) revealed in their new report. These abuses continue uninvestigated as oversight bodies trained with funding from the UK and the US governments are complicit and fail to hold perpetrators accountable.
The 135-page report, Breaking the Silence: Bahraini Women Political Prisoners Expose Systemic Abuses, reveals a sinister increase in the political targeting of female activists and human rights defenders since 2017 as part of a wider crackdown on free speech and peaceful opposition, which coincided with the reinstatement of the National Security Agency (NSA)'s arrest powers in January 2017. Between April and May 2017, two of the women featured in this report suffered the most severe abuse at the hand of NSA officers, including allegations of torture, sexual assault and rape.
Since early 2017, ADHRB and BIRD have been conducting interviews with nine women or their relatives. These women have been targeted for their political views or those of their family members. BIRD and ADHRB have also interviewed their lawyers and, when available, have analysed their legal documents. Seven experts from organisations including Amnesty International, Human Rights Watch and the World Organisation Against Torture, have provided commentary throughout the report.
Key Findings
The women said that, following unlawful arrests – including three cases of enforced disappearance – they endured coercive interrogations without legal representation. These were conducted at the Criminal Investigation Directorate (CID) or the National Security Agency – Bahrain's Intelligence agency, which have been the subject of many controversial allegations regarding the use of physical and sexual abuse during interrogations. Coerced confessions were used to convict at least six of the women in sham trials.

While all the women said that throughout the process officials threatened them with rape or death and that of their families, half of them said they were physicially assaulted with beatings, kicks and punches. Other forms of ill-treatment reported include prolonged solitary confinement, forced standing, and being held in cold or dark rooms in painful positions for several hours.

"The torture started from the first moment in the car by masked, armed, civilian-clothed men."

said Medina Ali, one of the women,

" I was blindfolded and tortured with violent beatings aimed at the face and hitting my head against the wall violently".

The two women interrogated by the National Security Agency – Ebtisam AlSaegh and Najah Yusuf, a former political prisoner convicted in relation to

Formula One

's Grand Prix – said they were sexually assaulted during their interrogation at the Muharraq Security Complex after refusing to work as informants. The Director of the Muharraq Security Complex was a

beneficiary

of a £16,000 UK taxpayer-funded training in 2015. Ebtisam AlSaegh said that her interrogation boasted of his reputation for inflicting torture and pain on detainees, stating:

"The interrogator said: 'I am called the Torturer, my hobby is torture, my profession is to torture. I have the art of torture'."

Two of the women, Ameera AlQashami and Faten Naser, were convicted in the same mass-trial as torture victims Ali-AlArab and Ahmed Al-Malali, who were recently

executed

in what the UN called "extrajudicial killings." WhileDespite in August 2019 the two were released for manual labour under alternative sentencing, two other eligible women -, including Hajer Mansoor who was declared to be

arbitrarily detained

by the UN -, were denied non-custodial sentences. The UK government spent over £14k to invite delegations from Bahrain's Ministry of Interior and Ministry of Justice to discuss the scope and implementation of the new law as part of its technical assistance. Bahrain's leading human rights defender

Nabeel Rajab

, who was declared unlawfully detained by the UN, was also denied a non-custodial sentence  last May.

The nine women denounced appalling prison conditions, including deliberate denial of medical care, restrictions on family visits and time outside the cell, threats and "humiliating" searches.

The women have identified the head of the prison – Lieutenant Colonel Mariam Albardoli – as a principle perpetrator of arbitrary and abusive practices, and as having enacted physical assault against Medina Ali and Hajer Mansoor.

Meanwhile, local human rights oversight institutions, which are beneficiaries of training funded by the UKBritish government, have failed to adequately investigate allegations of abuse while remaining tightly linked to the Bahraini government. BIRD and ADHRB have reviewedlooked

into complaints submitted to oversight bodies by six women and their families since 2017 and found that each one of them have, to date, have been improperly addressedgone unresolved.

By failing to respond to complaints in a timely manner, conducting inadequate investigations and breaking their confidentiality policies, oversight institutions have contributed to the whitewashing of human rights violations and a climate of impunity in the country.

Finally, the report exposes the complicity of the UK and the US governments, which continue to supply arms, training and political support to the Bahraini regime in flagrant disregard of international human rights concerns. While the US Department of State has to some extent

commented

on torture allegations and "unlawful killings" in Bahrain

,

the UK has failed to address in any public way the abuses perpetrated against the women of this report and other political prisoners raised by Parliamentarians. Instead, they rely on the assurances of the Bahraini Embassy in London.

The Bahraini Embassy to the UK typically issues statements misrepresenting facts, dismissing torture and ill-treatment allegations levelled against the Bahraini authorities and revealing information before the appropriate authorities in Bahrain. They have also disclosed to a British MP the outcome of one of the women's conviction a week before it took place and coordinated with domestic oversight bodies in Bahrain to divulge private information on social media without prior consent. Recently, they have been accused of

assaulting

a Bahraini activist.
ADHRB and BIRD recommend that Bahrain should allow access to the Special Rapporteur on torture and other cruel, inhuman or degrading treatment or punishment, as well as the Special Rapporteur and on violence against women, its causes and consequences, and the Working Group on Arbitrary Detention. ADHRB and BIRD also recommend that Bahrain conduct a "timely, transparent and thorough investigation into allegations of arbitrary arrests, coercive interrogation tactics and physical and sexual assault, ensuring that all responsible officers are held accountable."