Critical Condition: Bahrain's Ailing Healthcare
System Two Years After the Uprising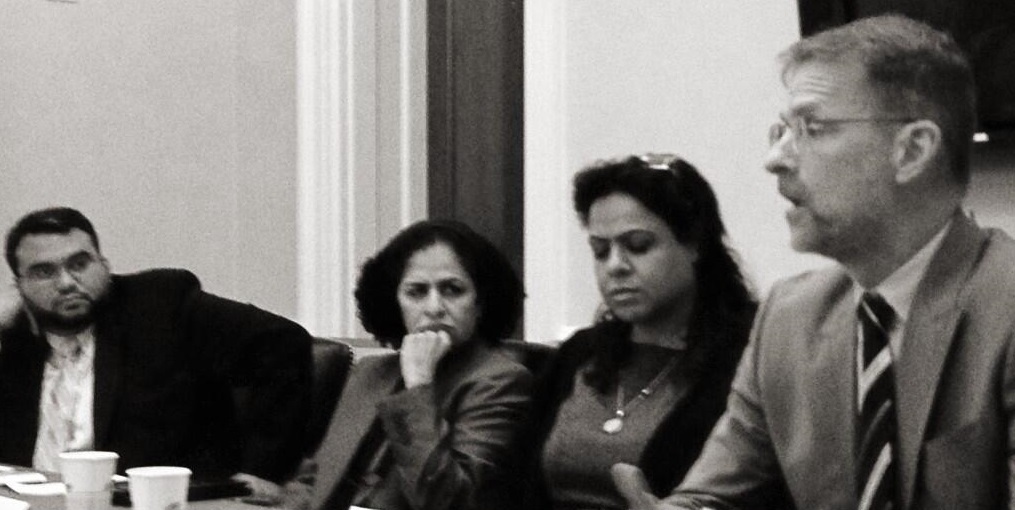 ADHRB Director Husain Abdulla, Dr. Rula al-Saffar, Jehan Matooq, and Richard Sollom from Physicians for Human Rights. Credit: ADHRB
On April 12, Congressman Jim McDermott (D-WA), in collaboration with Americans for Democracy and Human Rights in Bahrain and Physicians for Human Rights, hosted "Critical Condition: Bahrain's Ailing Healthcare System Two Years After the Uprising." The panel featured Dr. Rula al-Saffar, President of the Bahrain Nursing Society, who was jailed for treating injured protesters in 2011; Jehan Matooq, Medical Coordinator for the Bahrain Youth Society for Human Rights; Richard Sollom, Director of Emergencies and Special Initiatives at Physicians for Human Rights. Moderating the event was Husain Abdulla, Director of Americans for Democracy and Human Rights in Bahrain.
Panelists at the event discussed the concept of medical neutrality, the principle of non-interference with medical services during times of conflict. Medical neutrality requires all sides of a conflict to obey the following principles: civilians must be protected from the conflict and not targeted; medical professionals must provide care to the sick and wounded, regardless of affiliation; and medical facilities, transport, and personnel must be permitted to tend to the wounded without interference
Violations of medical neutrality during the 2011 uprising in Bahrain have been well documented by Physicians for Human Rights and the Bahrain Center for Human Rights. Unfortunately, citizens and medical professionals continue to suffer due to breaches of medical neutrality by the Bahrain government. For example, injured citizens refrain from seeking treatment at Salmaniya Medical Complex, Bahrain's only public hospital, out of fear of being detained and interrogated by security forces that continue to occupy the facility.
Although the principle of medical neutrality is not enshrined in international law as a distinct concept, certain tenets of medical neutrality are protected by the Geneva Conventions, which apply to international armed conflict, as well as international human rights treaties, which apply during times of civil unrest. However, these conventions are limited in scope and do not cover all potential medical neutrality violations, particularly by countries not engaged in a full-fledged civil conflict or by countries not party to applicable international rights treaties. Because of this, some US Members of Congress, including Congressman McDermott, have in the past sponsored legislation that would deny military assistance to countries that violate medical neutrality. Panelists at the Capitol Hill briefing on April 12 noted that Congressman McDermott plans to re-introduce similar legislation during this congressional session.
---
Upcoming Events
Tuesday, April 16 |12-1:30pm
Assaults on the Fourth Estate:Explaining Media Harassment (RSVP)
Georgetown University School of Foreign Service
Intercultural Center, Room 301
37th and O St NW, Washington, DC
Wednesday, April 17 | 12-1pm
The Second Arab Awakening: Revolution, Democracy and
the Islamist Challenge from Tunis to Damascus 
(
RSVP
)
Woodrow Wilson Center
6th Floor
1300 Pennsylvania Avenue NW, Washington, DC
Thursday, April 18 | 6:30-8:30pm
Images of Repression & Freedom:
Freedom House 2nd Annual Photo and Art Auction (RSVP)
Hillyer Art Space
9 Hillyer Court Northwest, Washington, DC
Tuesday, April 23 | 12-1pm
Justice Interrupted: The Struggle for 
Constitutional Government in the Middle East (RSVP)
Woodrow Wilson Center
6th Floor
1300 Pennsylvania Avenue NW, Washington, DC
Thursday, April 25 | 12-2pm
Understanding the Struggle for Power and
the Democratization Process in Bahrain (RSVP)
National Endowment for Democracy
1025 F Street NW, Suite 800, Washington, DC
---
Bahrain News
National Dialogue Update
US Calls for Bahrain Dialogue
A (Discouraging) Window into Bahrain's National Dialogue
Independents' Issue Looms over National Talks
Formula One in Bahrain

 Rights Groups Launch Campaign on Eve of Bahrain Grand Prix to Highlight Human Rights Abuses

 Bahrain Grand Prix: Tensions Rising as Pro-Democracy Activists Clash with Security Forces

 Bernie Ecclestone Plays Down Unrest in Bahrain as the Crisis Continues

 Bahrain: Escalated Crackdown in Villages Close to F1 Grand Prix Event in Preparation for Race
Damon Hill Challenges FIA President Jean Todt to Clarify Bahrain Stance
MP Claims Bahrain GP Will Not be Safe
F1 Sponsors Show Limited Appetite for Bahrain Grand Prix
Thousands Protest in Bahrain Ahead of Grand Prix
Bahrain Reform Law Criticized

 Open Letter to Parliament Regarding Bill Presented by Government to Reform Law on Associations
Violations of the Right of NGOs to Funding in Bahrain
Breaches of Medical Neutrality in Bahrain
Dr. Rula al-Saffar: Bahrain's Continuing War on Doctors
Dr. Damian McCormack: Defending Academics and Medics in Bahrain

 Limited Medical Access and Breach of Medical Neutrality in Bahrain
Attacks on the Education System in Bahrain
Activist Hailed for Standing up to Regime
NASUWT Calls on the Government to Maintain Pressure on Bahrain
Geneive Abdo Discusses Reform in Bahrain
Talking about Reform in Bahrain

 The New Sectarianism: The Arab Uprisings and the Rebirth of the Shia-Sunni Divide

 The Arab Awakening and the New Sectarian Divide
Public Figures Condemned for Trips to Bahrain
Manchester United, Denis Law, and Torture by the Bahrain Regime
Manchester United Risk Row over Denis Law's Bahrain Visit
Baird, Bahrain, and the Bogus Iran Excuse
Mr. Baird Goes to Bahrain
Sentencing and Appeals in Bahrain

 Two Children Receive Harsh Sentences of 10 Years Imprisonment

 Bahraini Prosecution Appeals Rights Defender's Acquittal
Policeman to be Tried for Demonstrator's Death