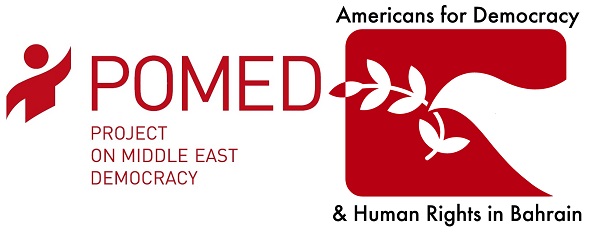 The Project on Middle East Democracy (POMED) and Americans for Democracy & Human Rights in Bahrain (ADHRB) present:
Can Bahrain's New Talks Spur Reform? 
Wednesday, February 12, 2014
10:00 am – 11:30 am
U.S. Capitol Visitor Center, Room SVC 203-02
Due to security procedures for entering the Capitol Visitor Center, guests are advised to add additional time to their travel plans. In addition, guests are advised to observe the list of prohibited items in order to facilitate their entrance to the premises.
Bahrain, home to the U.S. Navy Forces Central Command and the Fifth Fleet, is a vital security partner of the United States. As a result, events on the ground in Bahrain could have profound implications on long-term U.S. security interests in the region. In November 2011, the Bahrain Independent Commission of Inquiry (BICI) confirmed that the Government of Bahrain had engaged in systematic human rights violations in response to peaceful protests that began in February of that year and recommended 26 legal and policy changes intended to prevent a recurrence of similar events, which were publicly accepted by King Hamad. The BICI report was welcomed by the international community as a potentially critical step toward resolving the country's escalating political crisis.
Yet more than two years after the release of the BICI report, the Government of Bahrain has made little meaningful progress in implementing those recommendations, missing a critical opportunity to use the report as a bridge toward necessary political reform. Now, after nearly three years of political stalemate, recently revamped political negotiations between the monarchy and opposition leadership may indicate a new way forward for the country.
What role, if any, can the new talks play in resolving Bahrain's deepening divides? What are the main obstacles to political reform and reconciliation in the country? What diplomatic options does the United States have in Bahrain?
Join us as panelists from Bahrain and the United States discuss the prospects for reform and reconciliation and what can be done to support a meaningful resolution of the political crisis in Bahrain.
Dwight Bashir
Deputy Director,
U.S. Commission on International Religious Freedom (USCIRF)
Maryam al-Khawaja
Acting President,
Bahrain Center for Human Rights
Sarah Margon
Acting Washington Director,
Human Rights Watch
Sayed Radhi al-Moosawi
Acting Secretary-General,
 National Democratic Action Society (Waad)
Moderator: Husain Abdulla
Executive Director,
Americans for Democracy & Human Rights in Bahrain (ADHRB)
Click here to RSVP for the event.
We will be live-tweeting from the event (@ADHRB) using #BahrainTalks.
Please contact Rachel Peterson at rpeterson@adhrb.org with any questions.