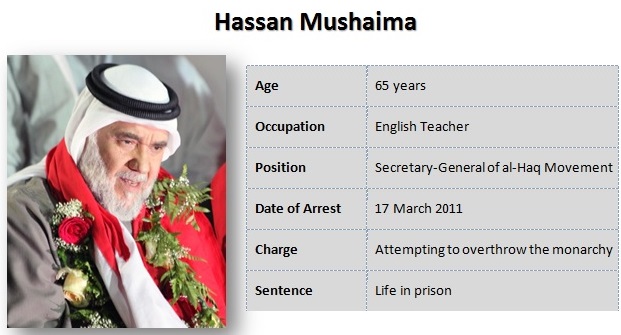 Hassan Mushaima is a Bahraini political activist, teacher and Secretary General of the al-Haq Movement. Mushaima has previously been targeted by the Bahraini government, and his most recent arrest and subsequent life sentence was for his involvement in the peaceful Bahrain protest movement in 2011.
Mushaima entered politics during the 1994 Bahrain uprising, and in 2005 he founded the al-Haq Movement, which demanded democratic reform and an end to hereditary rule in Bahrain.
While receiving medical treatment in the U.K., Mushaima was tried in absentia for allegedy plotting a coup. During the 2011 demonstrations, he returned to Bahrain after the government dropped their previous charges as a concession to the opposition. But in an apparent change of heart, security forces arrested Mushaima at his home in the early morning of March 17, 2011.
In 2010, Mushaima was diagnosed and treated for stage four follicular lymphoma in London and has since been on regular medication to prevent relapse of the disease. As of January of 2014, human rights groups were unable to ascertain whether this medication was being administered to Mushaima in prison. Mushaima's most recent biopsy results were also withheld for at least two months after he should have received them.
Mushaima's son, Ali, was tried in absentia last year and convicted of "plotting with foreign agents." If he were to return to Bahrain, he could face up to 15 years in prison.
In a statement to Al-Wasat News on February 27, 2011, Mushaima said "We must emphasize that our demands come from a single, national opposition. We don't represent Shias or Sunnis alone, or Haq or Wefaq alone. We speak as one, far from any one sect. We reject the division of national demands. Therefore we must stick together and make decisions that represent the whole."