On International Women's Day, Americans for Democracy & Human Rights in Bahrain (ADHRB) highlights brave women human rights defenders and women who have been unjustly subjected to human rights violations and imprisonment in the Gulf.
Zahra Salman Hasan
Zahra Salman Hasan (Zahra Al-Shaikh) is a Bahraini human rights defender and mother. She played a role in protesting police violence and the oppressive Bahraini regime throughout the years. Since 2012, Zahra has been violently targeted by Bahraini officials, forcing her to flee her home country. Zahra has been arbitrarily arrested and subject to inhumane torture on various occasions for participating in peaceful sit-ins and exercising her freedom of expression. The government of Bahrain has also targeted her family, arresting her husband and threatening her son. After fleeing to the United Kingdom in 2018, the Bahraini Court is still targeting Zahra by unfairly convicting her in absentia for false terrorist charges late last year.
Faten Ali Naser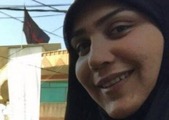 Faten Ali Naser is a Bahraini mother of four who is unjustly serving a five-year prison sentence in Isa Town Women's Prison for allegedly harboring a fugitive. She has been a victim of ill-treatment, forced disappearance, and interrogation at the hands of Bahraini authorities. During her time in prison, her health has sharply deteriorated due to the lack of accessible medical care to treat her underlying health issues. The absence of a fair trial, use of coercive interrogation tactics, and denial of health services are grounds for immediate release, but she still remains imprisoned to this day.
Hajer Mansoor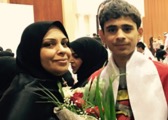 Hajer Mansoor Hassan is the mother-in-law of Sayed Ahmed Alwadaei, a London-based Bahraini human rights defender. On 5 March 2017, Hajer was arrested and interrogated by Bahraini officials along with Alwadaei's brother-in-law, Sayed Nazar Alwadaei, and cousin, Mahmood Marzooq Mansoor. A few months later, as a result of coerced confessions through torture, she was convicted and sentenced to three years in prison for allegedly planting a fake bomb. Her arrest was clearly a reprisal for Alwadaei's activism. In addition to unfair trial, ill-treatment, and false terrorist accusations, Hajer has endured assault to the point of hospitalization while detained in Isa Town Women's Prison alongside two other women human rights defenders.
Medina Ali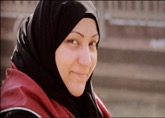 Medina Ali is a Bahraini human rights activist who has been imprisoned since 2017 with Najah Yusuf and Hajer Mansoor in Isa Town Women's Prison. She is serving a three year sentence for politically motivated charges and allegedly harboring a fugitive. Her torture started from the beginning when she was interrogated by armed masked men who blindfolded, violently beat, and threatened her with rape. While in prison, Medina has been subject to religious discrimination, restricted family visits, physical abuse, and inhumane conditions. To protest the abhorrent treatment against political prisoners at the detention center, Medina, Najah, and Hajer began a hunger strike in March 2018. On the second day of the strike, Medina was stripped naked by authorities in an effort to humiliate and punish her for retaliation. Despite abuse, Medina refuses to remain silent and continues to expose how Isa Town Prison treats political prisoners.
Najah Yusuf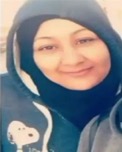 Najah Ahmed Yusuf is a Bahraini human rights defender and mother of four who is currently detained in Isa Town Women's Prison along with Hajer Mansoor. In April 2017, Najah was interrogated at the Muharraq security office for allegedly taking part in illegal gatherings. These false accusations, however, are reprisals for her criticisms of the 2017 Bahrain Grand Prix. Najah has spoken out against the human rights violations perpetrated by the ruling al-Khalifa family and is now being unfairly targeted through violence. Bahraini officials have subject Najah to horrific abuses such as beatings, sexual assault, rape threats, and forcibly removing her headscarf. Her three year sentence for arbitrary reasons and the physical, emotional, and mental suffering she endures sends a clear message about Bahrain's treatment towards women human rights defenders.
Ebtisam Al-Saegh
Ebtisam Al-Saegh is a prominent human rights defender who works for Salam for Democracy and Human Rights. She actively documents human rights abuses committed by the government of Bahrain and speaks out about the National Security Agency's abuses towards women. In 2017, she was the victim of arbitrary detainment and abuse as reprisals for her activism and cooperation with the United Nations and other human rights organizations. Before her detainment, she was targeted by Bahraini officials with defamation tactics and lighting her car on fire, as well as an imposed travel ban. During her interrogation and four months in jail, she underwent physical and psychological torture, as well as endured sexual assault. Since her release, Ebtisam has continued to document human rights violations carried out by the Bahraini government. 
Loujain Al-Hathloul
Loujain Al-Hathloul is a Saudi women's rights activist and leading figure in the women's right to drive movement in the kingdom. In 2014, she was detained for 73 days for driving her car from the United Arab Emirates (UAE) to Saudi Arabia in an attempt to protest the driving ban. After her release, Loujain continued to tirelessly advocate for women's rights to drive and was outspoken on the kingdom's oppressive male guardianship system. In 2018, Loujain and several other women's rights activists were arrested just a month before the ban on women driving was lifted. To this day, Loujain still remains in the Saudi Dhahban prison where she has endured various forms of torture through means of beatings, waterboarding, sexual harassment, electric shocks, and solitary confinement. Her persistence and strong stance on human rights as one of the most high-profile women activists in the Gulf has granted her a recent Nobel Peace Prize nomination.
Israa Al-Ghomgham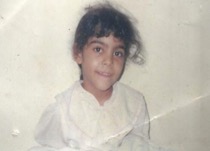 Israa Al-Ghomgham is a 29-year-old Saudi human rights defender and Shia activist. In December of 2015, Israa and her husband, Moussa al-Hashem, were arrested after the Arab spring for organizing anti-government protests in the eastern province of Saudi Arabia to oppose to the systemic discrimination that Shias face. It was even recommended by the public prosecutor in 2018 for Israa to be sentenced to the death penalty for her activism when she appears in the Kingdom's Specialized Criminal Court for trial. Although the public prosecutor is no longer pursuing capital punishment as her sentence, she still remains incarcerated for advocating for human rights and Shia rights in a Sunni-ruled regime.
Samar Badawi
Samar Badawi is a Saudi women's rights activist, mother of two, and sister of imprisoned activist Raif Badawi. She is known for challenging the male guardianship system in the kingdom by escaping her father's abusive grip in 2010 and being the first woman to sue her guardian for not allowing her to marry the man she wanted. She has also been a long-time advocate for women's driving and voting rights. Due to her advocacy efforts, Samar was granted the International Woman of Courage Award in 2012. In 2014, she spoke out against human rights injustices in Saudi Arabia during the 27th session of the United Nations Human Rights Council which prompted a travel ban, arrest, and harassment from Saudi officials. She has remained in prison since July 2018 for her continuous human rights work.
Naseema Al-Sada
Naseema Al-Sada is a women's rights advocate, human rights defender, and member of the minority Shia community in Saudi Arabia. She heavily advocated against the ban on women driving alongside Samar Badawi, and even worked to train young people on human rights activism. As a champion of equal voting rights, Naseema was one of the first female candidates in the 2015 Saudi municipal elections. She also expanded her advocacy efforts to the web, where she contributed to an online Saudi newspaper, Juhaina. As a reprisal for her advocacy work, she was issued a travel ban by the Saudi government. During a wave of arrests aimed at human rights defenders, Naseema was arbitrarily detained in July 2018 and had been imprisoned ever since. As of recently, Naseema was placed in solitary confinement and continues to suffer for her commitment to press for human rights in the Gulf.
Aziza al-Yousef
Aziza al-Yousef is a long time human rights defender, professor, and mother of five who has been an eminent figure in Saudi Arabia for decades. Her scope of advocacy ranges from child abuse cases to women's rights and domestic violence as she has taken leading roles in campaigns and protests. When a five-year-old Saudi girl, Lama al-Ghamdi, was brutally abused and murdered by her preacher father in 2013, Aziza took to Twitter and advocated for Lama's justice in interviews—garnering international attention on the case. She has actively challenged the male guardianship system by helping start up and deliver a petition to end male guardianship to the Royal Advisory Council in 2016. Her advocacy and support for the petition resulted in almost 15,000 online signatures from Saudi women and clerics. Aziza has also been targeted by Saudi authorities for dissenting the driving ban and helping launch women's right to drive campaigns. In May 2018, Aziza was subject to arbitrary detainment as part of a wave of arrests of women's rights defenders, just weeks before the driving ban was lifted in the kingdom. She still remains in Saudi custody awaiting trial.
Eman al-Nafjan
Eman al-Nafjan is a Saudi women's rights activist, blogger, and professor. She has frequently advocated for women's driving and ending the male guardianship system through online expression on her Saudiwoman blog and twitter page. In October 2013, Eman helped organize a women's driving campaign to get women on the road, opposing the restriction. A few weeks before the campaign, Eman was briefly arrested for sitting in the passenger's seat of a car and filming her fellow activist, Aziza al-Yousef, driving in an effort to bring more attention to the campaign. She has relentlessly supported and advocated for human rights defenders who were imprisoned on the grounds of political dissent and continued to fight for freedom despite government harassment. Since May 2018, Eman has been detained in Saudi Arabia after being included in the same sweep of arrests that targeted other women's rights defenders ahead of the official lifting of the ban in the kingdom.
Alia Abdulnoor
Alia Abdulnoor is a 42-year-old terminally-ill female prisoner in the United Arab Emirates (UAE). In July 2015, Alia was arrested from her home during a night raid and violently interrogated by Emirati officials. After over a year in pre-trial detention, Alia was charged with "financing terrorism" while raising money for Syrian families devastated by the war. She was officially sentenced to 10 years in prison as a result of coerced confessions and due process violations. Shortly after her initial arrest, Alia was diagnosed with breast cancer which has drastically worsened over time. Alia and her family have recently been informed that she only has a few months left to live and continues to suffer at the hands of Emirati authorities. Not only has her medical release request been rejected by the Public Prosecutor, Alia has also been denied adequate medical treatment and is given highly-restricted contact with her family. During her time in detention, despite her medical state, Alia has been subject to inhumane living conditions, ill-treatment, and is currently living the remainder of her life shackled to a hospital bed.