3 July 2019 – Today, Americans for Democracy & Human Rights in Bahrain hosted a side event at the 41st session of the United Nations (UN) Human Rights Council (HRC). The event was co-sponsored by CIVICUS, the Committee to Protect Journalists, English Pen, Frontline Defenders, International Centre for Justice and Human Rights, International Campaign for Freedom in the United Arab Emirates, the Omani Centre for Human Rights, MENA Rights Group, and Rafto.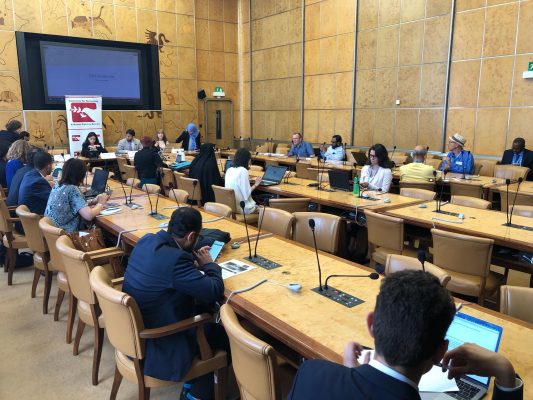 The panel was moderated by Mr. Pry, Advocacy Officer at ADHRB, and featured remarks by Imene Ben Younes of the International Centre for Justice and Human Rights (ICJHR); Sofia Kaltenbrunner of International Campaign for Freedom in the United Arab Emirates (ICFUAE); Clara Sanchez Lopez, Advocacy Volunteer at Americans for Democracy & Human Rights in Bahrain (ADHRB); and Nabhan Al Hanashi from the Omani Centre for Human Rights (OCHR).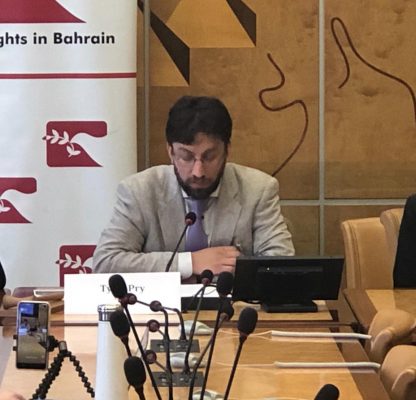 Mr. Pry opened the panel by noting that abuses in the UAE and Oman have largely gone underreported – even when discussing human rights abuses in Yemen, the conversation typically surrounds the role of Saudi Arabia in airstrikes, rather than the UAE on the ground and particularly in the prisons. He noted that the UAE is an "equal partner" in the war in Yemen, responsible for widespread human rights violations, including arbitrary detention, torture, and sexual torture, rising to the level of war crimes. Even when rights abuses are discussed in the context of the UAE, it is often focused on Yemen, and completely ignores domestic abuses perpetrated.
Pry noted that while there is a growing recognition of the "dismal human rights record" of the UAE, the situation in Oman remains very much off the map. He noted hopes to draw attention to the situation there and demonstrate that there are similar widespread and systemic abuses throughout the Gulf Cooperation Council states, from Bahrain, Saudi Arabia, Qatar, Kuwait, the UAE, and Oman. Pry then introduced the panelists and turned the discussion over to them. 
Imene Ben Younes, human rights officer at ICJHR, expressed her concern on the use of antiterrorism laws in the UAE to repress dissent, silence opposition and restrict freedom of expression. She noted that in the UAE, free expression can be considered a terrorist offense, as the laws clearly target anyone criticizing authorities, and they risk being imprisoned. In this regard, criticism of the government is included in the wide definition of terrorist threats. Younes also noted the use of administrative detention as a tool Emirati authorities have been using since 2014 to detain and prosecute whoever may represent a "terrorist" threat. Younes explained that, under the regime of administrative detention, every case should be reviewed every three months to decide if confirming the detention or freeing the person in charge; but the law allows authorities to extend indefinitely detention conditions. As explained by Younes, such an arbitrary approach is of great concern for the respect of human rights in the UAE.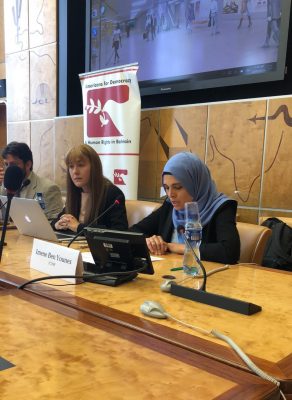 She noted that there are at least eight cases reported under this administrative detention. One of these individuals, Osama Al Najjar, was sentenced to three years in prison for cooperating with the UN and particularly UN Special Procedures. In the UAE, this kind of behaviour represents a threat to national security (according to the authorities) and, therefore, it is handled accordingly. She noted that Osama served his sentence, but because he was considered a "threat," his detention was systematically extended, noting that no prisoners of conscience has been released. Other prisoners of conscience may be soon placed in administrative detention, so that Emirati authorities can use this legal tool to prolong detention conditions indefinitely. Younes concluded her remarks by reaffirming that in the UAE if someone criticizes the government is placed in an indefinite conditions of imprisonment. Therefore, the only way to avoid prison is aligning with the government and the official view. In closing, Younes asked states to pressure the UAE to change their practices, particularly to amend the anti-terrorism law.
Sofia Kaltenbrunner of ICFUAE explained that the Cybercrime law prosecutes users of information technology such as blogs and social media platforms to organize demonstrations, adding that the Cybercrime law place restrictions on the right to freedom of expression and assembly. Kaltenbrunner noted that the Cybercrime law includes life sentences for users of social media who oppose the government or who criticize the government.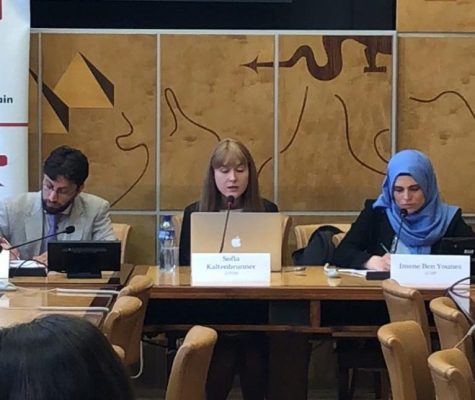 Kaltenbrunner stated that in 2012, many people were arrested, which disproportionately affected human rights defenders. One such defender is Ahmed Mansoor, who was sentenced to 10 years' imprisonment  for "defaming the UAE," with the Supreme Court upholding his sentence in December 2018. She also noted the case of Nasser bin Ghaith, who in 2017 was sentenced on charges of publishing false information to negatively affect the status of the UAE. Kaltenbrunner noted that the Cybercrime law came into force right around the time of the arrest and trial of the "UAE 94." Kaltenbrunner concluded by calling on members of the Council to urge the UAE to amend the cyber crime law and release all human rights defenders. 
Clara Sanchez Lopez, Advocacy Volunteer at ADHRB, explained that the United Arab Emirates regularly and systematically targets critics of the government through a variety of mechanisms, including its cybercrime law. She noted that the victims of this repression are not only men and male human rights defenders and activists, but women and women rights activists. She underlined that reports from Reprieve and Amnesty International have found that among the forms of torture Emirati security officials use are beatings, electric shocks, and solitary confinement. Lopez also emphasized the case of Ahmed Mansoor, one of the best known human rights defenders and activists in the UAE, arrested in 2015, spent much of its detention in solitary confinement, the prolonged use of which is a form of torture. Dr. Nasser bin Ghaith, an economist and activist, arrested in the same year, was held in a secret location, physically tortured, beaten and deprived of sleep for up to a week. These are only two examples of a system-wide issue. Lopez also explained that after its military engagement in the Yemeni war, UAE was directly involved in systematic abuses across its borders: the Group of Eminent Experts report on the violence in Yemen finds that: detainees were tortured in at least two facilities controlled by the UAE; and in other facilities controlled by militias heavily backed by the UAE. At the Bureiqa facility in particular, the GEE investigated sexual violence, including the rape of male detainees.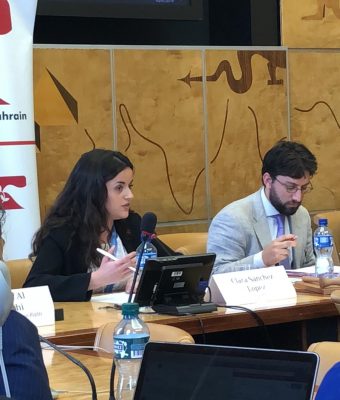 Then, Lopez focused on Oman, explaining that in examining the situation of human rights in the Gulf region, Oman usually gets little attention. Nevertheless, restrictions on the right to free expression, association, and assembly, and the detention of human rights defenders and journalists in this country deserve great attention. She explained that under Omani law, the government can censor any publications deemed culturally, sexually, or politically offensive. As a result, journalists from the Azamn magazine were incarcerated for publishing a report criticizing Oman's judicial system. In addition to closing news outlets, Omani officials have arrested journalist Abdullah Habib, on charges concerning "state public order," Yousef al-Haj of Azamn, internet activist, and Mansour al-Mahrazi, who published two books on government corruption and who was, as a result, sentenced to three years in prison in May 2017. Hassan Al-Basham, an online activist, was targeted and sentenced to three years in prison for "using the internet in what might be prejudicial to religious values" and "insulting the Sultan." Similar to other journalists and activists' situation, Al-Basham was deprived of basic medical supplies in prison and died in prison in April 2018 due to a lack of medical care provided by prison authorities. She concluded by urging the Council to place the UAE and Oman on its radar and to take action before the situation in either states worsens.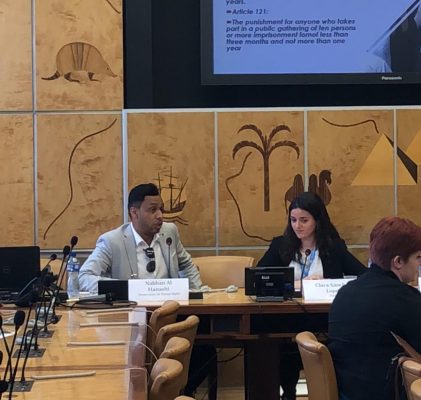 Nabhan Al Hanashi, director of the Omani Centre for Human Rights, explained that human rights activists are constantly under threat in Oman and that respect for human rights continues to deteriorate in the country. He stated that Oman is a monarchy with absolute power in the hands of the monarch. In this country criticizing the regime or the government performance is a crime which is punished harshly. Al Hanashi stated that in the last few years many social activists have been arrested and their homes demolished because of their political activism or civic engagement for political change and democracy. He also underlined that peaceful assembly is forbidden by Omani laws and the creation of political parties or human rights organizations is not allowed. 
Then, Al Hanashi gave space to Khalfan Al-Badwawi, an Omani political activist who lives currently in England, as a political refugee. He stated that Omani authorities arrested and kidnapped him on several occasions due to his political activities. His comments focused on the practice of enforced disappearance to silence dissent and criticism of the Omani rulers. He noted that free expression is not allowed in Oman, and that civil society is forced to live under a condition of constant terror, where even criticizing the regime is a crime. Al-Badwawi then concluded his remarks by noting that every day the space for democracy shrinks. He stated that there is a kind of "scheme" that authorities have been using to repress dissent: civil society targets are identified, arrested, tortured, interrogated and released. And he was one of the victims of this continuous cycle of arrests, tortures, interrogations and releases. 
A period of questions and answers followed, regarding regional similarities and how civil society organizations can function and provide information in countries like the UAE, where civil space is shrinking. Mr. Pry concluded the panel by thanking the panelists for their remarks, and thanking the audience for their attention.