On 12 September 2019, at the 42nd session of the United Nations Human Rights Council in Geneva, Switzerland, Americans for Democracy & Human Rights in Bahrain (ADHRB) held a side event panel examining the State of Kuwait's fidelity to the recommendations it received under its last Universal Periodic Review (UPR). In particular, the panelists, Lisa Majumdar of CIVICUS, Mohamed Alenezi of Kuwaiti Bedoon's Movement, Costanza Mendola of ADHRB, and Khadidja Nemar of MENA Rights Group looked at freedom of expression, freedom of association, and the rights of the stateless persons – the bidoon. The panel was moderated by Bridget Quitter of ADHRB and supported by numerous international NGOs.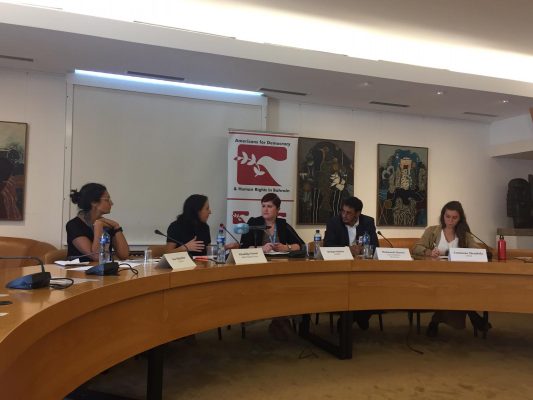 Bridget Quitter began the panel by giving an overview of the themes the panelists would cover. She noted that Kuwait's last UPR review was in 2015 and its third cycle UPR will be held in January 2020. She stated that "in the five years that have lapsed, the human rights situation in Kuwait has continued to decrease," with authorities increasingly targeting human rights defenders, silencing free speech and expression, and continuing to repress its bidoon population.
Concerning the bidoon, Quitter stated that when Kuwait underwent its 2nd cycle UPR it received a number of recommendations pertaining to the rights of the bidoon, as well as freedom of expression, assembly, and association. Despite this, more than 100,000 bidoon in Kuwait are routinely denied access to social services and employment, despite calls from the UN Committee on the Elimination of Racial Discrimination urging Kuwait to guarantee their inclusion. They also face torture and abuse, particularly when they attempt to exercise their rights to freedom of assembly and expression.
Lisa Majumdar opened the panel by discussing the targeting of human rights defenders. She noted that a number of activists, including Rana Al-Sadoun, Aisha Al-Rasheed, and Dr. Ebtehal Al-Khateeb were arrested because of their expression. Al-Sadoun was arrested in April 2016 for reciting a speech critical of the country's electoral law. Al-Rasheed was arrested in January 2019 under the 2015 Cybercrime Law following online posts in which she denounced government corruption. Dr. Al-Khateeb was arrested in April 2019 after he delivered a speech at a symposium organized by the Kuwait Democratic Forum on Bedoon rights.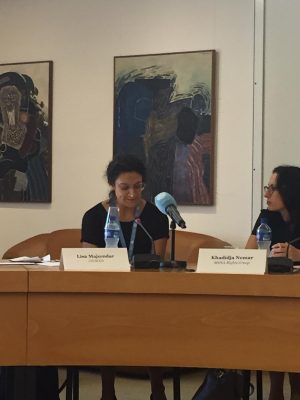 Majumdar also highlighted that Kuwaiti activists have been arrested for assembly and association-related acts and civil society organizations have been closed because of their work. For example, she cited to Nawaf Al-Hendal who was detained after delivering a statement in March 2015 at the 28th session of the UN Human Rights Council, two months after Kuwait's UPR, in connection with a peaceful protest that he was monitoring and documenting. She also noted the dissolution in June 2018 of the Al-Huriah (Liberal) Society. It had worked to defend the right to freedom of opinion and expression.
Majumdar drew attention to the plight of women human rights defenders who face increased risks as a result of their activism and work, including defamation, stigmatization, social pressure, and gender and sexual-based violence, as well as marginalization and discrimination. She noted the case of Abeer Al-Haddad, whose Twitter account was hacked in October 2018 due to a tweet she published about her plans to sue the head of the Central Apparatus for Illegal Residents Affairs.
Lastly, Majumdar discussed the structural constraints on activism, noted that the repression takes place within a wider framework of legal restrictions that limit the space of human rights defenders. She cited the 1970 National Security Law that penalizes anyone convicted of acting against the state, 1979 Public Gatherings Act which has been used to ban public assemblies, the 2006 Press and Publications law that criminalizes the publication of information deemed "offensive to God or Islam" and calls for the "overthrow of the regime," and the 2015 Cybercrime Law that restricts freedom of expression. She also stated that all civil society organizations must register with the Ministry of Social Affairs and Labour, an onerous process in which the Ministry has full discretionary power to deny registration, without prior motive, to organizations considered to be "critical" of the state.
Mohamed Alenezi began his remarks by asserting that Kuwait's bidoon community has been suffering for decades, as the government attempts to change the country's demography. In particular, although many in the bidoon community have documents proving they have been citizens of Kuwait since British rule, in 1986, the Kuwaiti government withdrew the bidoon's rights. As a result, they do not have access to education, health care, or passports, among other privileges. Among the excuses the government uses to deny bidoon their rights is the claim that they are not really Kuwaiti or that the bidoon arrived illegally in Kuwait after the Iraqi invasion. However, Alenezi stated, the truth is that many bidoon helped to protect Kuwait during the Iraqi invasion. Despite this, the Kuwaiti government has labelled the bidoon as "illegal residents," and attempted to force them to leave the country, not allowing them the chance to obtain Kuwaiti nationality, including by freezing their bank accounts and assets.
In an effort to do this and minimize the situation, Alenezi said, the Kuwaiti government has published numbers saying the bidoon community is decreasing in size although this is not true. The Kuwaiti government has also taken harsher measures to minimize the bidoon in their own country, targeting activists including allegedly for murder and extrajudicial killings. Indeed, Alenezi stated that they tried to kill him. In addition, many bidoon activists detained and imprisoned attempt to take their own lives. According to Alenezi, the situation for bidoon is so desperate that in a case occurring on 12 September, a bidoon father tried to kill himself in the Ministry of Education when Ministry officials refused to allow his child to attend school.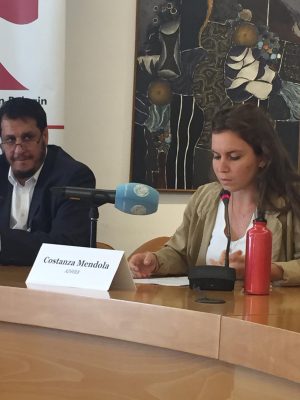 These actions come despite Kuwait's acceptance of a number of international human rights treaties in addition to numerous UPR recommendations. Despite this, the Kuwaiti government has flouted its treaty obligations and refused to abide by human rights standards.
Costanza  Mendola discussed ADHRB's report submitted ahead of Kuwait's third cycle UPR, noting Kuwait's abuses against its bidoon population, as well as restrictions on free expression, association, and assembly, and acts of torture. Mendola stated that the bidoon stateless status dates from Kuwait's independence in 1961, due to the fact that the process of determining who was eligible for citizenship favored Kuwait's urban residents. Without nationality, the Kuwaiti government considers them "illegal residents," and denies them fundamental human rights including access to healthcare and education, as well as other social services.
Mendola stated that Kuwaiti law provides some possibilities for stateless persons to gain nationality, but the process is unnecessarily long and the ultimate decision appears arbitrary. In many cases, however, she said, bidoon cannot even provide the documentation required to apply. Even then many bidoon find this process to be discriminatory and insulting – they consider themselves to be Kuwaiti as they have only ever lived in Kuwait.
One of the biggest problems bidoon face, she said, regards their eligibility to transfer their citizenship to their children. As a result of discriminatory laws, women cannot pass their citizenship to their children. As a result, children born to a bidoon father and a Kuwaiti mother are born stateless.
Mendola also discussed restrictions on assembly and association rights, highlighting the case of Abdulhakim al-Fadhli, a prominent human rights defender, who was arrested during a peaceful protest demanding equal rights for bidoons. More recently, in July 2019, 12 people were arrested following a demonstration after the suicide of a young bidoon boy for having lost his job due to his inability to obtain official documents. She also noted restrictions on free expression, including the criminalization of "offensive speech" against the Emir. For example, the activist Abdullah Saleh, among many other cases, was sentenced in absentia to 25 years in prison for expressing views and opinions on social media considered "insulting" to other Gulf countries. The government, Mendola stated, frequently uses citizenship revocation or travel bans as a form of reprisal against members of the political opposition, human rights defenders and journalists. Furthermore, she said, although Kuwait's Constitution officially prohibits torture, the Kuwaiti State Security and the Drug Enforcement General Department have allegedly tortured individuals during interrogations and detention.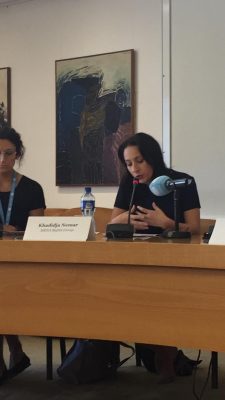 Khadidja Nemar noted that MENA Rights Group has focused on the issue of statelessness in Kuwait and throughout her remarks, she stressed the Kuwaiti authorities' violation of their international obligations towards the bidoon and she called on the government to grant them the right of nationality, which is recognized by the international law as a fundamental right. Nemar stressed that the issue of statelessness in Kuwait derives in large part from two sources: authorities' arbitrariness in granting citizenships, and gender discrimination that does not allow women to pass their nationality to their children. As a result of these practices, many children born on Kuwaiti soil are not granted citizenship, a situation that has generational effects. This denial of nationality is also in violation of Kuwait's obligations under the Convention on the Rights of the Child.
In order to rectify this issue, Nemar urged the Government of Kuwait to grant Kuwaiti citizenship to all children born in Kuwait regardless of parentage, and to address and correct inequality and marginalization of Kuwaiti bidoon. In order to end bidoon's discrimination, Nemar called upon the government to take concrete legal steps, as well as implement administrative, economic, and social measures to this effect. The government, she said, must also guarantee to bidoon, as to all Kuwaiti citizens, the rights of freedom of movement, expression, association and assembly.