Spain has consistently demonstrated its strong economic interest in the Middle East, especially in regards to its arms sales to the Gulf states. According to the Stockholm International Peace Research Institute (SIPRI), Spain was the 7th largest exporter of arms during the period 2015-2019, with Australia, Singapore and Saudi Arabia as its top 3 clients. The Spanish military-industrial industry has an annual turnover of approximately €6 billion, and this amount is set to increase. During the 2014-2018 period, there was a 7.8% increase in the Spanish arms export industry, due to an 87% growth in exports of arms to the Middle East region.
Although Spain is a State Party to the UN Arms Trade Treaty, the Spanish Arms Trade Act states that arms shall not be exported when there are reasonable grounds to believe that the defence materials may be used in actions that; disturb peace, stability or security; or may be used in a manner contrary to the inherent dignity of the human person for purposes of internal repression or in situations of human rights violations.
Spain provides export licenses and sells arms to nearly all the countries involved in armed conflicts that flout international human rights norms. Amongst these nations are Saudi Arabia, the United Arab Emirates (UAE) and Bahrain, as well as Egypt, Pakistan, Libya, Turkey, and Israel.
Since the Yemen war started in 2015, an estimated 100,000 people have died as a result of the conflict, and millions are now at the risk of famine. In the meantime, Spain has earned € 1.7 billion from arm exports to members of the Saudi-led coalition, and has become the fourth and fifth largest exporter of arms to Saudi Arabia and the UAE respectively.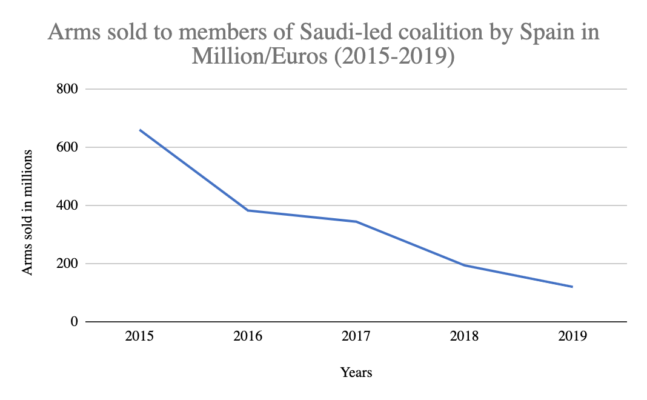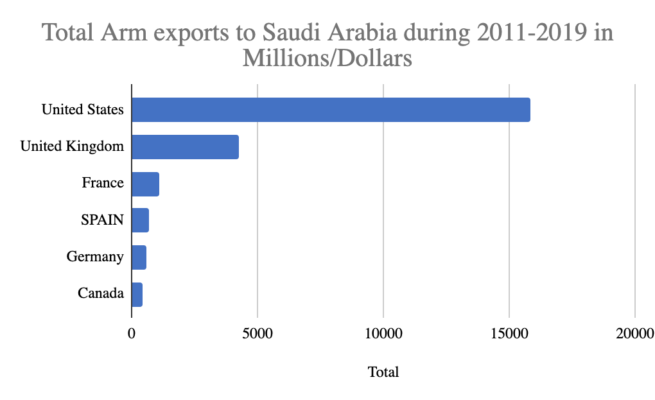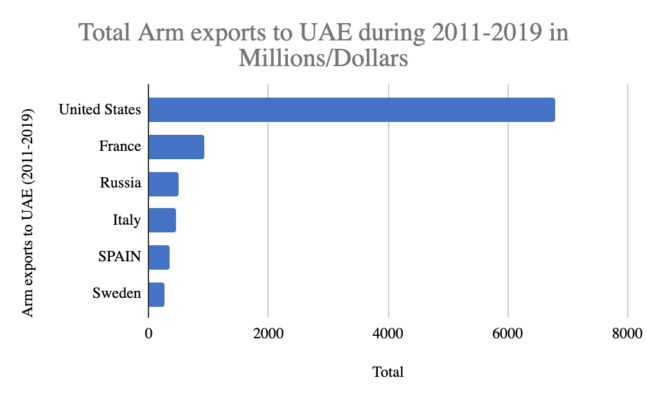 Saudi Arabia and the Yemen War
Spanish exports to Saudi Arabia at the start of the Yemen war in 2015 reached €546 million. This included small arms, ammunition, bombs, torpedoes, rockets, missiles, fire-steering systems, and two in-flight refuelling planes which were essential tools in the bombing campaign in Yemen. Although exports slightly fell in 2016 to €116.2 million, exported defence material included mortar shells, artillery ammunition and medium-calibre ammunition. According to government reports,  all licences concerning ammunition were accompanied by certificates of final destination with strict clauses against their use outside the territory of Saudi Arabia. Nevertheless, Armament Research Services identified a Spanish C90-CR rocket launcher purchased by Saudi Arabia in Yemeni territory. Despite this incident, Spanish exports to Saudi Arabia in ammunition tripled in 2017, from €34.7 million in 2016 to €90.1 million in 2017.
The following graph depicts Spanish arm exports to Saudi Arabia. It reflects the increase in arm exports following the start of the Yemen war and the 2017 increase in exports despite the incident regarding a Spanish C90-CR rocket launcher purchased by Saudi Arabia being found on Yemeni territory in 2016.
In 2018, Saudi Arabia signed an agreement with the Spanish Arms company Navantia for the sale of five corvettes, small naval warships. According to Centre Delàs, "there is a high probability that the corvettes will be used to carry out a naval blockade". The fact that the government approved such sale when there were credible reasons to believe that such corvettes may be used in actions that contribute to the death of thousands of civilians, makes the Spanish government complicit and responsible for such crimes.
Furthermore, in 2018, Spain experienced a change in government from a conservative to a socialist one. In this context, following an international outcry over an airstrike on a school bus in Yemen which killed 40 children, the Spanish government announced that it would cancel the sale of 400 laser-guided bombs to Saudi Arabia. Although this seemed like a positive measure at first, weeks later, the Spanish government reversed this decision, citing the need to "honour a contract". Amnesty International critiqued this decision claiming that the laser-guided bombs Spain planned to sell to Saudi Arabia had been used in Yemen in the past. This ammunition has struck hotels, hospitals, water wells, residential buildings, factories and the school bus, resulting in numerous civilian casualties and hence amounting to war crimes. Through its decision, the Spanish government has once again failed to uphold the Spanish Arms Trade Act requirement not to export arms that may contribute to human rights violations.
Yet, as of the first six months of 2019, Spain continued to sell €23.5 million in defence exports to Saudi Arabia. However, the government still has not published data on arm exports during the second semester of 2019, which is why exports made to Saudi Arabia could in reality be much higher. The government has also failed to publish data on arm exports during the second semester of 2018.
The UAE and the Yemen War
The UAE and Spain have enjoyed a close trading relationship in respect to the import and export of military arms and what is seen in the supply of weapons to the UAE during the Yemen War. This is due to the fact that Spain continues to be the fifth largest supplier in arms to the UAE. These armaments mainly consist of A-330 tanker/transport aircraft, which was delivered in 2013 by Spain's Airbus facility to the tune of €730 million. The UAE can then refuel Mirage and F-16 fighter jets in-flight, which are commonly used aircraft in the war in Yemen. In the first 6 months of 2019, there is clear evidence that Spain sold to the UAE €94 million worth of defence material. This included aircraft, ammunition and electronic equipment that were employed in the UAE's bombardment during the Yemen War.
Amnesty International reports that 'Between 2015 and 2017 the Spanish government authorized 40 licences to export defence material to the UAE worth 102.4 million euros, and carried out arms exports worth 83.6 million euros.'  In 2018, the Government also authorized a further 10 export licenses of defence material valued at €239 million euros. Overall, the Emirates paid €3 million euros in ammunition and €236 million euros 'in aircraft, including five military transport planes' 'Exports (867,623 euros), were of material in the category of aircraft for the Armed Forces,'.
The following graph shows the evolution of Spanish arm exports to the UAE. Furthermore, it provides a comparison between Spanish arm exports to Saudi Arabia and those to the UAE. While Spain's main exporter in the Gulf Region still continues to be Saudi Arabia, the UAE remains a close second.
According to the NGO coalition Control Arms (Amnesty International, Greenpeace, FundiPau and Oxfam Intermón), there is strong evidence to link both the UAE and Saudi Arabia's arms purchases in dozens of illegitimate attacks in Yemen. In fact, it reported that 'UAE troops and UAE-backed militias operating in southern Yemen carried out enforced disappearances and torture.' This shows that the Saudi and Emirati authorities commit and exacerbate clear violations of international human rights and international humanitarian law, and that Spain is in part facilitating these travesties by selling arms and weapons to these belligerent countries.
Bahrain the Arab Spring and the Yemen War
Spain and Bahrain have enjoyed a fruitful commercial relationship when it comes to arms sales. For many years, Bahrain has relied on arms trade sales from its trading partner and Spain has provided the appropriate licenses to do so. Spain has lacked the officious scrutiny, however, into how these arms are actually being employed, including whether they have been used to breach human rights by Bahrain. Although there has been no reported arm exports to Bahrain since 2017, in the past two years the Spanish government has authorised further arms exports to the country. In 2019, the export licenses from Spain were worth €14,520 and in 2018 it was worth €812,181.
During the Arab Spring, Bahrain continued to be party to many arms trade deals with different countries, including Spain. In 2011, Spain sold Bahrain €6.3 million worth of arms. In 2012, this amount increased to €21.1 million. This reflects how Spain not only continued, but increased, it's exports of arms and defence material to Bahrain after the country had violently suppressed peaceful pro-democracy protests in 2011. The Spanish government ought to have been aware that these weapons were being used against peaceful protesters who were standing up to protect their human rights. Its decision not to act against the export of its weapons makes Spain complicit in the Bahraini authority's brutal crackdown of peaceful protestors.
The following graph reflects the above-mentioned increase in Spanish arm exports to Bahrain following the 2011 pro-democracy protests.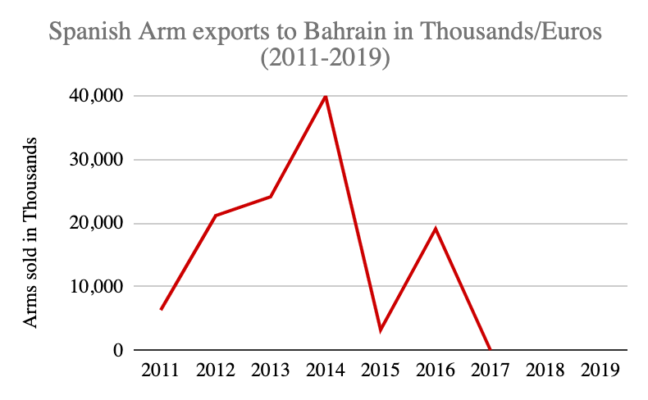 With regards to Bahrain's involvement in the Yemen war and Spain's contribution through arms sales, as can be seen in the graph, exports to Bahrain decreased in 2015, with only €3.2 million being exported to Bahrain in 2015. 2016 involved an increase in exports to Bahrain, arms that were exported in the category of land vehicles (€19 million), included 14 mortars integrated into military vehicles valued at nearly €13 million. In 2017, Spain sold more than €361 million worth of arms to countries that actively take part in the international coalition led by Saudi Arabia involved in the war in Yemen. Specifically in this sale, Spain exported €270.2 million to Saudi Arabia; these arms were then distributed to countries like Bahrain. This included a transport plane, aircraft parts, drones, mortar platforms, mortar shells, artillery ammunition, detection equipment and infrared cameras. Bahrain received €33,550 worth of arms to engage in the war in Yemen.
It is of concern that Spain sells small arms, ammunition, and land vehicles to the Bahraini Armed Forces, because of the risk of their use in exacerbating the war in Yemen. In 2017, NGOs from the Control Arms campaign (Amnesty International, Greenpeace, FundiPau and Oxfam Intermón) denounced the sale of Spanish arms to Bahrain (among other countries) despite the "risk of use in the repression of dissidence and the conflict in Yemen". This is because there was clear evidence that many of these firearms were being used against the Bahraini citizens for peacefully demanding democracy in their country. Furthermore, a Spanish Alhambra grenade purchased by Bahrain was identified on Yemeni territory, further proving the involvement of Spanish arms in such a war.
According to Article 8 of the 2007 Law on the Control of Foreign Trade in Defence Materiel and Dual-Use Good, in Spain, arms should not be sold if they are dual-use items that may be used in actions that disturb global or regional peace, stability or security, or may exacerbate latent tensions or conflicts. In this case, Saudi Arabia is using these sales to lead an international coalition that is bombing Yemen. That is why the arms that Spain is providing can serve to disturb regional peace, exacerbate latent conflicts and can be used against respect and the inherent dignity of the human being all things that go against the law set in place in Spain. The exports to Saudi Arabia and UAE above mentioned would have to be considered illegal if we adhere to Spanish and European legislation on the arms trade given the instability in the Middle East region created by these countries, and their membership in the coalition that is acting militarily on Yemen.
Reports show that the laws set in place by the Spanish government to regulate the conditions of arms sales are not being implemented. The C90-CR rocket launcher, purchased by Saudi Arabia, or the Alhambra grenades, purchased by Bahrain, have been identified as being employed in Yemeni territory. This therefore demonstrates solid proof that Spanish arms are contributing to human rights violations and war crimes. Yet, the Spanish government maintained that it had no knowledge of the diversion of arms to the rebels in Yemen. This is despite the widespread reports presented by a coalition of NGOs that widespread humanitarian damage had been caused by the very weapons that had been transferred in these deals. Actions like these undermine Spanish government commitments made in the UN Arms Treaty.
In conclusion, Spain maintains strong economic relationships with countries such as Bahrain, Saudi Arabia, and the UAE. These countries are known to be using the weapons imported from Spain in the war in Yemen – where they are responsible for perpetrating grave violations of human rights and international humanitarian law. Spain's military weapon exports to these belligerent nations are undoubtedly being used for the execution of these violations, rather than for the protection of civilians. Despite the Spanish government stating that they did not have knowledge of the malign use of these weapons, it is clear that they are more interested in the economic gain of these arms deals rather than focusing on the untold damage that has been perpetrated against innocent civilians.