Geneva, Switzerland – From 9 to 27 September 2019, Americans for Democracy & Human Rights in Bahrain (ADHRB) participated in the 42nd Session of the United Nations (UN) Human Rights Council (HRC). We opened the session with a solidarity stand in front of the UN that called attention to the plight of political prisoners in Bahrain. During the session, ADHRB delivered over a dozen oral interventions before the Council, highlighting human rights violations committed by the governments of the Gulf Cooperation Council states – Bahrain, Saudi Arabia, the United Arab Emirates, Qatar, Oman, and Kuwait. We also held, sponsored, or supported five panels on the margins of the Council that examined abuses in Bahrain, Kuwait, Saudi Arabia, and Yemen. Many of the concerns that ADHRB raised about ongoing rights abuses were echoed by UN officials, other NGO representatives, and state delegations.
On 9 September, Costanza Mendola delivered an oral intervention under the Agenda Item 3 Interactive Dialogue. In the intervention, Mendola focused on the negative effect of Saudi Arabia and the United Arab Emirates' (UAE) war in Yemen on access to clean drinking water and adequate sanitation services. The intervention highlighted that more than 19.3 million Yemenis do not have access to clean drinking water or adequate sanitation services, in part due to the Saudi and UAE's airstrikes against facilities that provide these services.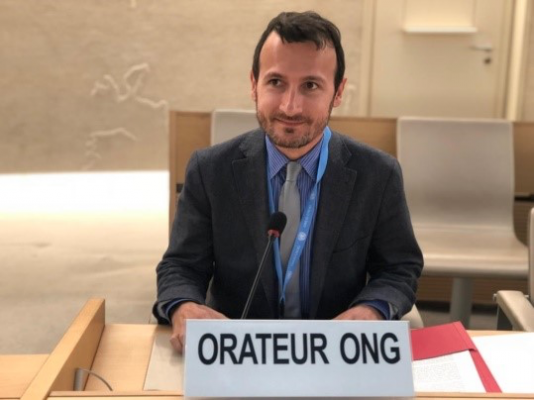 Later that day, on 9 September, Alessandro Musumeci delivered an intervention on behalf of ADHRB. In his intervention, Musumeci raised concerns about the use of mercenaries in the war in Yemen. In particular, the intervention highlighted how many parties to the conflict have employed mercenaries, including the UAE, which has used mercenaries in such a manner as to divide Yemeni society and to deny Yemenis their right to self-determination. The intervention further underlined how the use of mercenaries blurs the lines between state and non-state actors, further complicating efforts by the international community to broker a peace agreement and ensure accountability for human rights violations.
On 11 September Gabriella Bangar delivered an intervention on the importance of instituting a serious program of technical cooperation between the Office of the High Commissioner for Human Rights (OHCHR) and the Government of Bahrain. In the intervention, Bangar drew attention to the importance that technical cooperation can play in supporting a state's ability to promote and protect human rights, as well as the necessity of OHCHR engagement with a state that does not respect human rights. She also called for the introduction of programs to engage independent civil society actors and to protect activists who cooperate with UN mechanisms. Without these programs and these protections, technical cooperation between a state like Bahrain and the OHCHR does not achieve anything, and like a previous OHCHR visit to Bahrain several years ago, no-one is released from prison and the status quo remains undisturbed.
On 11 September, during the Agenda Item 3 Interactive Dialogue with the Special Rapporteur on the human right to safe drinking water and sanitation, ADHRB delivered an intervention raising concerns over the lack of clean drinking water and sanitation facilities within specific areas and neighborhoods in Bahrain. The intervention noted that certain areas of Bahrain have unequal access to clean water and adequate sanitation facilities. Areas where the ruling AlKhalifa family resides receive preferential treatment while other areas and towns lack access to good sanitation services.
Later that day, on 11 September, Mendola delivered a second intervention, this one during the Agenda Item 2 General Debate on the update of the High Commissioner for Human Rights, urging the Council to pressure Bahrain to bring its actions in line with international standards of human rights. The intervention highlighted the abuses Bahrain has committed since it became a member of the Council, in particular the execution of three men in July 2019, Ali AlArab and Ahmed AlMalali, who were arrested without a warrant, tortured, and convicted in a mass trial alongside 58 others and despite urgent calls to halt the executions including from Members of the European Parliament, the US Congress, and Special Rapporteur Callamard.
Also on 11 September, ADHRB held a side event on Bahraini female political prisoners in collaboration with the Bahrain Institute for Rights and Democracy (BIRD). During the event, ADHRB and BIRD launched their new, joint report, "Breaking the Silence: Bahraini Women Political Prisoners Expose Systemic Abuses. During the event, ADHRB and BIRD discussed the ways that Bahrain's suppression of free expression and civil society have affected female activists. Lisa Majumdar of CIVICUS moderated the event, and Lucilla Berwick of BIRD, Omar Soliman of Reprieve, Bridget Quitter of ADHRB, and Oliver Windridge of Global Rights Compliance discussed the situation of female political prisoners in Bahrain.
A day later, on 12 September, ADHRB held a side event on Kuwait, examining its Universal Periodic Review and the plight of the bidoon, Kuwait's stateless population. Bridget Quitter of ADHRB moderated the panel, and Lisa Majumdar of CIVICUS, Mohamed Alenezi of Kuwaiti Bedoon's Movement, Costanza Mendola of ADHRB, and Khadidja Nemar of MENA Rights Group spoke about the lack of freedom of expression and freedom of association, and about the rights of stateless persons. Mendola and Quitter highlighted the report that ADHRB submitted ahead of the Kuwait's Review, which notes that the Kuwaiti government considers individuals without nationality and citizenship documents to be "illegal residents," a label that allows officials to deny them fundamental human rights as well as access to social services like healthcare and education. An additional problem stateless persons face is that because women are not legally able to pass along their nationality to their children, even children born to Kuwaiti mothers but stateless fathers, are stateless.
On 16 September, Musumeci delivered a second intervention calling attention to a hunger strike launched by almost 700 imprisoned Bahrainis. In his remarks, Musumeci noted that on 15 August 2019, hundreds of detainees began a hunger strike in protest of poor prison conditions, de facto isolation practices, restrictions on family visitation rights, denial of necessary medical care, police brutality, and religious discrimination. Musumeci ended his intervention by calling for the release of all political prisoners.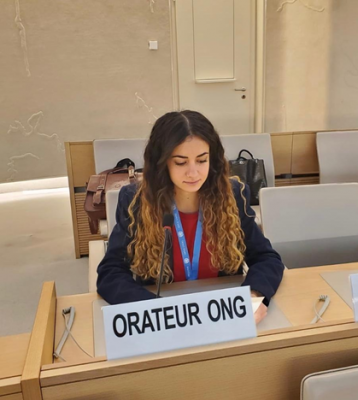 On 16 September, Cecilia D'Acunto delivered an intervention under the Agenda Item 3 General Debate in which she called up on the Council to pressure Bahrain to respect its international human rights obligations. In her oral statement, D'Acunto drew attention to the dismal conditions in Bahrain's prisons as well as to the poor treatment and abuse of political prisoners by reading a letter we received from Ali AlHajee, who is undertaking a hunger strike. In the letter, AlHajee explains that political prisoners are protesting physical and mental abuse by guards.
On 18 September, ADHRB's Advocacy Officer spoke during the Agenda Item 4 General Debate, delivering remarks on the human rights abuses committed by Bahrain's Ministry of Interior (MoI). In the intervention, Pry drew attention to how the Bahraini MoI has been complicit in systematic human rights violations, including arbitrary detention, torture, rape, and extrajudicial killings. Despite ample evidence of these abuses and the involvement of MoI officials, no MoI officials have been held accountable. This refusal has only added to the pervasive climate of impunity for security forces in Bahrain.
On 18 September, Moosa Mohammed, delivered an Agenda Item 4 General Debate intervention in which he spoke about his experience protesting the impending execution of Ali AlArab and Ahmed AlMalali and facing threats to his life from Bahrain embassy staff in London. Ahead of AlArab and AlMalali's execution, Mohammed scaled the roof of the Bahrain embassy in London to protest their conviction. On the roof, embassy staff beat him and attempted to throw him off the roof. He spoke about his experience, detailing the efforts of the authorities to stop him from speaking out.
Later on 18 September 18, Yusuf Alhoori delivered an intervention under the Agenda Item 4 General Debate in which he drew attention to Bahrainis' resistance to the government and their push for democracy, self-determination and social justice. In his intervention Alhoori discusses the civil movement of February 2011 in which citizens took to the streets to demand a fair society and equal treatment for all. He also denounced the systematic repression put in place by the Bahraini authorities to silent any internal or external dissent.
On 19 September, Bangar delivered another intervention, this one during the interactive debate with Andrew Gilmour, the UN Assistant Secretary General and UN system focal point for reprisals, in which she highlighted the Bahraini government's use of reprisals against human rights defenders who cooperate with the UN. In her intervention, Bangar highlighted in particular the case of Sayed Ahmed Alwadaei, a London-based human rights defender whose family in Bahrain has been targeted because of his activism.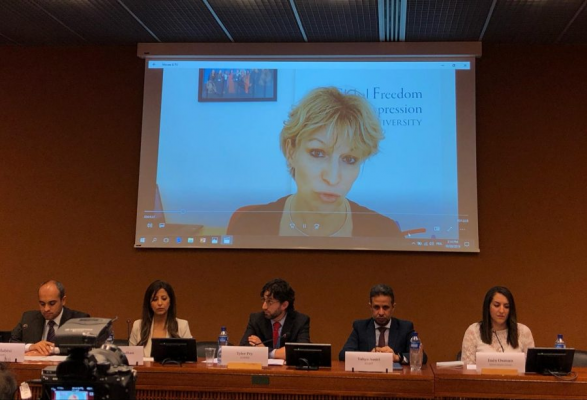 On 19 September, ADHRB supported a side event organized by Right Livelihood Award Foundation on executions and arbitrary detentions in Saudi Arabia. ADHRB's Advocacy Officer moderated the panel while Yahya Assiri of ALQST, Ines Osman of MENA Rights Group, Ali Aldubisi of ESOHR, and Areej al-Sadhan, the sister of disappeared humanitarian worker Abdulrahman al-Sadhan provided remarks. Dr. Agnes Callamard, the Special Rapporteur on extrajudicial, arbitrary, and summary executions provided recorded remarks. The panelists discussed Saudi Arabia's executions, noting Jamal Khashoggi's murder, but moving beyond that to other mass executions. They also discussed concerns about arbitrary detention and warrantless arrests, highlighting the cases of several human rights defenders, including from the Saudi Civil and Political Rights Association, like Mohammed al-Qahtani and Abdullah al-Hamid.
On 20 September, ADHRB hosted another side event on Bahrain, this one jointly with the Gulf Centre for Human Rights. At this event, ADHRB and the Gulf Centre focused on detained Bahraini human rights defenders and promoting solidarity with the detained activists in an occasion to remind the Bahraini government of its responsibility to end the pattern of massive human rights violations and ensure accountability for the violations committed by various State actors. Khalid Ibrahim, Director of GCHR moderated the event, while Renate Bloem from Civicus, Sabrina Bennoui from Reporters Without Borders, and Gabriella Bangar from ADHRB delivered remarks.
On 23 September, Mendola delivered a third intervention, this one during the Agenda Item 6 General Debate addressing concerns over Bahrain's failure to comply with its 2017 Universal Periodic Review Recommendations. In the intervention, Mendola highlighted the Bahraini government's execution of three men in January 2017 who had been tortured and convicted in unfair trials. She noted that in the same year, Bahrain passed a constitutional amendment allowing military courts to try civilians even when martial law is not in effect. This is in addition to the government's imposition of stricter restrictions on freedom of expression, association and assembly. The intervention called upon Bahrain to comply with its UPR recommendations, and upon the members of the Council to hold Bahrain accountable for its failure to implement reform.
On 23 September Musumeci delivered another intervention, this one during the Agenda Item 6 General Debate, in which he raised concerns over Kuwait's failure to implement the recommendations it received during its last Universal Periodic Review cycle, in particular those recommendations regarding its stateless population. This intervention highlighted how Kuwait received several recommendations concerning human rights violations especially about non-citizens and stateless persons, but that Kuwait has not implemented them and is still restricting the rights to free expression, assembly, and association.